India vs Australia, 3rd Test Day 5 MCG Highlights: India Aim to End Pat Cummins' Resistance, Need Two Wickets to Create History in Melbourne
India beat Australia by 137 runs to take a 2-1 lead in the ongoing 4-match Test series. Jasprit Bumrah shines as he took nine wickets.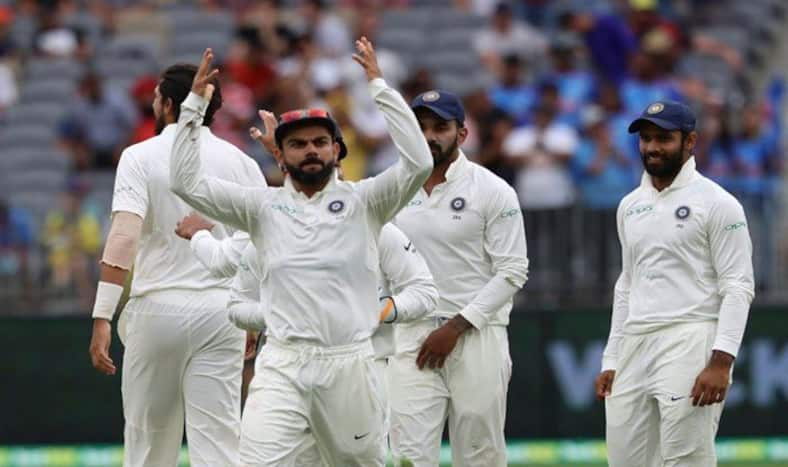 India vs Australia, 3rd Test Day 5 MCG Highlights: India beat Australia by 137 runs to take a 2-1 lead in the ongoing 4-match Test series. Jasprit Bumrah shines as he took nine wickets. India came within sniffing distance of a defining victory before a stoic resistance by Australia's tail delayed the inevitable in the third Test on Saturday. Pat Cummins scored a heroic half-century as Australia finished at 258 for eight at stumps on day four after being reduced to 176 for seven after tea. At end of the play, he had scored an unbeaten 61 runs, facing 103 balls and hitting five fours as well as a six, while Nathan Lyon was batting on 6, as they put on 43 runs for the ninth wicket. Australia need another 141 runs for an improbable win, while India are two wickets away from a 2-1 series lead. Post-Tea, Travis Head (34) and Tim Paine (26) took their sixth-wicket partnership to 22 runs. The duo cut down on risky scoring shots and played for time. India tried everything possible to get the final two wickets, with skipper Virat Kohli even convincing the umpires to go for the extra half-hour/eight overs seeing the possibility of a result. (AUS vs IND – 3rd Test Day 4 Highlights)
7:48 IST: Out!!! Ishant to Lyon, c Rishabh Pant b Ishant Sharma. Australia have been bowled out. India makes the history at MCG. This is also the 150th Test victory for the men in blue, making them the fifth team to do so.
7:41 IST: Bumraaah strikes! Bumrah to Cummins, Australia have lost their ninth wicket. Excellent delivery. Gets it around the off stump, in that corridor of uncertainty. It straightens a touch. Cummins plays inside the line, the ball takes the outside edge and goes low towards Pujara who takes a decent catch at first slip. End of a fighting knock by Cummins. India now juts a wicket away from taking a 2-1 lead.
7:31 IST: Jasprit Bumrah comes to bowl from the other end. Bumrah to Cummins, short of a good length on off stump. pat Cummins stands tall and defends it down on the off side from the outer half. Australia 261/8
7: 26 IST: It seems Ishant is having a problem with the footmarks, maybe some sawdust was required. Okay, he's come back out with it now. Ishant wants some sprinkled around the landing area of his run-up. Australia 259/8.
7:25 IST: Players are taking the field. Ishant Sharma into the attack. Hardly two balls are required to get the things done. Ishant to Pat Cummins, 1 run, Back of a length delivery outside off, Cummins rises and guides it past the diving Rahane at gully. A single is taken as third man mops it up.
7:05 IST: Good News!!! The covers are coming off and it is going to be a 71 overs game. The play will resume at 1255 LOCAL.
6:45 IST: EARLY LUNCH WILL BEEN TAKEN AT 1215 LOCAL. The forecast is said so clear up around 1300 local time, let's hope the radar is a reliable one.
6:17 IST: 
The radar is showing a bit more rain coming but clearing thereafter.

— Harsha Bhogle (@bhogleharsha) December 30, 2018
5:56 IST: It would be interesting to see if the decision of Indian captain Virat Kohli to not enforce a follow-on on Australia will come under the scanner following any interruptions in the weather or by the rain. Which is actually affecting the day's play.
5:51 IST: Let's hope for the best!
According to local weather channels, the sun should be out at 1:00pm (local) ie 7:30am IST at the MCG…#AusvInd#AusvsInd

— Mohandas Menon (@mohanstatsman) December 30, 2018
5:36 IST: 
There you go… down to a drizzle though. Okay am bored now! #AusvInd pic.twitter.com/Este4k48bV

— Chetan Narula (@chetannarula) December 29, 2018
5:28 IST: It has got even darker… rain has really picked up now. It's coming down quite heavily. And the covers are back on.
5:25 IST: Scratch the last update. The covers are back on as there's a slight drizzle. Doesn't look as bad though. The wait continues…
5:23 IST: 
Weather permitting, we will have a 11AM (local time) start here at the MCG #TeamIndia #AUSvIND pic.twitter.com/lnvPpOVVCw

— BCCI (@BCCI) December 29, 2018
5:22 IST:  Good News! The rain has stopped and the covers are coming off. Play will begin at 1100 local. The players are warming up. Guess we'll have some action soon.
5:00 IST: 
Raining at the moment but expected to pass. Fresh bowlers, new ball, overcast skies. India should look to wrap it up.

— Harsha Bhogle (@bhogleharsha) December 29, 2018
4:58 IST: The covers are back on and the start to the final day will be a bit delayed.
4:44 IST:  
Play to start on time if there is no further rain #TeamIndia #AUDvIND pic.twitter.com/ijEp9o9YWD

— BCCI (@BCCI) December 29, 2018
4:43 IST: There is a forecast of some rain today and this will bring a smile on the faces if you are an Australian supporter. So far, slight rain has been there and the pitch had been covered. The covers are off now though and nothing alarming as yet. Play should begin on time. Action awaits.
4:41 IST: Hello and Welcome to our live coverage of the third Test between Australia and India from the iconic Melbourne Cricket Ground (MCG).