India vs New Zealand Intercontinental Cup 2018 Live Update: Watch Captain Sunil Chhetri Score a GOAL, Sends Twitter in Tizzy
This fixture also marks the 50th international for Jeje.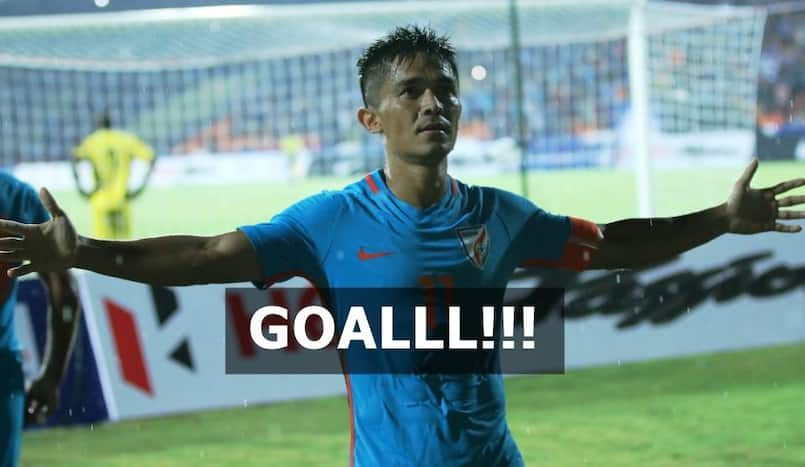 Indian captain Sunil Chhetri seems to be making it a habit, he scored again in the 47th-minute against New Zealand in the Intercontinental Cup 2018 match played at the Andheri Sports Complex. This is India's third encounter in this tournament and it is commendable that they have managed to keep a clean sheet till now. India also look hot-favourites to win the Cup.
This fixture also marks the 50th international for Jeje. Sunil Chhetri its seems is living a dream, he has already scored 8 goals in 3 matches. Mind you, the third match is still going on…
WATCH THE GOALLL.
Captain @chetrisunil11 scores his 62nd International goal for @IndianFootball to equal @Ibra_officia on the top goal scorers chart.
The lads are giving it their all; and with @BluePilgrims to #BackTheBlues everything is possible!
you?#AsianDream #AndheriPeMilna

— Jobin Thomas (@officialjobinj) June 7, 2018
#INDvNZL
I wish Indian team led by Sunil Chhetri well & hope they win the match by big margin. Come on India ,All the best…..#INDvNZL pic.twitter.com/n8aXZVspc6

— Ajeet Kumar (@davajeet) June 7, 2018
#INDvNZL this goal shows how smart our captain is.. @chetrisunil11 pic.twitter.com/PpSrgJ3gvF

— Tush (@Tushx3) June 7, 2018
Here is how Twitter went into a tizzy on watching the masterclass from Sunil Chhetri.
Salah, Mane and Firmino might be the best attacking trio in the World.

But Sunil Chhetri and Jeje remain the best attacking duo.#INDvNZL

— Aditya Srivastava (@aditya_twister) June 7, 2018
How a man could be so consistent to score goals in every match??? One more time our own @chetrisunil11 score a goal. He is such a gusto!! Take a bow legend!!#BackTheBlue #CaptainLeaderLegend #footballunited @StarFootball @IndianFootball #IndvsNz

— aman jha (@1107_aj) June 7, 2018
He can't stop scoring, I'm telling you!@chetrisunil11#INDvNZL#IndianFootball#BackTheBlue

— Philarima Hynniewta (@philarima) June 7, 2018
For India, this is a big tournament in their lead up to the big AFC Asian Cup 2019. The Blue Tigers have not lost a match since 2016.