India vs West Indies 2018: Windies Head Coach Stuart Law Suspended For First Two ODIs Against India, Breaches ICC Code of Conduct
Windies will miss the services of coach Stuart Law for the opening two ODIs against India following an altercation with the umpires during the second Test.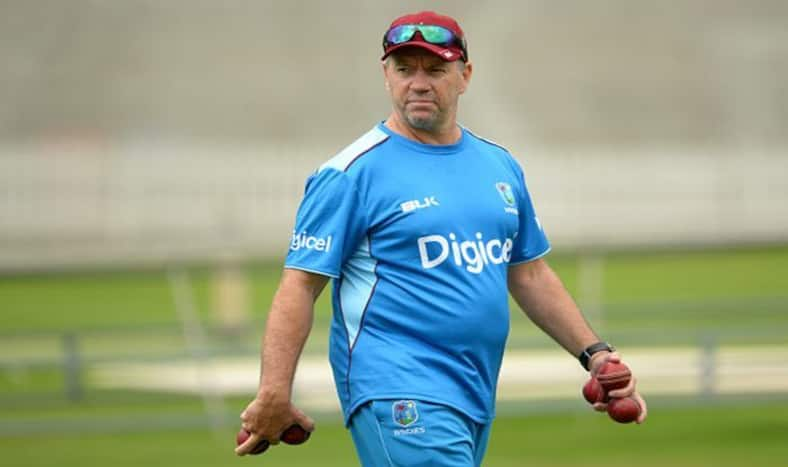 Known for their temperamental behaviour, Australians somehow find a way or two to get involved in the thick of things. This time it's the turn of West Indies coach Stuart Law (another Aussie), who has received a suspension for his volatile behaviour during the recently-concluded two-match Test series against India.
The touring side – Windies will miss the services of their head coach Law as he has been suspended for the upcoming two one-day internationals against India. The 49-year old was found guilty of breaching the ICC Code of Conduct for which he received a 100 per cent fine and three demerit points. This means his accumulated demerit points reached four within a 24-month period leading to the two-match ban.
READ | Jayasuriya Responds to Corruption Charges by ICC
During Sunday's play in the Hyderabad Test, Law was found guilty of breaching Level 2 Article 2.7 of the ICC Code of Conduct for Players and Player Support Personnel, which relates to "Public criticism of, or inappropriate comment in relation to an incident occurring in an International Match or any Player, Player Support Personnel, Match Official or team participating in any International Match, irrespective of when such criticism or inappropriate comment is made".
As Law had received a 25 per cent fine and one demerit point during the final day's play in the Dominica Test against Pakistan in May 2017, with the addition of these three demerit points, he has reached the threshold of four demerit points, which, pursuant to article 7.6 of the Code, have now been converted into two suspension points.
Therefore, Law has been suspended from the 21 and 24 October ODIs against India in Guwahati and Visakhapatnam, respectively.
The incident on Sunday afternoon happened when Stuart Law, following the dismissal of Kieran Powell, went to the TV umpire's room and made inappropriate comments. He then walked to the fourth umpire's area and, in the presence of the players, again directed inappropriate comments at the fourth official.
On Monday, Law admitted the offence and accepted the sanction proposed by Chris Broad of the Emirates Elite Panel of ICC Match Referees and, as such, there was no need for a formal hearing. The charges were leveled by on-field umpires Bruce Oxenford and Ian Gould, third umpire Nigel Llong, all from the Emirates ICC Elite Panel of Umpires, and fourth official Nitin Menon.
(With Inputs from ICC)