IPL 2019: Harbhajan Singh's Daughter Hinaya Cheers For Daddy, Chennai Super Kings And it is Adorable | WATCH VIDEO
IPL 2019: Harbhajan would be a proud father.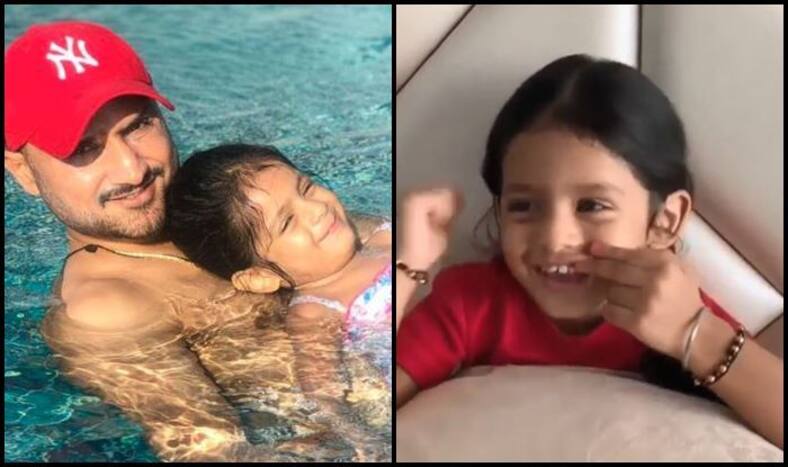 IPL 2019: It was one of the most cutest moments yesterday when Harbhajan Singh's young daughter Hinaya was spotted rooting for Chennai Super Kings and especially his father Harbhajan Singh. When she is asked who will win today, she instantly says 'Pappa will win'. Immediately, she corrects herself and says, 'CSK, CSK'. Chennai Super Kings beat KKR by seven wickets to go top of the points table and Harbhajan performed well as he scalped a couple of wickets. It comprised of the big wicket of Sunil Narine at the top of the order to set the tone for CSK. The post was captioned, "Thanks Nona putt.. papa love you."
Here is the video where you can see Hinaya rooting for the yelloves.
Meanwhile, CSK went top of the table with the win at Chepauk. Out of the six matches played, the team has been able to record wins in five matches.
CSK next take on Rajasthan Royals on April 11 at Sawai Mansingh Stadium in Jaipur.
"If you look it looks a good wicket to us. But, I don't think we want to play on wickets like these because it becomes too low-scoring and it becomes slightly difficult for our batters to get going. And also what happens is that it's slightly more difficult if you're batting first. As the dew comes in, it becomes slightly easier in the second half," ESPN Cricinfo quoted Dhoni as saying.
Chennai seamer Deepak Chahar, who took three wickets in the match, too expressed displeasure over Chepauk track saying that nobody wants this type of wicket.
"I'm happy I performed well, but obviously we're looking for a better wicket. Nobody wants this type of wicket. It's because of the soil and heat and you can't help it. It's very hot here and the pitch curators are doing their best job to give us a good track. But, at the end of the day, you can't help it."