IPL 2019: MS Dhoni Plays Prank on Imran Tahir's Son's Birthday Celebrations After CSK Beat KKR to go Top of Points Table | WATCH VIDEO
IPL 2019: The yellow camp is in good spirits midway through the tournament.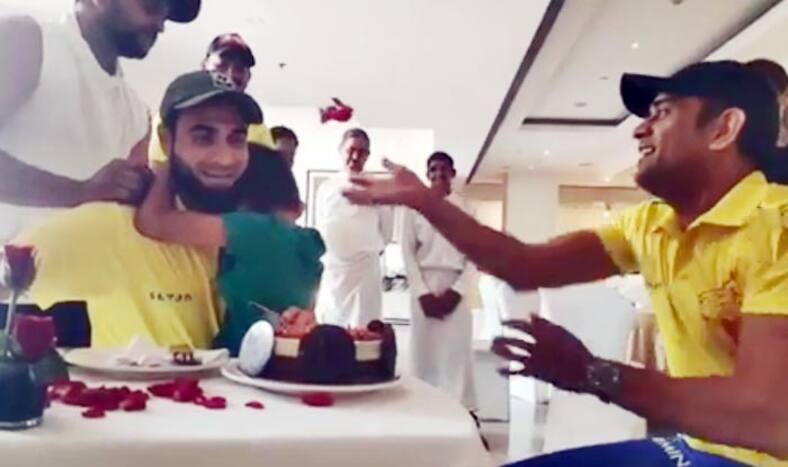 IPL 2019: CSK skipper MS Dhoni was in a mood to play pranks after Chennai beat KKR to go top of the table. Dhoni was seen playing around with Imran Tahir's son during his birthday celebrations after CSK reached Jaipur for their next fixture. Tahir's son, unlike his father, looked shy and in order to make him feel comfortable, Dhoni got playful. This is not the first time that Dhoni has regaled the super cubs at CSK. Dhoni threw flowers on Tahir's son as he looked away in his father's lap.
"It's Jr. Parasakthi Express' birthday and our little cub is a lil' too shy today! Here's to many more running races and super fast airplanes, Gybsy," the post was shared by CSK and this is what it read.
Here is the video which will melt your heart:
"If you look it looks a good wicket to us. But, I don't think we want to play on wickets like these because it becomes too low-scoring and it becomes slightly difficult for our batters to get going. And also what happens is that it's slightly more difficult if you're batting first. As the dew comes in, it becomes slightly easier in the second half," ESPN Cricinfo quoted Dhoni as saying.
Chennai seamer Deepak Chahar, who took three wickets in the match, too expressed displeasure over Chepauk track saying that nobody wants this type of wicket.
"I'm happy I performed well, but obviously we're looking for a better wicket. Nobody wants this type of wicket. It's because of the soil and heat and you can't help it. It's very hot here and the pitch curators are doing their best job to give us a good track. But, at the end of the day, you can't help it."
Chennai will now visit Jaipur to face Rajasthan Royals on April 11.