IPL 2019: MS Dhoni, Sakshi Sleeping on Floor After CSK beat KKR is a Sight to Behold! SEE PIC
Chennai Super Kings Skipper MS Dhoni was seen sleeping in the Chennai airport after the victory against Kolkata Knight Riders in the Indian Premier League on Tuesday.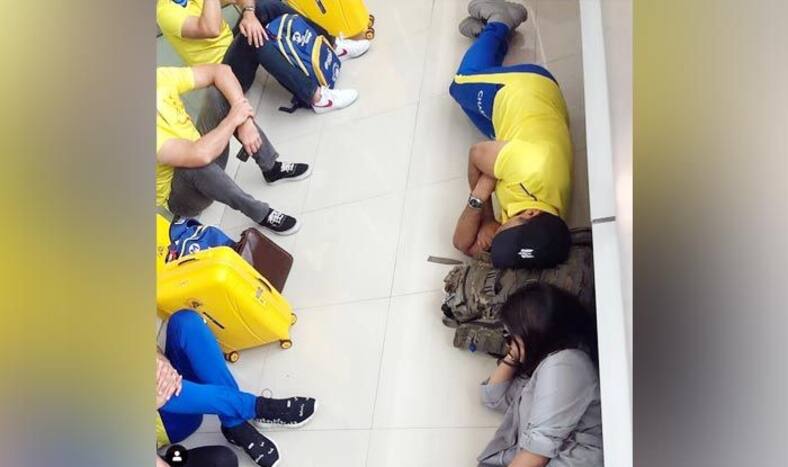 Former Indian cricket skipper MS Dhoni is one of the most iconic personalities of the sports fraternity and his modest and simple nature is exemplary to all aspiring youngsters. In a recent incident, the Chennai Super Kings captain was seen sleeping on the ground in the Chennai airport right next to his wife Sakshi after the match between Chennai and Kolkata Knight Riders on Tuesday where his side won to take the top of the Indian Premier League (IPL) table.
The MS Dhoni-led side delivered a scintillating all-round performance to outclass Dinesh Karthik's Kolkata side as they defeated them by seven wickets in the match 23 of the IPL at the Chepauk Stadium in Chennai. After their loss, the visitors dropped down to the second position having attained eight points from their six matches played so far.

Speaking to the presser after the match, Dhoni said: "Overall, the bowling unit looks good. But once we play on better and flatter wickets with smaller boundaries, we will have to see what is the best combination to play with."
"I have been here for a very long time. Lot of good things have happened for me here including my Test debut. The crowd loves CSK and I have been a part of the franchise from the start. It is a special connection and they have really adopted me."
Dhoni also suggested that the tracks at Chepauk needs to improve as batting becomes difficult on it.
"We have been cribbing about the track but we have ended up winning the game. Losing Bravo, it is slightly difficult for us to get the combination as we are missing the all-rounder. David (Wiley) is not here, as well. So, it can't be a straight swap.
"I don't think we want to be playing on these tracks. It becomes too low scoring. It becomes slightly difficult for our batsmen as well. It is slightly more difficult batting first but once the dew comes in, it gets better," he pointed.
Commenting on the way the bowling unit functions, he said that he prefers to only guide the bowler by telling him what the batsman is trying to do. "If you once set your own plans, then I step in looking at how the batsman is playing. I don't think we have very long bowling meetings which lasts at best 15 minutes. Nowadays, I have been emphasising on one-on-one meetings and even I am not part of that," he said.