IPL 2019: Not Dhoni, Dhoni, Sachin, Sachin Chants Heard During CSK vs MI at Chepauk | WATCH VIDEO
In the match between Chennai Super Kings and Mumbai Indians in Indian Premier League, the Channi fans ut their allegiances aside to chant for Indian cricket legend Sachin Tendulkar.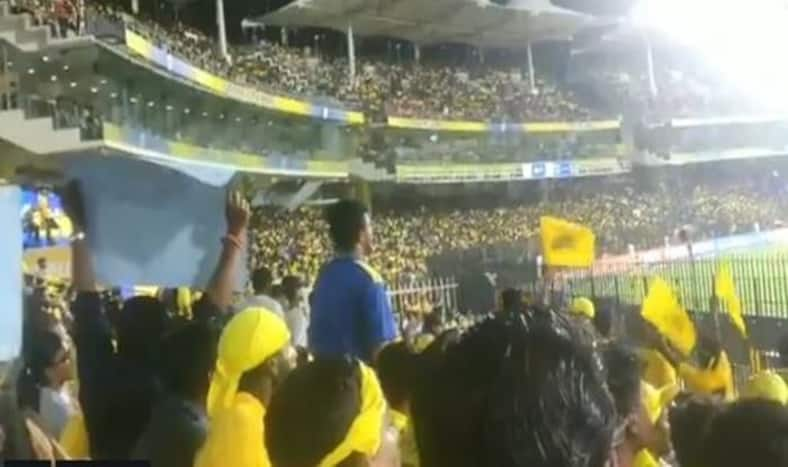 Sachin Tendulkar's legacy is such that it defies the idea of fans supporting players only who are involved with the team they support. In the case where the 'Master Blaster' is involved, it doesn't matter which team jersey he dons, he brings together the fan base of both teams as they sing the 'Sachin, Sachin' chant in unison.
In the match between Chennai Super Kings and Mumbai Indians at the Chepauk Stadium on Friday, it was the home fans singing the legends name who represented the visiting team.
The Indian Premier League (IPL) match concluded with a resounding victory by 46 runs for the Mumbai Indians as they produced an all-round effort against the defending champions, ending their five-match winning streak at home in the ongoing T-20 cricket campaign.
Regardless of the imminent defeat in the match, the Chennai fans put their allegiances aside to chant for Sachin, watch the video here:
SACHIN… SACHINN…. Chants At Chennai
Still the Loudest Cheer Always For Sachin Tendulkar

No color matters when it comes to cheering GOD of Cricket.
Craze Level- @sachin_rt ❤️

Retweet if You Get Goosebumps after Hearing Sachinnn….Sachinnn…@mipaltan #CSKvMI #OneFamily pic.twitter.com/SbKDh69Hq1

— CrickeTendulkar 🇮🇳 (@CrickeTendulkar) April 26, 2019
After the match, Mumbai skipper Rohit Sharma said: "It was a massive boost that MSD (Dhoni) wasn't around. Because his presence does a lot for their team. When you don't have Dhoni when they're chasing the score, then it becomes difficult for them."
Rohit said it was a blessing in disguise for him to lose the toss as they too would wanted to chase on what eventually turned out to be another slow Chepauk surface.
"I thought it was better to lose the toss since we wanted to chase as well. But we knew whether we bat first or bowl first, we'll still have to play good cricket. We spoke about that at the start of the game, but it was a great effort by the boys since it's not easy to come here and play," he said.
Rohit too was mighty relived to have scored his first half-century of the season on Friday. "It was a satisfying innings. I was getting 30s and 40s but not getting half-centuries. At no point was I worried about my form because I was hitting the ball well. I knew the day will come, and I guess today was the day," he said.
CSK stand-in skipper Suresh Raina blamed the team's batting department for the loss.
"We didn't bat well. We kept losing wickets every 2-3 overs, so our batsmen need to take more responsibility. Our bowling has always been good this season. We thought 155 was chaseable. But we lost too many wickets in the powerplay and middle overs," he said.