IPL 2019: Royal Challengers Bangalore's Virat Kohli And Dale Steyn React to Throwback Picture | WATCH
Royal Challengers Bangalore (RCB) skipper Virat Kohli and pacer Dale Steyn reacted to a throwback picture after their victory against Chennai Super Kings (CSK) on Sunday.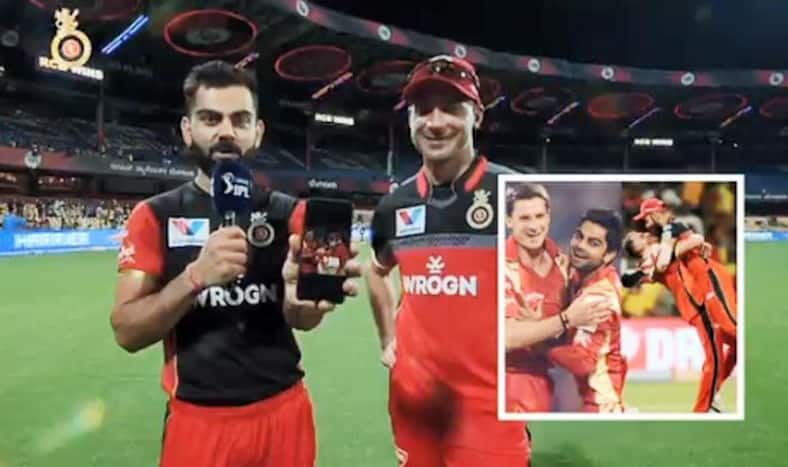 Following their thrilling victory against defending champions Chennai Super Kings (CSK) on Sunday, Royal Challengers Bangalore (RCB) skipper Virat Kohli was jubilant. In an interaction with the media post-match, he shared a throwback picture of himself along with South African colleague Dale Steyn. The picture was taken in 2010 season of the Indian Premier League (IPL), and Kohli said that this is their own ten-year-challenge, pointing out at how Steyn still looks as young but he has changed.
"There is a little thing that came out on social media recently the 'Ten-year challenge.' I want everyone to have a look at this me and Dale Steyn on the left in 2010 and me and Dale Steyn on the left in 2019. Dale Steyn looks the same but on the left, you can see it's a different human being on the left and on the right, it's a different one. Feels amazing to celebrate with this man (Steyn) after ten years and we would never have thought after parting ways in 2010 that we will be doing the same thing at Chinnaswamy all over again," said Kohli.
Dale Steyn has been a major asset for the RCB bowling line-up and has played a crucial role in defeating Kolkata Knight Riders and Chennai Super Kings.
Delighted to have Steyn back in the team – Virat Kohli

On their @RCBTweets reunion, watch what happens when @imVkohli and @DaleSteyn62 discover a 9 year old treasure! By @RajalArora. #RCBvCSK

Full video 📹 – https://t.co/JsA5MqgzCw pic.twitter.com/jP87nA3K7I

— IndianPremierLeague (@IPL) April 22, 2019
CSK fell short of one run and there was another highlight of MS Dhoni masterclass as the Chennai skipper knocked an impressive 48-ball 84. Kohli praised the 'Captain Cool' saying that he did what he does best, which is to give the opposition a scare.
"A whole lot of emotion. We were outstanding with the ball until the 19th over mark. On the last ball, that was the last thing I would've expected to happen. Feels good to win a game by a small margin. MS did what he does best and he gave us all a massive scare. In the first six overs, we thought the ball wasn't coming onto the bat that much. PP and AB started to rebuild. At the halfway mark we thought 175 would've been a very good total on this pitch. We thought we were 15 short," said Kohli at the post-match presentation.