Lionel Messi Arrives at Old Trafford Ahead of Champions League Tie Against Manchester United | See Pic
Lionel Messi and his Barcelona side have arrived to the Old Trafford stadium ahead of their Champions League quarterfinals fixture against Manchester United on Wednesday.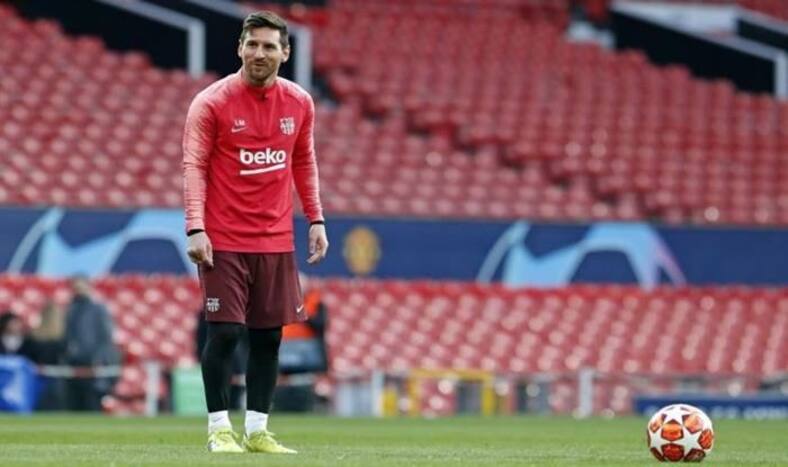 Manchester United are all set to host Barcelona in the first leg of their Champions Leg quarterfinals fixture at the Camp Nou Stadium on Wednesday. The Ole Gunnar Solksjaer-led side had famously defeated Paris Sain-Germain in their round of 16 after registering a comeback from a 2-0 deficit in the first leg. While Barcelona cruised past Lyon to seal a place in the last eight.
The Enrnesto Valverde-led Barca have all but sealed their league trophy in the La Liga and will aim to emulate their top performances in the Champions League in a bid to win the tournament for the first time since 2015.
The Red Devils are currently placed at the sixth position in the Premier League and as their Champions League qualification for the next season by finishing top four in the league grows increasingly uncertain, the route to attaining that spot by winning the tournament in the current campaign is a possibility they would have to bank on.
In stark contrast, Barcelona's forwards starring the likes of Lionel Messi and Luis Suarez are firing on all cylinders while Manchester United's defenders are facing a difficult time without consistent performances on the trot.
Here are the pictures of Barcelona's training ahead of the much-anticipated fixture:
🔥 We all know what happens next…
🐐 #Messi
🔵🔴 #MUFCBarça #ForçaBarça pic.twitter.com/PXBIzgSYCc

— FC Barcelona (@FCBarcelona) April 9, 2019
😂 Guess who? 😏 pic.twitter.com/gRWyYFvSpW

— FC Barcelona (@FCBarcelona) April 9, 2019
👋 Old Trafford 🏟
⚽️ Making a mark in the Theatre of dreams, on the eve of #MUFCBarça

🔵🔴 #ForçaBarça pic.twitter.com/57tnhVDKS9

— FC Barcelona (@FCBarcelona) April 9, 2019
🔊 Valverde: "We're playing well, and now we want to keep it going in these two games. We know it's important to score away from home." #MUFCBarça pic.twitter.com/FGUA7sUB27

— FC Barcelona (@FCBarcelona) April 9, 2019
🔊 Valverde: "Manchester United have a high morale coming into this match. We have to keep an eye on their strengths."

LIVE ENGLISH FEED 🎥▶ https://t.co/sOQYMGxCAj
pic.twitter.com/tr1WNg0HVA

— FC Barcelona (@FCBarcelona) April 9, 2019
Ahead of the fixture, Barcelona defender Gerrard Pique has recalled his time in England with Manchester United: "This is a very special match for me. I learned a lot in Manchester," he said.
It will be an interesting fixture when these two of the most successful European teams take to the field against each other in the biggest club competition of the world.