live
PKL 2019 Semifinal 2 MATCH HIGHLIGHTS: Bengal Warriors Beat U Mumba 37-35 to Reach First-Ever Final
Bengal Warriors registered a narrow 37-35 victory over U Mumba in a tightly-fought contest to clinch a place in Pro Kabaddi League (PKL) season seven final on Wednesday.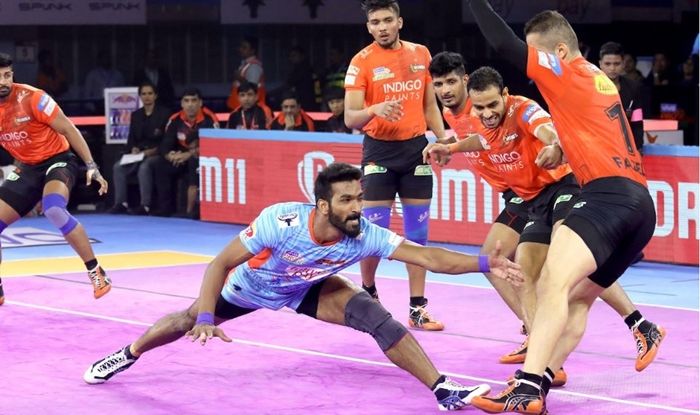 BEN vs MUM PKL 2nd Semi-final: After semi-final 1 between the Bulls and Dabang Delhi, Bengal Warriors, who have had a good season thus far would like to make it better when they lock horns with U Mumba in Ahmedabad on Wednesday. The Fazel Atrachali-U Mumba outfit beat Haryana Steelers in the eliminators to reach the semis, whereas the Warriors booked a direct spot in semis after finishing second the PKL 2019 standings.
MATCH HIGHLIGHTS PKL 2019 Bengal Warriors vs U Mumba Semifinal 2
The Warriors will start as overwhelming favourites against U Mumba as they have defeated them on both occasions this season. Also, Bengal have been in top form as they have lost just one out of their last ten matches. The Warriors will hope Maninder Singh, who has been in rampaging form, can stamp his authority early on in the big clash.
PKL 2019 2nd Semi-Final Predicted Starting 7s
Bengal Warriors: Maninder Singh, Mohammad Nabibakshsh, Rinku Narwal, Sukesh Hegde, K Prapanjan, Jeeva Kumar, Baldev Singh
U Mumba: Fazel Atrachali, Abhishek Singh, Arjun Deshwal, Surinder Singh, Harendra Kumar, Sandeep Narwal, Athul MS
Live Updates
PKL 2019 LIVE SCORE AND UPDATES: BENGAL WARRIORS ARE IN PKL 2019 FINAL.

In the final raid of the match – Arjun Deshwal gets tackled by Baldev Singh. What a victory for Bengal Warriors. They will be playing Dabang Delhi K.C. in the final of PKL 2019 on Saturday. BENGAL WARRIORS 37-35 U MUMBA

PKL 2019 Live Updates: It's even-stevens here in Ahmedabad. Great show by Abhishek Singh and Sandeep Narwal. Bengal are in trouble. Little more than a minute to go now. BEN 35-35 MUM

Bengal Warriors suffer 1st All-Out of the match, what a time to concede that. Abhishek Singh picked up his tenth Super 10 of the season. The tables have turned, as U Mumba have got 12 points in the last five minutes. BEN 35-33 MUM

PKL 2019 Live Score and Updates: Is this the match-changing raid from young Ajinkya Kapare? Super Raid for U MUMBA! After the official timeout, U Mumba have woken up in some style. MUM 29-33 BEN

Prapanjan gets dashed out by Sandeep Narwal. While Arjun also returns empty-handed for U Mumba. Abhishek gets another crucial point for Mumbai, he gets a touch on Jeeva Kumar. MUM 24-30 BEN

PKL 2019 Live Updates: Esmail Nabibakhsh delivers again in raiding for Bengal, silly mistake from Sandeep Narwal. Mumba down to one man. BEN 27-19 MUM

SUPER RAID FOR BENGAL WARRIORS – SUKESH HEGDE DEMOLISHES MUMBA'S FAMED DEFENCE. Sukesh patiently looks for a chance, Fazel gets impatient and goes for an advanced tackle and as four men get forward to help him, Sukesh gets his hand over the line. Four points for Bengal. BEN 27-19 MUM

PKL 2019 Live Score and Updates: Bengal once again started the second half on a bright note as Nabibakhsh gets a touchpoint in his first raid. Ajinkya Kapre then raids for U Mumba and gets a touchpoint. Bengal Warriors 19-14 U Mumba