live
IPL 2021 MATCH HIGHLIGHTS, DC vs KKR 2021 Scorecard Qualifier 2 Cricket Updates: Kolkata Knight Riders Beat Delhi Capitals by 3 Wickets to Book Summit Clash vs Chennai Super Kings
Check IPL 2021 MATCH HIGHLIGHTS, DC vs KKR Latest Cricket Updates IPL 2021 Qualifier 2: Hello and welcome to our live cricket coverage from Qualifier 2 of IPL 2021 between Delhi Capitals and Kolkata Knight Riders being played at Sharjah Cricket Stadium.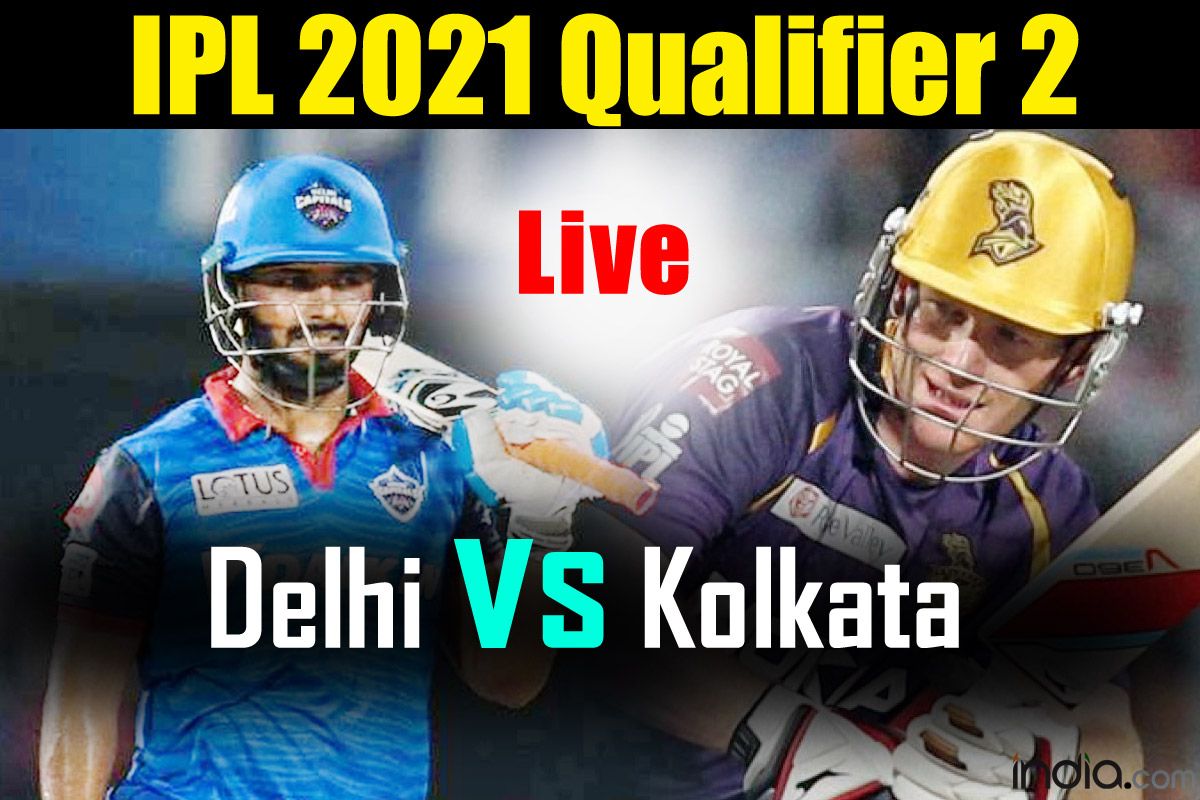 Live Updates
IPL 2021 Live Cricket Score and Updates: Venkatesh Iyer is the Player of the Match. He says that he is doing what he has been asked to do and is very happy to get this win. Adds that he is just enjoying his time here and he is doing nothing different from Syed Mushtaq Ali Trophy and first-class cricket. Tells that he wanted to bat well with Shubhman Gill and credits him by saying that he is an exquisite stroke-maker. Signs off by saying that he is fully focused on the next game now and he is not thinking about the T20 World Cup just yet. Right then! After two legs of the competitions and plenty of entertainment, we are set for the final act of the Indian Premier League 2021. Two captains who are known to keep their cool under pressure will lead their teams on the field for the finale on October 15th 2021. Chennai Super Kings and Kolkata Knight Riders will battle out for 40 overs to lift the dazzling trophy but only one team will get their hands on it. The final will begin at 6 pm Local (7:30 PM IST). Make sure you join us for the grand finale of what has been an exciting competition! See you there. Till then, take care and goodbye!

Live Cricket Score IPL 2021 Today: Eoin Morgan, captain of KKR, is down for a chat. He says they will dissect what happened in the death overs. Adds that the openers gave them a brilliant start and they are over the line and that is what matters. Says that Delhi are a very good side and fought hard. Credits Rahul Tripathi for stepping up the task and getting them over the line. Informs that it is pleasing to see guys like Iyer, Gill and Tripathi batting the way they have. Says that they always had the belief even when they were struggling back in India. Informs that Iyer was brought in the XI by the coach and is glad that it turned out well. Morgan adds that Chennai are one of the best teams in the league but anything can happen in the final.

DC vs KKR Live Cricket Score, IPL 2021 LIVE Updates: Rahul Tripathi is down for a chat, he says that it feels great to finish the game. Adds that he never thought it would go so deep but he is glad to finish the game. Says that he wanted to face the last two balls to hit a six but he was also open to taking a couple of runs. Furthers adds that it has been a great journey for them in the UAE leg and the positive approach has helped them a lot.

DC vs KKR Live Score Today, IPL 2021 LIVE: Rishabh Pant, the skipper of Delhi Capitals, says that there are no words to express. Adds that they tried to keep things tight but unfortunately they were not able to get over the line. Credits Kolkata bowlers by saying that they bowled really well in the middle overs. Tells that they will look to come back strong in the next season. Signs off by saying that they learn from each other, back each other, and would be looking to come back harder in the next season.

It wasn't a big target for Kolkata Knight Riders but the pressure of the moment could have gotten to them but they didn't allow it at the start. The pair of Iyer and Gill simply deflated the bowling lineup of Delhi Capitals. Iyer was the aggressor and made sure that the required rate did not get out of control while Gill made sure that he rotated the strike well. Iyer got to his fifty but fell soon after. But by then, it looked like the game was done and Kolkata looked set to get over the line. But the wicket of Gill when he was on 46 was a big moment. The batters coming in after that struggled to get off the mark on this sluggish surface and they almost threw it away. From 123 for 1 they found themselves at 129 for 5 needing 7 runs in the last over. They even last two wickets in the last over and things looked bleak for them but Tripathi sent a ball sailing over the fence to get them over the line.
DC vs KKR MATCH HIGHLIGHTS TODAY IPL 2021 Qualifier 2 UPDATES
Sharjah: Hello and welcome to our cricket coverage of VIVO IPL Qualifier 2 between Delhi Capitals and Kolkata Knight Riders at the Sharjah Cricket Stadium. See the latest IPL 2021 MATCH HIGHLIGHTS, IPL Match Score, Delhi Capitals and Kolkata Knight Riders IPL HIGHLIGHTS Today, DC vs KKR 2021 Scorecard, IPL Match Score 2021, IPL 2021 MATCH HIGHLIGHTS Today and cricket updates here. IPL 2021 MATCH HIGHLIGHTS: Kolkata Knight Riders (136/7 in 19.5 overs) beat Delhi Capitals (135/5) by 3 wickets in IPL 2021 Qualifier 2 at the Sharjah Cricket Stadium. Kolkata Knight Riders survive a massive scare in the Qualifier 2 of IPL 2021 on Wednesday to beat Delhi Capitals by 3 wickets and reach the final where they will meet the Chennai Super Kings on October 15. Chasing a below-par 136 for victory, KKR were cruising at one stage when openers Venkatesh Iyer (55) and Shubman Gill (46) were at the crease. But then came the dramatic collapse as KKR lost 6 wickets for 7 runs in 3 overs and collapsed from 123 for 1 to 130 for 7 to send shockwaves in their dugout and around the entire stadium. With 6 needed off the final 2 balls, batsman Rahul Tripathi hit a sixer off the penultimate delivery bowled by Ravichandran Ashwin to take KKR over the finish line with 1 ball to spare. (SCORECARD)