live
NZ vs AUS T20 MATCH HIGHLIGHTS, T20 World Cup 2021 Final Match Cricket Updates: Mitchell Marsh, David Warner Fifties Power Australia to Maiden World T20 Title, Beat New Zealand by 8 Wickets
T20 World Cup 2021 MATCH HIGHLIGHTS, NZ vs AUS T20 SCORECARD, New Zealand vs Australia T20 Match Updates: Australia won the ICC T20 World Cup 2021 as Marsh and Warner hit half-centuries to chase down 173-run target versus New Zealand with eight wickets in hands at the Dubai International Stadium.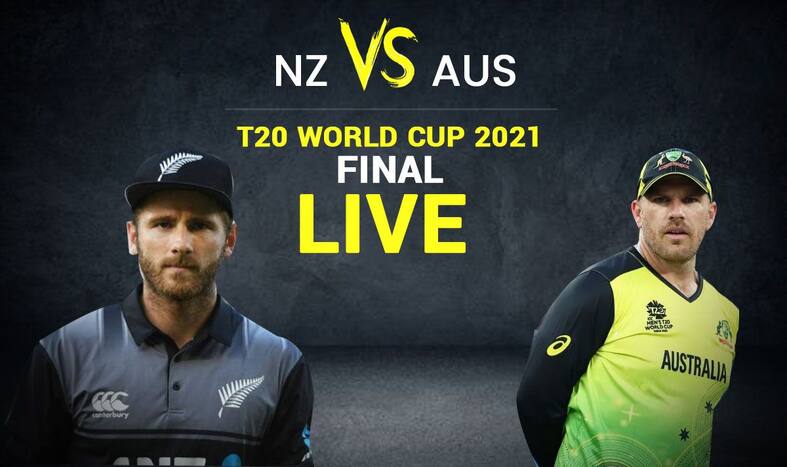 NZ vs AUS MATCH HIGHLIGHTS, T20 World Cup 2021 Final Match
Dubai: Hello and welcome to our cricket coverage of the T20 World Cup 2021 Final Match between Australia and New Zealand at the Dubai International Stadium. Check the latest T20 World Cup 2021 MATCH HIGHLIGHTS, NZ vs AUS T20 Scorecard, NZ vs AUS  Streaming Cricket, T20 World Cup Match Score, New Zealand vs Australia MATCH HIGHLIGHTS Today, New Zealand vs Australia T20 MATCH HIGHLIGHTS, New Zealand vs Australia MATCH HIGHLIGHTS, T20 World Cup Score 2021, Today cricket updates here. NZ vs AUS T20 MATCH HIGHLIGHTS – A clinical unbeaten knock from Mitchell Marsh (77 not out off 50 balls) along with a crucial half-century by David Warner (53) and a superlative spell by Josh Hazlewood (3/16) powered Australia to win their first T20 World Cup trophy, defeating New Zealand by eight wickets in the final at the Dubai International Stadium on Sunday. Facing a target of 173, the biggest chase in a Men's T20 World Cup final, Australia reached home with seven balls to spare.Aaron Finch wins TOSS, Australia opt to bowl against New Zealand at the Dubai International Stadium on Sunday. (SCORECARD)
Live Updates
NZ vs AUS T20 Live Cricket Score- Aaron Finch lifts the trophy and his teammates join him in celebration. Uncork the champagne, the party begins and it will go deep into the night. Well, that's all from the commentary team. This tournament was an absolute treat and we thank all the organizers in the UAE for being a great host. Until next time, allow us to bid you farewell. Stay safe and awesome. Cheers!

T20 World Cup 2021 Live Score: Aaron Finch, the World Cup-winning captain of Australia, starts by saying that this victory is huge. Tells that he is very proud of his boys and admits that they had their backs to the wall before the tournament started. Calls David Warner outstanding and says that it's hard to understand that people wrote him off. Terms Adam Zampa as a super player and further says that the leggie is the Player of the Tournament for him. Praises Mitchell Marsh for the way he started with the bat and put pressure on the Kiwis. Also talks about the contributions from Matthew Wade and Marcus Stoinis in the semifinal.

Kane Williamson, the captain of New Zealand, talks about his innings and says that they were trying to get a platform as the surface was holding up. Calls Australia a fantastic side and praises them for the way they chased down the target. Adds that at the halfway stage, they made every effort to get a competitive total. Tells that Australia didn't give them an inch but he is proud of his team for the way they operated in this tournament. Mentions that the guys were very committed and they adapted quite well to the different challenges. Admits that there were some high hopes coming in, so they are feeling it a bit. Further says that there are only two possible outcomes and it's a shame they couldn't pull it off this evening.

NZ vs AUS Live Score Today: DAVID WARNER IS AWARDED THE PLAYER OF THE TOURNAMENT! The Australian opener says that it was all about going back to basics and he managed to do that. Tells that this win is right up there with 2015 and praises his teammates and support staff. Shares that he is always pumped and wanted to put up a spectacle in the final. Admits that there were nerves but he is glad that the players delivered.

Live Cricket Score T20 World Cup: MITCHELL MARSH IS THE PLAYER OF THE MATCH! He has a big smile on his face, says that he has no words to describe his feelings. Talks about batting at number 3 and shares that the coaching staff came up with this plan during the tour of West Indies and he grabbed it with both hands. On hitting his first ball for a six in the final, Marsh replies that there wasn't a lot of thinking behind that, he just tried to play his game. Calls it an unbelievable feeling.

NZ vs AUS T20 Scorecard, T20 World Cup Live Score: Justin Langer, the proud coach of Australia, comes up for a chat. Says that this is a special group of players. Adds that getting back together as a group felt quite good. Tells that they knew how much talent they had as a group and says that when they played in West Indies and Bangladesh, they had a few missing pieces. Shares that they tried to have fun in the bio-bubble to take the stress away. Praises Adam Zampa by saying that his bowling puts a smile on everyone's face. About Josh Hazlewood, Langer says that he has been in sublime form and signs off by calling it a team effort from the Aussies.