MS Dhoni is Priceless For Team India, Virat Kohli Backs Former Captain Ahead of World Cup 2019 in England
Kohli termed all the criticism around Dhoni is unfortunate, he said that former captain's presence in the team allows him more freedom.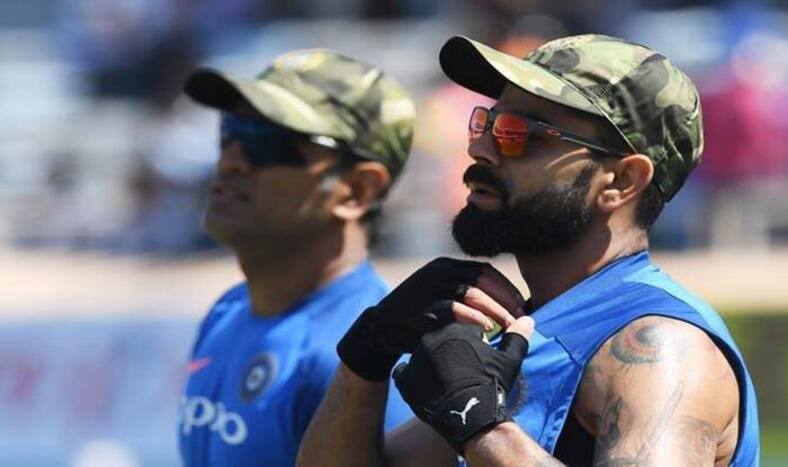 The relationship between India captain Virat Kohli and former skipper MS Dhoni is well-documented in the cricketing circles. Both the cricketers not only share a great camaraderie but also an inseparable bond both on and off the field. It would not be wrong to say that Kohli and Dhoni are Team India's strongest pillars of strength, particularly in the white-ball format. With the countdown for World Cup 2019 already begins, Kohli has once again underlined the importance of Dhoni in India's squad in the mega event, starting on May 30.
Dhoni has been named as the first-choice wicketkeeper in India's 15-member squad for the World Cup. Making his fifth appearance at the quadrennial event, Dhoni is still an indispensable member of the Blue Brigade. The 38-year-old's lightning-quick wicket-keeping skills, finishing panache and the cricketing brain is still unmatched in world cricket. However, Dhoni also had to cope with a fair share of criticism lately for his waning power-hitting skills and struggle to rotate strike in the limited-overs format.
On being quizzed about Dhoni's limitations in white-ball cricket and his effectiveness, Kohli was quick to lash out at Dhoni's critics, saying the veteran ace contribution to Indian cricket is "priceless". He also added that Dhoni's availability allows him to execute his plans with freedom."What can I say about him. My career started under him and few have seen him from so close over the last few years as I have. There's one thing about MS that's far more important than anything else – and there's a lot to him – for him, the team is always above everything else. It's always about the team, no matter what," Kohli was quoted by The Times of India in an exclusive interview.
He added: "To top it, look at the experience he brings to the squad and we're richer with it. Some of his dismissals behind the stumps, just recently too (in IPL), were match-changing."
The world number one batsman – Kohli also pointed out, Dhoni has excelled with his unmatched wicketkeeping skills and the game awareness he brings to the team. Apart from being an amazing wicketkeeper, Dhoni's ability to help Kohli with tactical inputs is adding a lot of value to the team.
Lashing out at MS Dhoni's critics, Kohli added: "That's unfortunate. Honestly, I think people lack patience. An odd day here, a poor one there, and chatter becomes endless. But the fact is that MS Dhoni is among the smartest guys in the game. Behind the stumps, as I said, he's priceless. It gives me the freedom to do my thing. Someone like MS is around with a wealth of experience."
In the past couple of years, Team India has emerged as a strong unit across all format, the major credit for their successful run and domination in world cricket toes to the solid partnership between Kohli and head coach Ravi Shastri. While Shastri is perceived as a yes-man to Kohli by many, the Indian captain feels the duo's work has allowed the team to change its culture.
"It's gone into a sort of an auto-mode now and the reason is because of the work that's been put in over the last 15-odd months. Culture management has been the calling card and that's something the team management has been particularly convinced about… The guys have responded to it beautifully. It's a different picture that's been posted outside. Within the team, we know the mindset we carry. We're going with a group of people and this is not about individuals. This is everybody's effort," Kohli further added.
The Men in Blue will take on South Africa in their first World Cup 2019 match in Southampton on June 5.