Nick Kyrgios Takes a Cheeky Jibe at Rafael Nadal on Instagram After Beating Him in Mexican Open in ATP Acapulco | SEE POST
At the end of the match, the handshake between the pair was extremely frosty with Nadal barely looking in Kyrgios' direction.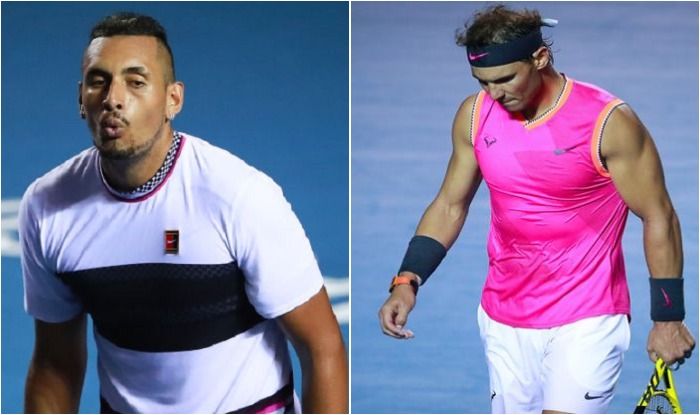 World number two – Rafael Nadal slammed Nick Kyrgios of lacking respect "for the public, the opponent and himself" during their Round of 16 match in the ongoing Mexican Open in Acapulco. Responding to criticism, the Australian firebrand has hit back at the Spaniard with a cheeky post on his official Instagram handle. After suffering a close defeat to Kyrgios at Mexican Open, Nadal was furious with the young Aussie, who at one stage complained of being sick, served underarm late in the match before cupping his ear to the boos of the crowd at the conclusion of the second round tie.
Responding after his infamous victory over Nadal, Kyrgios wrote on his Instagram handle and took a direct jibe at the former. Kyrgios shared a clip of the match point and two pictures of himself with the caption: "Don't doubt yourself, there are plenty of people who will do that for you. He wrote, "I can smell the blood when I play this dude #Emotions".

Kyrgios survived three match points to beat top-seeded Nadal 3-6, 7-6 (7/2), 7-6 (8/6) on Wednesday and reach the quarter-finals. In a match lasting three hours and three minutes, Kyrgios saved six break points and three match points before knocking out the 17-time major winner.
It was Kyrgios' third win over Nadal in their six meetings and his antics on the court, including hitting an underarm serve, clearly rattled the world number two. At the end of the match, the handshake between the pair was extremely frosty with Nadal barely looking in Kyrgios' direction.
In his post-match press conference, Nadal lashed out at Kyrgios saying: "He is a player who has ginormous talent. He could win Grand Slams and fight the top positions of the ranking, but there is a reason why he is where he is."
"He lacks respect for the public, the rival and towards himself."
But Kyrgios did hit back at Nadal in his own media briefing saying: "I'm different, Rafa's different, he can focus on what he needs to do. "He doesn't know the journey I've been through, he doesn't know anything about me so I'm not going to listen at all.
One word: INCREDIBLE!

🙌🙌@NickKyrgios saves three match points to defeat Rafael Nadal 3-6 7-6(2) 7-6(6) to reach @AbiertoTelcel quarter-finals. pic.twitter.com/rutHnzLjQ5

— Tennis TV (@TennisTV) February 28, 2019

"It's the way I play, it's the way he plays. He's very slow between points. There's a rule in the books that says you have to play at the speed of the server, Rafa has the speed every time.
"I'm not going to comment on his game, he has his game, I have my game.
Kyrgios will play Stan Wawrinka in the quarter-finals on Thursday.