Oman vs India Live Football Match Highlights – Gritty India Thwarts Oman to a Goalless Draw in Friendly Clash
Oman vs India Highlights: The Indian football team are gearing up for the Asian Cup 2019 and will take to the field against Oman for rehearsal in a friendly match at the Bani Yas Stadium in Abu Dhabi, UAE on Thursday.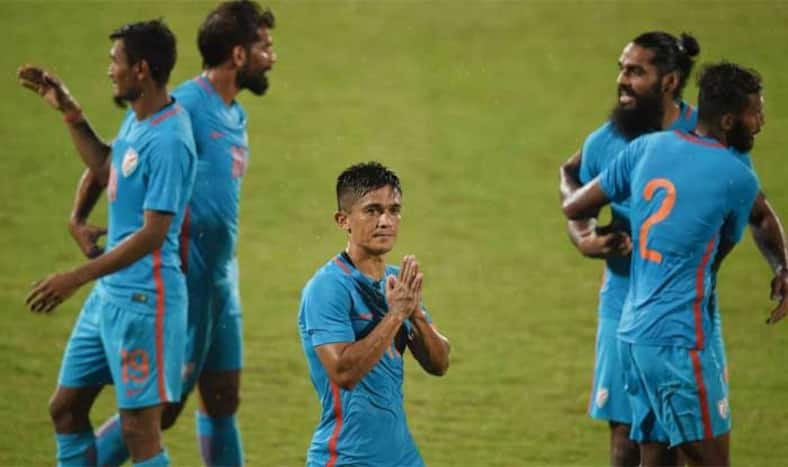 Oman vs India Highlights – The Indian football team concluded their preparations for the Asian Cup 2019 with a goalless draw in a friendly encounter against Oman at the Bani Yas Stadium in Abu Dhabi, UAE on Thursday. The upcoming continental tournament will be an important one for the Blue Tigers and will provide a good platform to judge where they stand.
The Blue Tigers are ranked 97 of the FIFA Rankings, while their opponents are ranked at 84th.  Here are the highlights from the match:
7th Minute: India's keeper Arminder Singh pulled off a superb save to thwart the Oman striker's effort. India can now try to capitalise with a counter-attack.
Oman 0, India 0
11th minute: India have fielded a strong eleven against the 84th ranked Oman, and will look get a crucial victory ahead of the Asian Cup tournament.  So far, it's been ten minutes into the match and the deadlock is yet to be broken.
Oman 0 – 0 India
13th minute: Sunil Chhetri and Jeje are combining well for India now. Can the Blue tigers find the crucial opener?
Oman 0 – 0 India

17th Minute: Sunil Chhetri blasts it from the top of the box but it sails over the crossbar. India is now coming back with good efforts, at the initial stages, most of the efforts were from Oman's camp.
Oman 0 – 0 India
22nd minute: It's evenly poised until now and both teams are pushing themselves to open the scoring.
Oman 0 – 0 India
27th Minute: FREE-KICK FOR INDIA- Can they capitalize on this? The chance is squandered, the Blue Tigers must make the most of their set-pieces.
Oman 0 – 0 India
32nd Minute: Another free kick, it's from the distance and Anas is behind it, he flicks it in for Jhinghan but to no avail- Oman defenders clear the ball!
Oman 0 – 0 India
35'th Minute: India are creating enormous pressure on Oman. The Red Warriors have just been able to clear the danger.
Oman 0 – 0 India

42nd Minute: The Blue Tigers earn their first corner now. Anirudh Thapa is up to take it, can they make the most of it now?
Oman 0 – 0 India.
45th Minute: One minute added at the end of the first half. It has been an evenly contested half. After the initial threats by Oman, India came back a few threats but no avail. 
Oman 0 – 0 India.
Half-time: First half ends.
Second-half begins: Indian head coach Stephen Constantine opts to check his bench strength now. Balwant Singh replaces Jeje, German Singh comes in for Pronay Halder.

46th Minute: Another change off the block. Gurpreet Singh joins the fray replacing Amrinder under the bar.
52nd Minute: Gurpreet Singh has been brilliant pulls off a terrific save. Top stuff indeed by the Bengaluru man!
Oman 0 – 0 India.

58'th Minute: Udanta tries to outpace the defender but Balwant Singh fumbles. Hali tries his luck but the defender comes in between.
Oman 0 – 0 India.

63'rd minute: India is keeping the pressure on -Udanta with another lung-busting run down the flank but before the skipper Sunil Chhetri connects, the goalie grabs it.
Oman 0 – 0 India.

65'th Minute:  Substitution for India – Halicharan is done for the day, he is replaced by Ashique Kuruniyan.
Oman 0 – 0 India.

68'th Minute: Another substitution for India – Salam Ranjan Singh comes in, Anas departs.
71'st Minute: Final change by the Blue Tigers as Rowllin replaces Anirudh Thapa.
Oman 0 – 0 India.

77'th Minute: India are going all-out in the final quarter, Ashique outruns the defender down the left wing and delivers a superb ball to Balwant Singh who lays it off to Bengaluru FC's Udanta but the youngster's effort misses the target by a whisker.
Oman 0 – 0 India.
78'th Minute: Ashique with yet another impressive run down the flank! Another terrific delivery from him but Balwant Singh's header lands over the roof of the net.
Oman 0 – 0 India.
81st Minute: Another effort by skipper Sunil Chhetri, but it's not a problem for the Oman keeper, who thwarts the soft header away.
Oman 0 – 0 India.
86'th Minute: Balwant Singh chases the ball with great energy but the asst. referee takes his flag up for an offside.
Oman 0 – 0 India.
90th Minute: Oman attacker fires a freekick from a threatening position, but it goes wide. A sigh of relief in the final minutes for team India!
Full-time: The evenly contested match comes to an end, it is nil-all at full time. This concludes India's final preparations for the Asian cup 2019!
Oman 0 – 0 India.
Preview:
This will be their third friendly encounter ahead of the continental tournament – previously, India took on Jordan and China which ended in a 2-1 loss and a goalless draw respectively.
The Blue Tigers are ranked 97 of the FIFA Rankings, while their opponents are ranked at 84th. India last encountered Oman in the 2018 FIFA Qualifiers, losing 1-2 in Bengaluru and 4-0 in Muscat.
Heading into the match, Oman boasts of a decent form as they remain undefeated in their last five games with three wins and a couple of draws, while India has drawn one, losing and winning two each.
Recent Form:
Oman– WWWDD
India–  LDLWW
Squads:
India: GK – Gurpreet Singh Sandhu, Amrinder Singh, Arindam Bhattacharya, Vishal Kaith; DF – Pritam Kotal, Sarthak Golui, Sandesh Jhingan, Anas Edathodika, Ranjan Salam, Subhasish Bose, Narayan Das, Lalruatthara; MF – Udanta Kumam, Pronay Halder, Rowllin Borges, Anirudh Thapa, Vinit Rai, Halicharan Narzary, Ashique Kuruniyan, Germanpreet Singh, Lallianzuala Chhangte, Jackichand Telem; FW – Sunil Chhetri (c), Jeje Lalpekhlua, Sumeet Passi, Farukh Choudhary, Balwant Singh, Manvir Singh

Oman: GK – Faiz Al-Rushaidi, Ahmed Al-Rawahi, Ammar Al-Rushaidi; DF – Mohammed Al-Musalami, Mohammed Al-Rawahi, Mohammed Al-Balushi, Saad Al-Mukhaini, Khalid Al-Buraiki, Ali Al-Busaidi; MF – Ahmed Mubarak Al-Mahaijri (c), Raed Ibrahim Saleh, Ali Al-Jabri, Mahmood Al-Mushaifri, Yaseen Al-Sheyadi, Mohsin Al-Khaldi, Jameel Al-Yahmadi, Moataz Saleh, Harib Al-Saadi, Salah Al-Yahyai; FW – Mohammed Al-Ghassani, Khalid Al-Hajri, Mohsin Al-Ghassani, Mohammed Al-Hosni.