live
Pro Kabaddi League 2019, U Mumba vs Begaluru Bulls Highlights, MUM vs BLR Match 14: Bengaluru Stages Comeback in Dying Minutes to Beat Mumbai 30-26
U Mumba had the control of the low-scoring game till the 38th minute, but Bengaluru Bulls earned few crucial points at the end to win 30-26.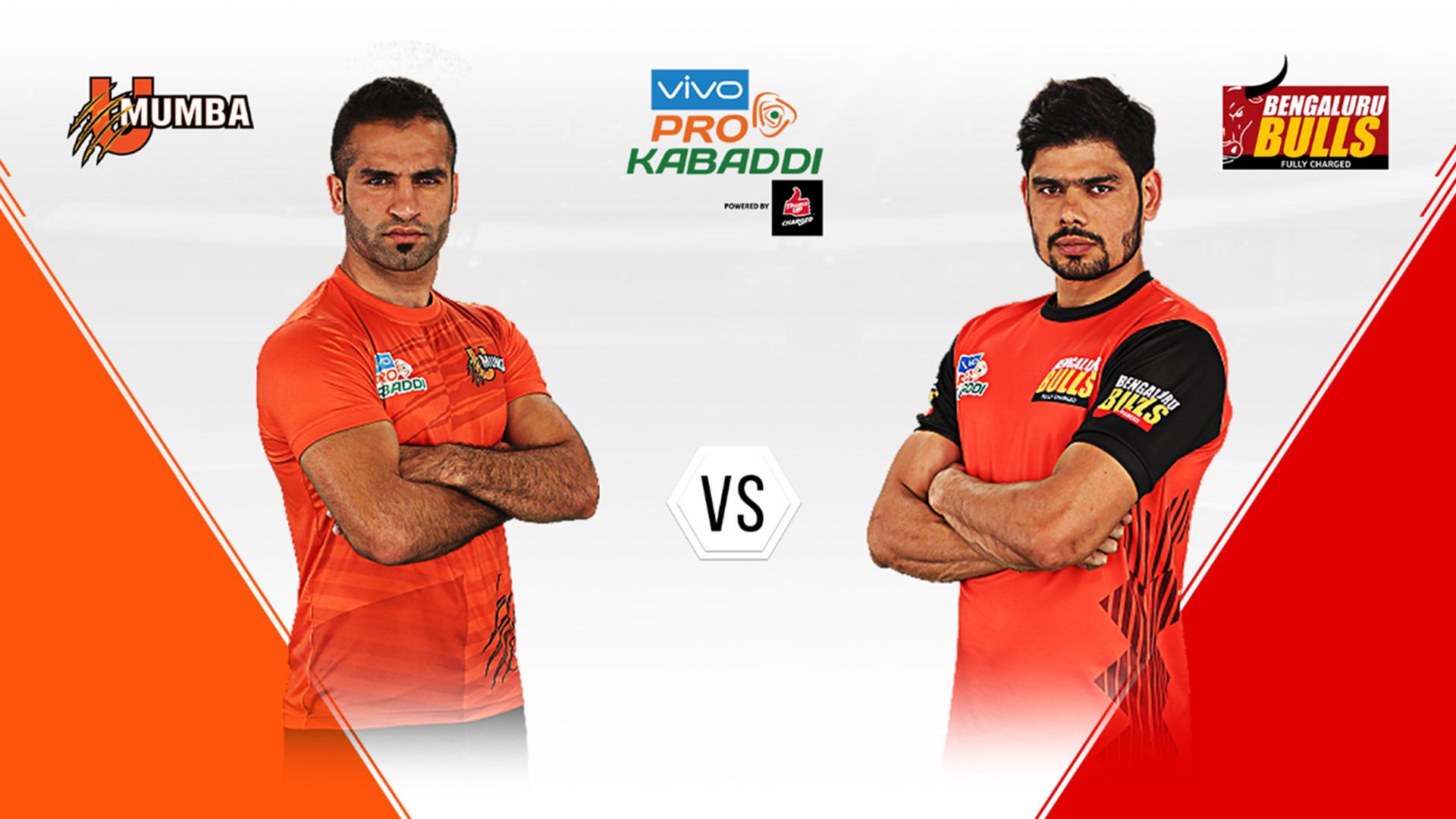 Highlights: Pro Kabaddi League 2019, U Mumba vs Bengaluru Bulls Highlights, MUM vs BLR Match 14: In the second game of the day, home team U Mumba will take on Bengaluru Bulls at at the Dome at NSCI SVP Stadium in Mumbai. After defeating Puneri Paltans in the Maharashtrian derby, which was also the opener of Mumbai-leg, the Fazel Atrachali-led side will be banking highly on their confidence. In what was an out and out defensive encounter, Mumbai came out strong against their opponents who were missing their star raider Nitin Tomar. The hosts completed the match with a scoreline of 33-23 and will look to replicate a similar kind of performance. With Sandeep narwal and Fazel Atrachali staging dominating performance, the defensive line looks solid for Mumbai. However, there still remains some work to be done in the raiding department as the attackers have looked kind of depleting in the two outings so far.
The Bengaluru Bulls play after a 6-day gap and will take the mat fresh from their crushing defeat against Gujarat Fortune Giants in their tournament opener. This match will be all about how they bring about the amendments on to their defensive front which looked lackluster in their last outing.
U Mumba vs Bengaluru Bulls Match Details
Date: July 28, 2019.
Time: 7:30 PM.
Venue: Dome at NSCI SVP Stadium.
Predicted Starting Seven
U Mumba: Fazel Atrachali(C), Sandeep Narwal, Surinder Singh, Harendra Kumar, Rohit Baliyan, Dong Geon Lee and Abhishek Singh.
Bengaluru Bulls: Rohit Kumar(C), Pawan Sehrawat, Ashish Sangwan, Mahender Singh, Amit Sheoran, Sumit Singh and Vijay Kumar.
Live Updates
With that it's the end of the match. Bengaluru Bulls staged a spirited comeback to win consecutive points in the dying minutes of the game to win the low-scoring thriller.

FINAL SCORE BLR; 30, MUM: 26

Bengaluru Bulls is sensing victory now with yet another successful raid.

BLR: 30, MUM: 26

Just when it needed the most U Mumba players seem to have lost the momentum. With only a minute to go Bengaluru has gotten them all-out and taken a 4-point lead.

BLR: 29, MUM: 25

The points are equal after a long time and Bengaluru Bulls has gotten new wave of confidence in them.

BLR: 23, MUM: 23

Just when Mumbai thought they would fly away with some points, Bengaluru gifted other ideas to them. The match is anyone's to take right now as it hangs equally balanced.

MUM: 23, BLR: 22

Bengaluru Bulls knows that it's not yet over for them and a two-point lead can be recovered within moments. That is what they showed as they trapped the U Mumba raider successfully after setting up a do-or-die raid.

MUM: 21, BLR: 19

33' That was an OUTSTANDING Tackle from Ashish!

Score: 19-21#FullChargeMaadi #Champions #VivoPKL7 #MUMvBLR

— Bengaluru Bulls (@BengaluruBulls) July 28, 2019

U Mumba looks like a side that has earned the confidence and why not! They were trailing by 2 points going into the half time but is now leading by 3 points in the half-way mark of the second half.

MUM: 19, BLR: 16

U Mumba starts the second half on a positive note as they get Bengaluru Bulls the first all-out of the match.

MUM: 16, BLR: 13

As the players take a breather, we are sure you can do away with some stats coming from the first half.

Top Scorer
Pawan Sehrawat – 3 Points
Mahender Singh – 2 Points
Saurabh Nandan – 2 Points
Amit Sheoran – 2 Points

HT Score 13-11#FullChargeMaadi #Champions #VivoPKL7 #MUMvBLR

— Bengaluru Bulls (@BengaluruBulls) July 28, 2019

END OF FIRST HALF




What an exciting contest it has been in the first half. Both the teams have been agile and cautious with their approach and have not given points unnecessarily. It has been a neck-on-neck contest and the second half promises to be a thrilling on.

BLR: 13, MUM: 11