live
BT Vs KTB, Prime Volleyball League 2023 Highlights: Kolkata Thunderbolts Sweep Bengaluru Torpedoes In Three Straight Sets
Prime Volleyball League 2023 Highlights: Kolkata Thunderbolts defeated Bengaluru Torpedos in three straight sets by 11-15, 11-15, and 14-15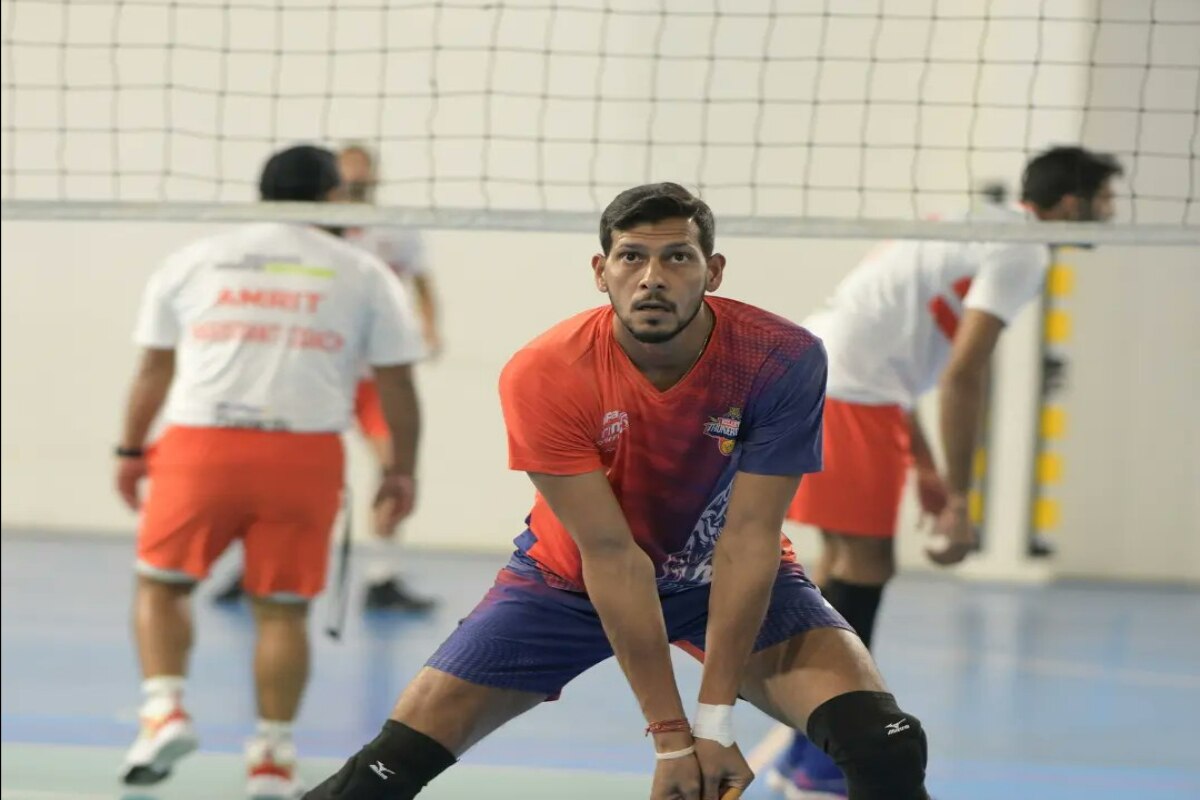 Live Updates
Live Updates | BT Vs KTB, PVL 2023, Scores: FINAL SCORECARD: 11-15, 11-15, 14-15 for Kolkata. Three straight sets for the defending champs BT 0-3 KTB (Set Score)

Live Updates | BT Vs KTB, PVL 2023, Scores: Defending Champions does it in incredible fashion. What a way to start the campaign BT 14-15 KTB (3rd Set)

Live Updates | BT Vs KTB, PVL 2023, Scores: KOLKATA WINS the match with three straight-set victory BT 14-15 KTB (3rd Set)

Live Updates | BT Vs KTB, PVL 2023, Scores: Bengaluru Levels!! BT 13-13 KTB (3rd Set)

Live Updates | BT Vs KTB, PVL 2023, Scores: Kolakat with two quick points take the lead BT 11-13 KTB (3rd Set)

Live Updates | BT Vs KTB, PVL 2023, Scores: SCORES LEVEL!! BT 9-9 KTB (3rd Set)

Live Updates | BT Vs KTB, PVL 2023, Scores: Bengaluru takes the lead here BT 6-4 KTB (3rd Set)

Live Updates | BT Vs KTB, PVL 2023, Scores: Fiery Start to the third set but defending champions still leading BT 2-3 KTB (3rd Set)
Highlights | Prime Volleyball League 2023, Scores:
The defending champions Kolkata Thunderbolts got a perfect start to the Prime Volleyball 2023 as they defeated Bengaluru Torpedos in three straight sets by 11-15, 11-15, and 14-15 at the Koramangala Indoor Stadium in Bengaluru.
New-look Bengaluru Torpedoes who failed to enter the semifinals last year were seeking a change in fortunes this year. However, despite the hard-fought contest, the Pankaj Sharma side fell short.
The contest was neck to neck despite Kolkata sweeping Bengaluru in three straight sets. There were moments when Bengaluru was leading or even brought down the KTB's lead but Kolkata managed to recover from all setbacks in tremendous fashion and performed like the defending champions
Squads
Bengaluru Torpedoes: Attackers: Alireza Abalooch (F), Sebastian Giraldo (F), Sethu TR, Nisam Muhammed A, Pankaj Sharma (R), Blockers: Mujeeb MC, Jishnu PV, Sudheer Shetty, Universal: Ibin Jose Setters: Gokulnath, Vinayak Rokhade (R), Libero: B Midhun Kumar (R)
Kolkata Thunderbolts: Attackers: Cody Caldwell (F), Rahul K, Anush, Suryansh Tomar, Blockers: Deepesh Sinha, Abhilash Chaudhary, Ashwal Rai (R), Jose Verdi (F) Universal: Vinit Kumar (R) Setters: Hariharan V, Janshad U (R) Libero: Hari Prasad BS