live
RCB vs MI MATCH HIGHLIGHTS, IPL Match 39 Cricket Updates: Harsha Patel's Hat-Trick Headlines Royal Challengers Bangalore Thumping 54-Run Win vs Mumbai Indians
IPL 2021 MATCH HIGHLIGHTS And Updates RCB vs MI: Rohit Sharma wins Toss,, Mumbai Indians Opt to Bowl Against Royal Challengers Bangalore in match 39 of IPL 2021. Check IPL MATCH HIGHLIGHTS and Updates RCB vs MI IPL 2021, Match 39 here from Dubai International Stadium.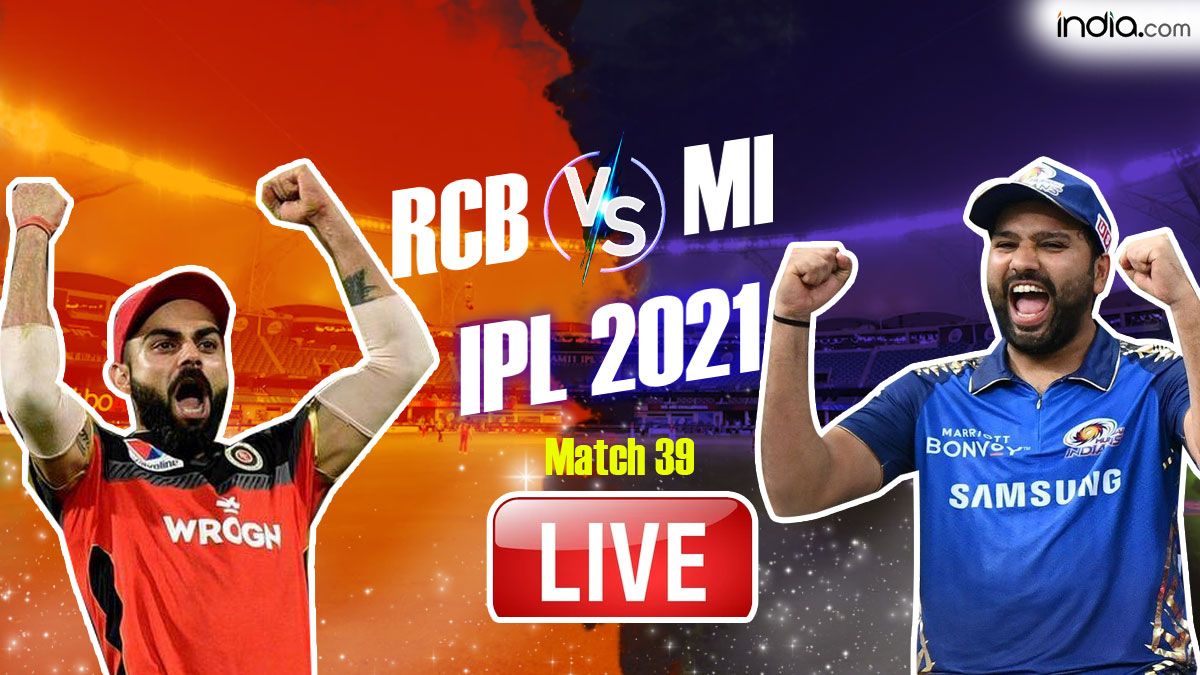 Live Updates
IPL 2021 Live Cricket Score and Updates So, that is it from this game! It was indeed a Super Sunday! Kolkata lose their first game of the second phase, Chennai continue their winning run. Mumbai are still winless after the resumption and Bangalore end their losing streak. The Indian T20 League action though continues on Monday as Hyderabad take on Rajasthan. That game begins at 1800 local and 7:30 PM IST. Till then, take care and goodbye!

IPL Live Score and Updates, RCB vs MI LIVE: Glenn Maxwell, wins the Player of the Match award – 56 and 2/23. He says it was a nice day. They did really well throughout the game today. Mentions he has worked a lot of his reverse paddles and it is paying off right now. Also says, they had a Covid-jersey to make a contribution for the people to get vaccinated as soon as possible.

Virat Kohli, the Royal Challengers Bangalore skipper, says that it was a difficult start but they have made a good comeback. Adds that Bharat played some amazing shots. States that Maxwell was unbelievable and they felt that it was a par score. Adds that Mumbai bowled really well. Says that Bangalore bowled really well. Says that they need to get into the bowler's space as well. Says that there is no complaints with the ball but they left 15-20 runs with the bat and they need to bat better in the middle overs. Goes onto say that ABD and Maxwell told him to go with his gut feeling and he felt like bowling Christian and he bowled an amazing over.

RCB vs MI Live Updates, IPL 2021 LIVE Rohit Sharma, the Mumbai Indians skipper, says that it was a fantastic bowling effort as they pulled things back really well as they were looking at 180+plus score. Tells that their batters let them down. Goes on to say they have had a good chat with all the batters and they need to make sure that they carry on. States that Bangalore kept the pressure on them and never gave anything easy. Tells that they have come back from here in the past and they can do it again. Says that Ishan Kishan is a talented player and they need to provide him with the freedom but at the same, it comes with a sort of responsibility as well. Adds that they gave him the full license and they need to make sure that he keeps his head held high.

RCB vs MI 2021 Live Score, IPL Live Updates: The chase though began brilliantly for Mumbai as de Kock and Rohit get them off to a flier. They looked in control of the run chase before the spinners were got into the attack. The game then changed from there. No middle-order batter contributed a lot and the intent was also lacking. Whenever one looked to play a big shot, he lost his wicket. No one other than the top two managed to cross the 10-run mark and that simplifies how poor Mumbai were. The likes of Kyle Jamieson, Mohammed Siraj and Dan Christian leaked a lot of runs in the Powerplay. The spinners though, Maxwell and Chahal turned the game back into Bangalore's favor. The two finished with combined figures of 8-0-34-5 and then at the death, Harshal did what he did last time around against Mumbai. Finished with a four-fer with a hat-trick. Kohli can be really proud with his bowlers.

IPL 2021 Live Updates Today, RCB vs MI LIVE: What a performance by the Royal Challengers Bangalore bowlers! How often do we get to write this? Well, we can this time around because they were exceptional! Take a bow, Chahal, take a bow Maxwell and take a bow, the star against Mumbai in the last fixture and in this one too, Harshal Patel. We all felt Bangalore were at least 10 or 15 short of where they should have been but they have defended it with ease.
RCB vs MI IPL 2021 MATCH HIGHLIGHTS, Latest CRICKET UPDATES
Hello and welcome to our cricket coverage of VIVO IPL match 39 between Mumbai Indians and Royal Challengers Bangalore at the Dubai International Stadium. See the latest IPL 2021 live score, IPL Live Match Today, Mumbai Indians and Royal Challengers Bangalore IPL Live Score Today, IPL Live Match 2021 Today cricket updates here. IPL 2021 MATCH HIGHLIGHTS, RCB vs MI 2021: HAT-TRICK! Harshal Patel picks up the first hat-trick of IPL 2021 as he removed Hardik Pandya, Kieron Pollard and Rahul Chahar in three successive deliveries. Courtesy, Harshal's four-for and Yuzvendra Chahal's 3/11 – Royal Challengers Bangalore beat Mumbai Indians by 54 runs in match 39 of IPL 2021 at Dubai International Stadium on Sunday. Earlier, half-centuries from Virat Kohli (51) and Glenn Maxwell (56) power Bangalore to 165/6  vs Mumbai. Jasprit Bumrah's triple strikes rock Bangalore in the death overs against Mumbai. Kohli has also completed 10,000 runs in T20 cricket. Earlier, TOSS – Rohit Sharma wins toss, Mumbai Indians elect to bowl against Royal Challengers Bangalore at the Dubai. Check Mumbai Indians vs Mumbai Indians Live Cricket Score and Updates, RCB vs MI Live Cricket Score and IPL 2021 Live Cricket Streaming Online and Mumbai Indians vs Mumbai Indians Dream11 Guru Tips and Prediction. (SCORECARD)