Remove ATK Controversy: Mariners Hit Streets in Protest Over ATK Mohun Bagan Jersey Issue | WATCH
Fans hit the streets on Sunday with placards and protests took place outside the Mohun Bagan club.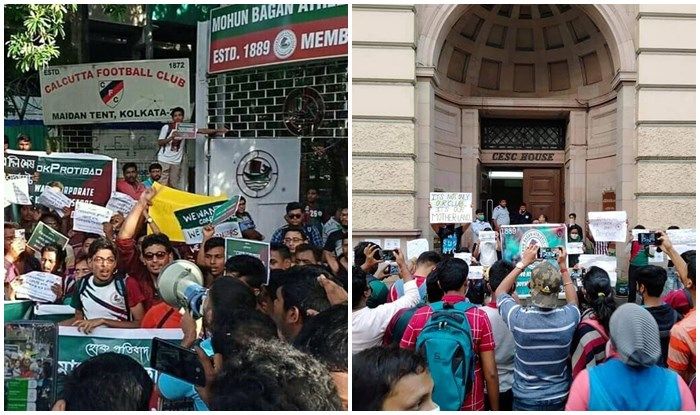 'Remove ATK' has been one of the top controversies in West Bengal recently after fans took to the streets urging 'ATK' should be removed from Mohun Bagan – as the die0hard fans feel it dilutes the legacy of the club.
Fans hit the streets on Sunday with placards and protests took place outside the Mohun Bagan club. The fans then marched towards Esplanade shouting slogans asking for the removal of the prefix with Mohun Bagan.
"It is not only our club, it's our motherland," read one of the placards.
Here is a video of the protests:
আজকে @atkmohunbaganfc এর কর্তীপক্ষের বিরুদ্ধে প্রতিবাদ বিক্ষোভ চলছে @CESCLimited কলকাতা হাউস এর সামনে ,,

মোহন জনতার দাবি টা খুব স্পষ্ট- #RemoveATK
#OnlyMohunBagan ✊✊#joymohunbagan ✊💚❤@atkmohunbaganfc@IndSuperLeague @sbotopin @rpsggroup @IndianFootball pic.twitter.com/MkZEgRzkp0

— Mariner (@Sayak61) January 24, 2021
"Whenever there is an attempt to promote the brand of ATK we have protested. The black colour is not the issue but a close look will tell anybody that the design is the same as that of last season's defending champions ATK – which is now defunct," said one of the protesters while speaking to The Indian Express in Kolkata.
Wake up & Get ready Mariners.This fight is about snatching your rights. To protect the reputation of your Motherly Club. You have done this before,you have to do it again.
Explain to them the power of the Every common Fan#RemoveATK @MbcOfficial @MdxOfficial2018 @JRSM_MohunBagan pic.twitter.com/Z0bZLo7XbN

— Swagatam Saha (@SwagatamSaha11) January 18, 2021
@rpsggroup this is the power of #Mariners Today we come to CESC HOUSE next day we will stand in front of your House. #RemoveATK #JoyMohunBagan pic.twitter.com/Fqqz8BNVAw

— দাস শিকারী শুভম (Suvam) (@das_shikary) January 24, 2021
Protests were also held in front of the CESC Branch Office at Shyambazar and Bhupen Bose Avenue.
While some hail Kolkata as the footballing capital of India, the city has a rich tradition of football and a massive following of the game. Many born in Kolkata have represented the country and won glory and laurels. East Bengal, Mohammedan Sporting, and Mohun Bagan are some of the oldest clubs in the world.