Sachin Tendulkar and Vinod Kambli's Cricket Coach Ramakant Achrekar Passes Away at Age of 87 in Mumbai
The man who polished the talent of 'God of Cricket' - Sachin Tendulkar has left this world at the age of 86.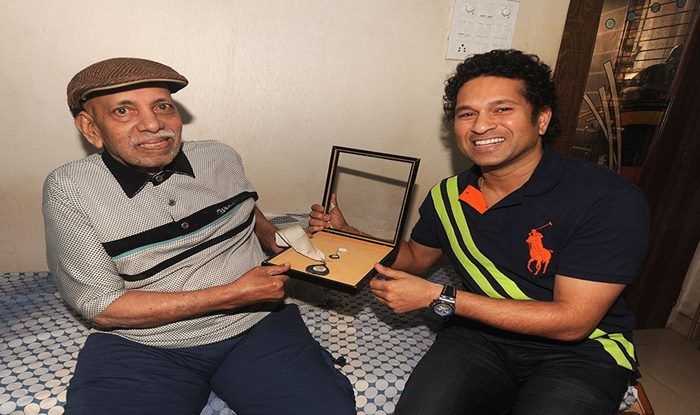 The legendary cricket coach Ramakant Achrekar, who shaped the career of cricket stalwarts – Sachin Tendulkar and Vinod Kambli is no more. The unfortunate news broke on Wednesday evening about the demise of 86-year old Achrekar, who took his last breath in Mumbai, as per the reports of PTI. For his unparalleled contribution to Indian cricket, Achrekar was honoured with the Dronacharya award. He was also conferred with prestigious Padma Shri award for his services to cricket.
The story of 'God of Cricket' – Sachin Tendulkar and his childhood coach Achrekar is well known to his fans all over the world. 'Achrekar Sir' as he is fondly known, was the man who shaped Tendulkar's future. The batsman credits 86-year-old Ramakant Achrekar for every milestone that he ever reached in his glorious batting career.
The BCCI expresses its deepest sympathy on the passing of Dronacharya award-winning guru Shri Ramakant Achrekar. Not only did he produce great cricketers, but also trained them to be fine human beings. His contribution to Indian Cricket has been immense. pic.twitter.com/mK0nQODo6b

— BCCI (@BCCI) January 2, 2019
From the very start, Tendulkar has always maintained that Achrekar played a major role in building his career which spanned for 24 years. Achrekar was honoured with the Dronacharya Award in 1990 and the Padma Shri in 2010. Tendulkar played a total of 200 Test and 463 ODIs for India amassing over 34,000 international runs.
Last year on the special occasion of Guru Purnima, Sachin took to his official Twitter handle to extend his wishes to his teacher.  "Today, #GuruPurnima, is the day we remember those who have taught us to be better versions of ourselves. Achrekar Sir, I couldn't have done all this without you. ?? Don't forget to thank your gurus and take their blessings. #AtulRanade and I just did," Sachin wrote on Twitter.
The 45-year-old was the first batsman in the history of cricket to score a double-century (200 not out off 147 balls against South Africa in 2010) in ODI cricket. Sachin also holds the record of scoring most hundreds (100 centuries) in international cricket.
Tendulkar recently announced his association with Middlesex Cricket to launch an academy for budding male and female cricketers between the ages of nine and 14 with a motive to spread cricket around the globe.