Shiv Kapur Finishes Second at Royal Cup, Bhullar Tenth
Kapur started the day with eight straight pars and during the stretch, he also missed a couple of makeable putts.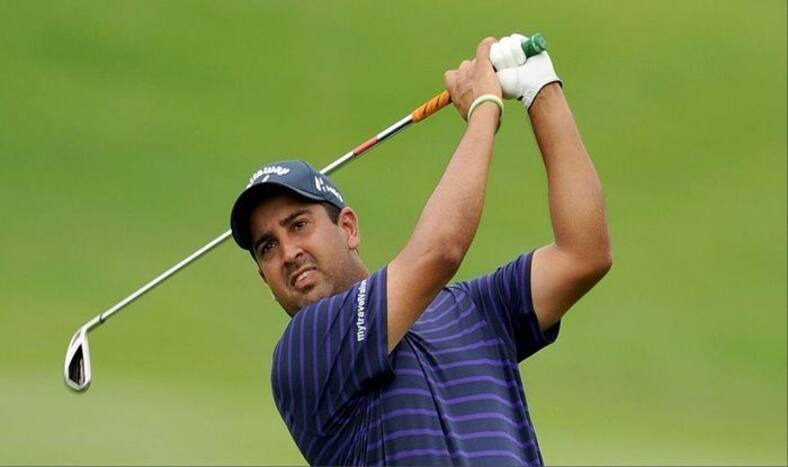 Defending champion Shiv Kapur of India made a mistake on either side of the turn at the ninth and 10th holes to finish tied second at the Royal Cup golf tournament here today.
Kapur battled to a one-over 71 and ended at eight-under with three others as South African Justin Harding (68) carried on his excellent form to complete back-to-back wins on the Asian Tour.
Harding finished way ahead at 14-under for a six-shot win over Kapur, Jake McLeod (67). Chapchai Nirat 68) and Kurt Kitayama (67), all of whom finished at eight-under.
Gaganjeet Bhullar (70) finished tied 10th for another good result. It was his third top 10 finish in last four starts while his other start fetched him tied 11th in Sarawak.
S Chikkarangappa (67) and Viraj Madappa (68) were tied 14th. Himmat Rai (70) was tied 36th, Khalin Joshi (71) was tied 42nd, Rashid Khan (71) was tied 56th and Honey Baisoya (77) was tied 59th.
Kapur started the day with eight straight pars and during the stretch, he also missed a couple of makeable putts.
Meanwhile, Harding had three birdies against one bogey in the first eight holes.
It was at that juncture, Kapur erred and made a double bogey and frustrated by that he allowed that to linger and bogeyed 10th also.
That ended his hopes as Harding, despite a bogey on ninth and a double on 13th, also made birdies on 10th, 11th, 15th and 16th to finish at 67 for 14-under for the week.
"I'm disappointed obviously. Around the turn I played poorly and made a bad decision on the ninth hole in my second shot and then ended making double bogey and carried on the frustration to make bogey on the next hole," Kapur said.
"So that's when I lost the tournament and played myself out of it but I'm proud with the way I came back from that despite being completely out of sorts I managed to fight back and finish second."
"Every time you're defending a title you want to defend it well and I think I can be pretty proud of the way I came and played this week."
Harding is the first player to win two straight titles in his first two appearances in Asia.
He won the BANK BRI Indonesia Open two weeks ago on a sponsor's invite and immediately took up membership on the Asian Tour and added another win.
His win at the Royal Cup marks his fourth victory in 2018, two of which were won on the Sunshine Tour. He also leads on the Sunshine Tour Order of Merit.
After his win in Indonesia, Harding flew back to play in Kenya and finished in tied 18th, before flying back to Asia to compete at the Royal Cup.
Kapur hit nine fairways and only missed four greens. It was his first top-10 finish on the Asian Tour for the season since winning the Royal Cup in 2017.
Kapur is currently 39th on the Habitat for Humanity standings. He finished 10th on the Order of Merit in 2017 following his win at the Royal Cup.