TN Urban Local Body Polls: MK Stalin's DMK Registers Landslide Victory, Wins 213 Wards | Highlights
Tamil Nadu Urban Local Body Elections 2022: The state had witnessed local body elections in 2011 when the AIADMK was in power in the state. Stay here for LIVE updates.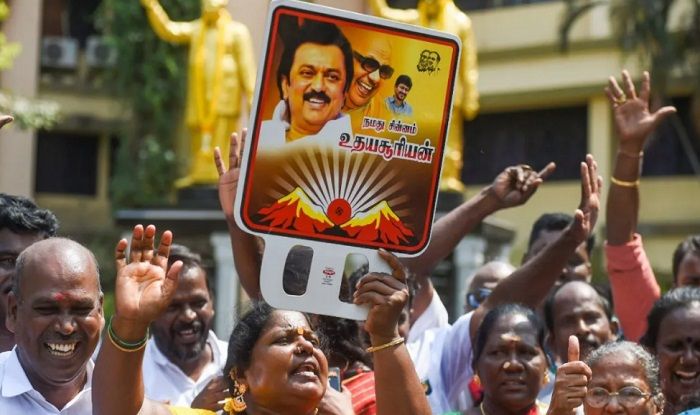 Tamil Nadu Urban Local Body Election Results LIVE: The ruling DMK-led Secular Progressive Alliance registered a landslide victory in the elections to the urban local bodies in Tamil Nadu held on February 19. The DMK alone has already won 213 municipal corporation wards and 960 municipality member posts and 3,272 town panchayat posts across the state so far. The AIADMK won only 38 seats in Municipal corporation wards and 262 Municipality ward member posts and 915 town panchayat ward seats. The ruling DMK has made inroads in Western Tamil Nadu which is considered an AIADMK bastion. The DMK has already won 6 member posts in Coimbatore municipal corporation and in 18 ward seats in Erode corporation. The DMK candidates have already won 36 seats in Greater Chennai Corporation also.
Tamil Nadu Urban Local Body Election Results | Here are the LIVE Updates 
18:20 PM: From a total of 200 wards, results announced in 164 wards: DMK wins 128, ADMK- 15, Congress- 9, Independent- 4, CPI- 1, CPI (M)- 2, MDMK- 2, BJP – 1.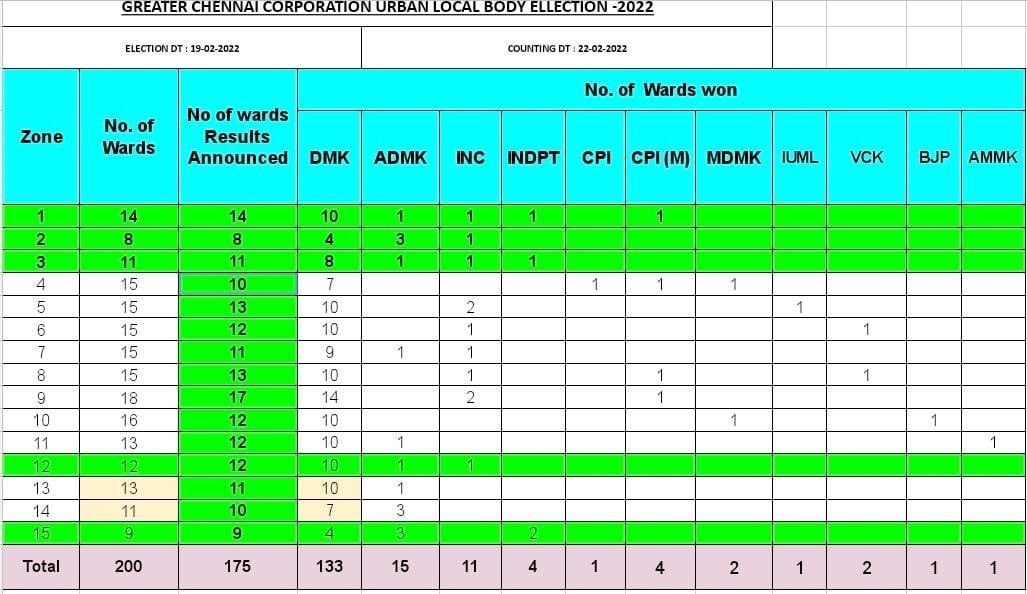 16:01 PM: The way DMK conducted state (urban local body) polls on Feb 19 was shameful; total misuse & abuse of power, along with violence. BJP is moving to the Madras High Court today, with all our complaints & demands of a repoll in specific booths, said BJP state chief K Annamalai. Upping the ante against the DMK government, the BJP leader said,"People didn't come out to vote, fearing DMK fellows standing outside the voting areas. The voting percentage has dropped by 14%. Even MoS L Murugan's vote was done by someone else, they allowed him to vote only after we protested."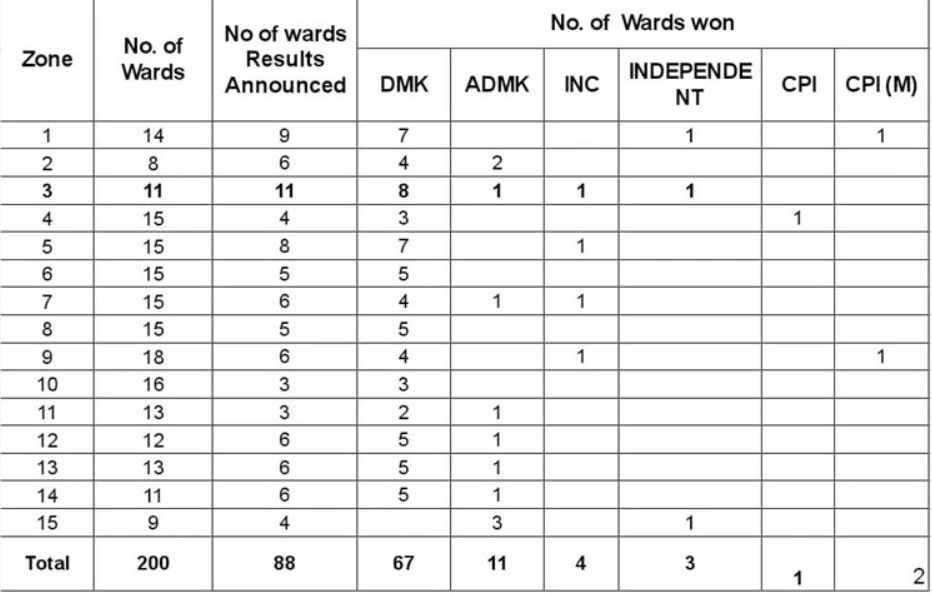 14: 58 PM: The DMK has registered victory in 59 wards out of 200 in Chennai.
A look at trends so far 
DMK- 59
AIADMK- 7
Congress- 5
CPM- 2
CPI- 1
Other- 3
14:04 PM: As per the latest trends, the DMK is currently leading in 21 corporations, 302 wards in municipalities, and 1449 wards in town panchayats. AIADMK ahead in 9 wards in corporations, 90 wards in municipalities, 385 wards in town panchayats.
13:35 PM: In Virudhunagar Municipal corporation, the DMK wins 20 wards, while Congress manages to get 8. AIADMK won 3.
13:05 PM: Bharatiya Janata Party (BJP) leads in 5 town panchayats, showed trends.
12:51 PM: On election day, Tamil Nadu CM MK Stalin had stated that the Secular Progressive Alliance led by the DMK would sweep the polls.
12:46 PM: DMK wins more than 50 wards, Congress 3 wards, AIADMK 3, independents 2, CPM 1  in Chennai corporation.
12:20 PM: Trichy Municipal Corporation- DMK- 17, Congress 3, MDMK 2, AIADMK-1
12:00 PM: DMK wins 9 wards, AIADMK one in Salem district.
Tamil Nadu | DMK workers celebrate outside party headquarters in Chennai as the party leads in the urban body elections pic.twitter.com/duzBdYGigQ

— ANI (@ANI) February 22, 2022
11:38 AM: In Coimbatore corporation, DMK's K Vijayakumar wins ward 8
10:53 AM: In Trichy Municipal Corporation, DMK wins 11 wards.
10:52 AM: Latest trends showed DMK leading in all 21 corporations, including Salem and Coimbatore—AIADMK's turf.
10:49 AM: In Chennai Municipal corporation, DMK wins wards 74, 121 and 127
10:40 AM: In Krishnagiri's Hosur municipal corporation, AIADMK wins ward 1, 2
10:35 AM: Congress gets ward 73 of Madurai Corporation.
10:30 AM:  As per the trends from the state election commission, DMK wins ward 130 by a margin of 550 votes.
10:28 AM: In Tuticorin corporation, DMK registers victory in wards 3, 5, 6, and 13.
10:20 AM: DMK wins 8 wards in Salem municipal corporation. AIADMK gets 1.
10:00 AM: DMK's K Saraswathi wins ward number 59 in Chennai.
09:30 AM: In Madurai corporation's ward number 14, Anthoniammal of DMK wins.
09:28 AM: AIADMK candidate KC Selvaraj wins ward 22 in Salem municipal corporation.
09:20 AM: DMK gets victory on Ward number  174 in Chennai Municipal corporation.
09:13 AM: At the end of round 1, DMK leads in ward 3 (Srirangam) in Trichy corporation.
09:11 AM: Delay in the counting of votes at Anna University in Chennai, reported Indian Express.
09:06 AM: DMK takes lead in 9 wards—1,8,15,49,181,59,94,196 and 174 of Chennai corporation.
08: 35 AM: Party cadres wait outside the counting center in Coimbatore.
08:15 AM: Counting underway at a center in Tamil Nadu Polytechnic for zone 4 in Madurai.
08:00 AM: Counting of votes begins amid tight security.
07:54 AM: Talking to reporters, Greater Chennai Corporation Commissioner Gagandeep Singh Bedi stated that the results will be announced through loudspeakers as soon as the counting process for a ward gets completed.
07:44 AM: To avoid any untoward incident, around 2,400 officials and 7,200 police personnel from the Greater Chennai, Avadi and Tambaram commissionerate have been deployed across the state.
06:20 AM: Local bodies election in Tamil Nadu witnessed an interesting multi-cornered contest with the constituents of the opposition AIADMK alliance contesting on their respective party's own strengths, rather than remaining together, against the DMK combine.
06:05 AM: Among the 21 corporations, which went to the polls, the Greater Chennai Corporation registered the lowest turnout of 43.59 per cent while Karur polled the maximum of 75.84 per cent on Saturday, according to the Tamil Nadu State Election Commission (TNSEC).
06:00 AM: The single-phase election was held to fill up 12,838 posts in 21 corporations, 138 municipalities, 490 town panchayats, and 649 urban local bodies in the state. A total of 74,416 candidates including many independents entered the fray.