10 offbeat places to visit in India
How many of these places to visit in India are on your travel check list?
India is a country that offers a plethora of options to travelers. Whether you're a luxury travel, budget backpacker or if you like to travel with friends family or just by yourself, there are one too many places to visit in India can escape to without being disturbed on your vacation! India gives you hills and valleys, seas and lagoons, islands and hill stations, greenery and snow that are enough to confuse you. (DON'T MISS More stories on Trip Planning) That being said, several destinations in India have become crowded enough for you to enjoy yourself on your much needed break. So give Shimla, Ooty, Kullu and Manali a rest and pick one of these offbeat places to visit in India for a perfect break!
1. Shekhawati
Shekhawati is one of the many regions predominantly occupied by merchant of Rajasthan. It is home to several grand havelis and temples built by wealthy merchants. In fact, the Shekhawati region comprising Jhunjhunu, Sikar, Churu and Nagaur is one of the most aesthetically appealing destinations in India. Shekhawati also enjoys being referred to as an open-air museum.
2. Tirthan Valley
The Tirthan Valley is one of the many underrated valleys of Himachal Pradesh. It is locatd in the Kullu district and is a gateway to various treks in the region. The Tirthan Valleg gets its name from the Tirthan River whose banks it is located on. Here, you will be as close to nature as you'd like to.
ALSO READ 3 dreamy hill stations near Delhi every unconventional traveler must visit
3. Thenmala
Thenmala is India's first planned eco-tourism destination and yet not many know about this beautiful destination in India. One of the major attractions of Thenmala is the Thenmala Dam which offers a magnificent view of the place. The destination promises to give you a little bit of nature, wildlife, leisure, entertainment and adventure all packed in one place!
ALSO READ 7 reasons why you must visit Thiruvananthapuram
4. Askot

Askot is a hamlet in Uttarakhand's Pithoragarh district. Not only is Askot one of the pitstops while proceeding towards the Kailash Mansarovar pilgrimage, but it is also home to one of the rare species of the deer. Askot is known for its Askot Musk Deer Sanctuarywhich is a must visit.
ALSO READ 7 lesser explored hill stations of Uttarakhand you must visit
5. Zanskar
Zanskar is located in the Kargil district of Jammu and Kashmir and is one of the most scenic destinations in India. The Zanskar region is closed for travelers from end of October to April due to weather conditions. However, any time between May and October, a visit to Zanskar promises landscapes that you've probably not seen anywhere else! In fact, the frozen Zanskar trek is one of the most difficult treks in India but it's a unique experience . It's a 20-day trek meant only for professional trekkers.
ALSO READ This photo tour of Zanskar will transport you to the quaint valleys of Jammu and Kashmir
6. Orchha
Orchha is a place of historical significance with magnificent temples, palaces and cenotaphs which take you back in time. It is home to several monuments that have survived centuries of wars fought by Kings and Emperors of the region. Simply put, Orchha is a history lover's delight.
ALSO READ Orchha– The undiscovered gem of Madhya Pradesh
7. Sundarbans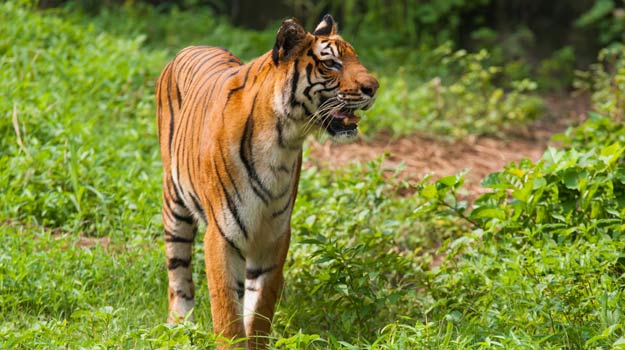 Sundarban is the largest delta in the world consisting of 10,200 sqkm of Mangrove forest. The Sundarban National Park is a part of this forest in West Bengal. It's main attraction is the Royal Bengal tiger but it is also home to endangered species like Batagur Baska, King Crabs and Olive Ridley Turtles. If you are a wildlife enthusiast, a visit to the Sundarbans National park is a must.
ALSO READ 5 beautiful places to visit in India before they disappear
8. Mawsynram
Mawsynram is one of the newest destinations on the travel map. Located in Meghalaya, it is situated near Mawlynnong and Cherrapunji in the East Khasi Hills. Mawsynram is famous for being an exceptionally clean village along with being one of the wettest places on earth. One of the USPs of this northeast destination is the self-manifested shivalinga which is a stalagmite in a cave named Mawjymbuin. The village is also home to double decker living root bridges like the ones in Cherraqpunji.
ALSO READ 3 wettest places in India you must checkout soon
9. Yuksom
Yuksom is one of the oldest places in Sikkim. It was the capital of the kingdom that ruled Sikkimese all the way in the 17th century. Yuksom is predominantly a Buddhist town and is home various colorful monasteries that are simply breathtaking. Yuksom valley is also a starting point to several treks around the vicinity.
ALSO READ 9 treks that no traveler must miss!
10. Dhanushkodi
Dhanushkodi is located on the southernmost tip of the Pamban island near Rameswaram. After the town was destroyed during the 1964 cyclone, it was deemed to be unfit for rehabilitation and since has been a ghost town. Though nort many know about this destination, it is just about a few kilometers away from Rameswaram and is worth a visit for its pristine beaches.
ALSO READ: The haunting real life story of a ghost town named Dhanushkodi
Have something to add to this story? Post your comments in the discussion board below; we will be thrilled to hear from you!