5 best monasteries to stay in India
There is no better and cheaper option than these monasteries to stay in India.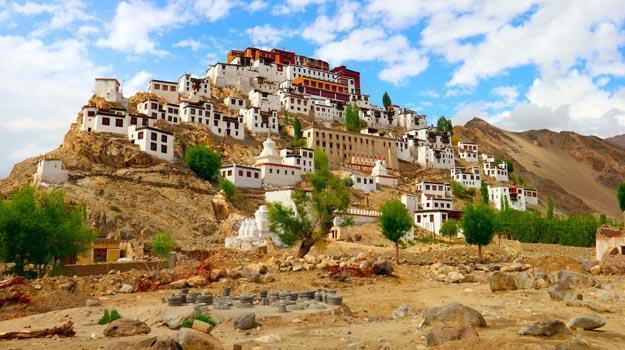 India is a marvelous holiday destination for all kinds of travelers. Whether you are a family person looking for a luxurious and relaxing vacation or a backpacker looking for offbeat, inexpensive destinations, India has an array of options for you. However, no matter what kind of a traveler you are, there is something about the monasteries in India that will draw you towards them. Be it their splendid Buddhist architecture or the calm and serene ambiance, the friendly and often humorous monks or the amazing local food you get in their vicinity, these amazing monasteries and the stunning locations where they are built make them a desirable holiday stay. Truly, nothing gets better than staying in a monastery if you are looking for an option that's inexpensive yet rewarding.
ALSO SEE 10 cheapest destinations for backpacking in India
There are several monasteries in India where you can stay. We list down five best monasteries for you to consider on your next holiday.
Located in the picturesque Spiti valley, the Tabo monastery is one of the finest monasteries in Himachal Pradesh. It is built on a small hill overlooking a quiet village. It is ideal if you are looking for some peace in the midst of barren, rugged nature without anyone disturbing you. The murals and stucco sculptures on the walls of the monastery are worth admiring. Its inspiring preservation of Buddhist heritage through centuries will truly inspire you.
Best time to visit: May to October
DO SEE 10 spellbinding monasteries in Ladakh that will take your breath away!
Located on the Leh-Kargil route, the Lamayuru gompa is one of India's most popular monasteries. The temple complex includes three chortens, a cave and the main temple. It houses around 50 friendly monks who will always be curious and interested in conversations. The accommodation, though basic, is rejuvenating and the Tibetan food aavailable in the locality is lip-smacking.
Best time to visit: May to September
CHECK OUT Here Are Some Splendid Monasteries in India You Haven't Visited Yet
3. Nyingmapa monastery, Rewalsar
Overlooking the lesser-explored but magnificent and serene Rewalsar lake is the Nyingmapa monastery, one of the best accommodation options in Rewalsar. Like the other monasteries, you can rent a room with a fantastic view for prices as low as Rs 300 per night. While there will be monkeys walking outside your window every once in a while, you will never be bothered here and can spend your holiday in peace viewing the beautiful lake from your room, or stepping out and taking a relaxing walk around the quaint town.
Best time to visit: March to October
DO SEE How to find cheap places to stay in India!
Extremely popular for the Hemis festival, the Hemis monastery is ideal for a colorful and exciting holiday. It was established way back in 1672 and is considered Ladakh's most important monastic institution. The drive to Hemis is spectacular and the stay will be an experience to remember. The nearby Hemis National Park is the highest altitude park in India and is a delight for wildlife lovers.
Best time to visit: April to September
DO READ 5 picturesque monasteries you must visit before you die!
With 12 storeys, 10 temples a huge assembly hall and around 120 monks, Thiksey is the largest monastery in central Ladakh. It resembles the Pothala palace in Tibet's Lhasa. Located right in the middle of the beautiful barren terrain of Ladakh with clear blue skies and wide mountain landscapes, Thiskey monastery offers good facilities at nominal prices to visitors.
Best time to visit: May to September
Have interesting travel photos you'd like to share with us? Send photos from your travels to travel@corp.india.com, don't forget to mention where you've shot the picture and get a chance to be featured on our website! So what are you waiting for? Hurry!
Have something to add to this story? Post your comments in the discussion board below; we will be thrilled to hear from you!