Jawahar Circle is a Must Visit For Those Who Wish to Explore The Traditional Side of Jaipur
If You're on Your Way to The Airport, You Must Keep Some Time For The Glorious Jawahar Circle.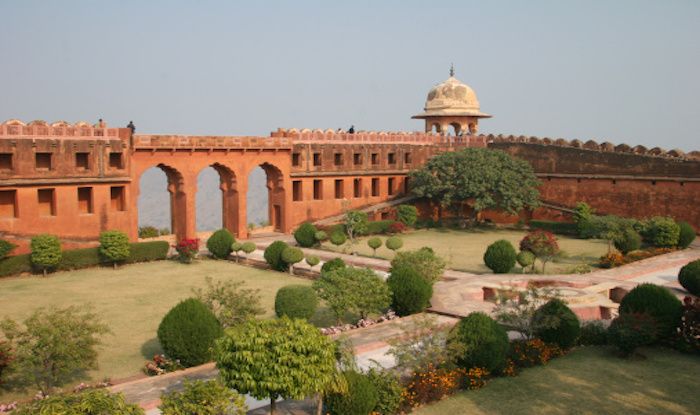 One of Jaipur's most iconic attractions falls on your way to the airport or while driving on JLN Marg. It is this tall pink structure standing surrounded by a gamut of trees and lush gardens – called the Jawahar Circle – arguably the biggest circular park in Asia on a traffic signal.
You must have seen all the famous ones like Hawa Mahal, City Palace, Amer Fort et al, but it's come as a surprise how lovely this low-key place is in Jaipur. Rather than passing it by, remember to get off your car and enter the structure so you can appreciate its stunning architecture.
When you enter Jawahar Circle, the gate that you go through is the Patrika Gate, the most exquisitely designed gate ever.  If you ever feel the need to get in touch with the traditional side of Jaipur but don't have the patience to brave the crowds in the walled city, head here instead and it will never disappoint. The Patrika Gate was made keeping in mind the other seven gates which are present in the walled city.

It gives you a sneak peek into the vibrant culture of Rajasthan as each pillar is dedicated to some part of the state. Hand paintings on the gate depict temples, forts, palaces, portraits of Jaipur rulers, blue pottery, jewellery, as well as photographs of Amer, Hawa Mahal, City Palace, Jal Mahal that give a glimpse into the entire history of Jaipur. There are also some scenes depicting weddings, wars and daily lives of people showcasing the way they earned their livelihood back in the day, portrayed artistically in lively colours.
Interestingly, there are classic windows painted on the gate to give it a more authentic look. But other than just portraying the city's history, the gate also has illustrations of the new age architecture of Jaipur such as the World Trade Park and Amar Jawan Jyoti.  After you've entered, you'll notice a huge circular garden surrounding a fountain, benches and a well-painted jogging track.
There is also a children's park there and an area dedicated to food called Chowpati. There are pav-bhaji stalls, stalls selling baraf ka gola and kulfi, Bombay sandwich and bhelpuri. The best part about this place is that there's ample space for you to sit, eat and enjoy.