Orchha in Madhya Pradesh is a Traveller's Delight
Orchha in Madhya Pradesh is a Traveller's Delight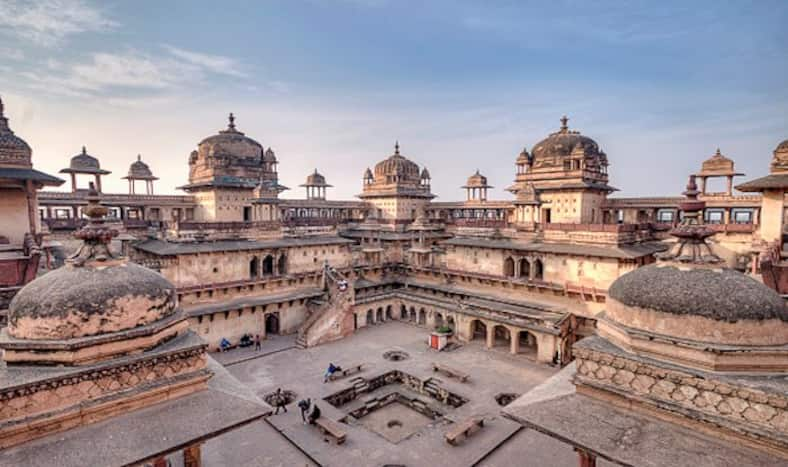 The historic town of Orchha is located strategically on the map. You can literally hop from Jhansi in Uttar Pradesh to Orchha in  Madhya Pradesh in an auto. Nestled on the banks of river Betwa, it was founded in the 16th century by the Bundela Rajput Chief, Rudra Pratap. The name 'Orchha' means hidden, because it remained largely undiscovered until Rudra Pratap chanced upon it. River Betwa splits into seven channels, called the Satdhara. Legend goes that this is in honour of the seven erstwhile Chiefs of Orchha.
The ancient town has a pulse of its own; it's romantically grand and seems frozen in time. With its many monuments continuing to retain their original spark even to this day; history lovers can travel back in time upon visiting the fascinating temples and striking forts and palaces here.
Across the Betwa River is a huge palace fort called the Raja Mahal – the royal residence of erstwhile kings of Orchha. It has these huge towers called 'Chhatris' in its outer premises. Chhatris are cenotaphs constructed in honour of those erstwhile rulers. The antique mural paintings in its interiors is a sight to behold.
The beautiful and intricately carved Jahangir Mahal built by Raja Bir Singh Ju Deo in honour of the Mughal emperor Jahangir is again a must see. Made following the Bundela School of Architecture; the geometric patterns and the flower and peacock paintings here are the major draw of this mahal. Some religious places like Laxminarayan Temple and Chaturbhuj Temple are also places in the Orchha Fort that are worth a visit.
Another striking piece of architecture is the Ram Raja Temple – the only temple in India where Lord Ram is worshiped as a king and that too in a palace.  You could also rejuvenate by  catching a sunset at the Betwa River with the water splashing your feet. Savouring the multi-cuisine food at street-side stalls and shopping for various handicraft items in the local market would round off the trip pretty well.