BJP Releases List Of Candidates For 1st, 2nd Phases; Adityanath To Contest From Gorakhpur
UP Election 2022: BJP's in-charge for Uttar Pradesh Dharmendra Pradhan on Saturday announced that Chief Minister Yogi Adityanath will contest from the Gorakhpur Assembly seat in the upcoming state polls.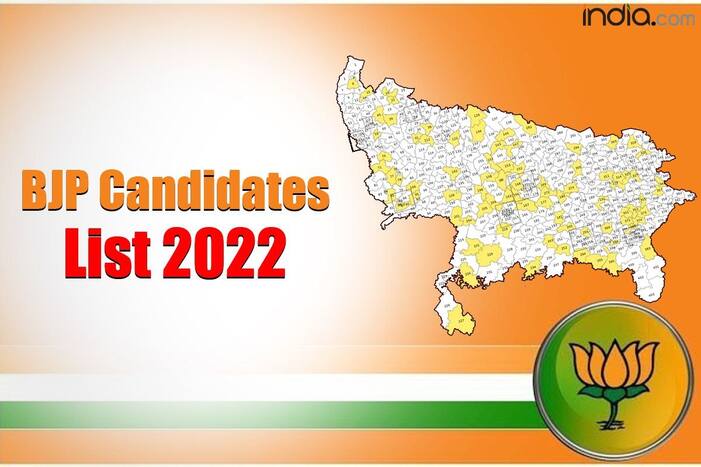 New Delhi: BJP on Saturday released the first list of candidates for Uttar Pradesh Assembly elections. The list was released by union minister Dharmendra Pradhan & BJP national general secretary Arun Singh at the press conference in New Delhi. "We will be releasing list of candidates for first and second phases shortly, for upcoming Uttar Pradesh Assembly Polls," BJP leader & Union Minister Dharmendra Pradhan said.  The BJP's in-charge for Uttar Pradesh announced that Chief Minister Yogi Adityanath will contest from the Gorakhpur Assembly seat in the upcoming state polls. During a press conference, Pradhan also said that Deupty CM Keshav Prasad Maurya will contest from Siratu Assembly seat.
The party has announced names of candidates for 57 out of the 58 seats which will go to polls in the first phase on February 10 and 48 out of 55 seats which will vote in the second phase on February 14. Besides, the BJP has also given more than 68 per cent tickets to candidates from backward classes and women. In the first list, 44 OBC candidates, 19 from Scheduled Castes and 10 women have been named by the BJP.
Here's the full list of BJP candidates for UP Election 2022:
Gorakhpur (Urban) – Yogi Adityanath – Gorakhpur (Urban)
Sirathu – Keshav Prasad Maurya
Kairana – Mriganka Singh
Thana Bhawan – Suresh Rana
Shamli – Tejendra Singh Nirwal
Budhana – Umesh Malik
Charthawal – Sapna Kashyap
Purqazi – Pramod Utwal
Muzaffarnagar – Kapil Dev Aggarwal
Khatauli – Vikram Saini
Meerapur – Prashant Gurjar
Siwalkhas – Manendra Pal Singh
Sardhana – Sangeet Som
Hastinapur – Dinesh Khatik
Kithore – Satyavir Tyagi
Meerut Cantt. – Amit Agarwal
Meerut South – Somendra Tomar
Chhaprauli – Sahendra Singh Ramala
Baraut – Krishnapal Singh Malik
Bagpat – Yogesh Dhama
Loni – Nandkishor Gurjar
Muradnagar – Ajit Pal Tyagi
Sahibabad – Sunil Sharma
Ghaziabad – Atul Garg
Modinagar – Manju Shivach
Dholana – Dharmesh Tomar
Hapur (SC) – Vijay Pal Aadti
Garhmukteshwar – Harendra Choudhary Tevatiya
Noida – Pankaj Singh
Dadri – Tejpal Singh Nagar
Jewar – Dhirendra Singh
Secunderabad – Laxmiraj Singh
Bulandshahr – Pradeep Chaudhary
Syana – Devendra Singh Lodhi
Anupshahr – Sanjay Sharma
Debai – C P Singh
Shikarpur – Anil Sharma
Khurja (SC) – Meenakshi Singh
Khair (SC) – Anoop Pradhan Balmiki
Barauli – Thakur Jayveer Singh
Atrauli – Sandeep Singh
Chharra – Ravendra Pal Singh
Koil – Anil Parashar
Iglas – Rajkumar Sahyogi
Chhata – Chaudhary Laxmi Narayan
Mant – Rajesh Chaudhary
Goverdhan – Thakur Meghshyam Singh
Mathura – Shrikant Sharma
Baldev (SC) – Pooran Prakash Jatav
Etmadpur – Dharampal Singh
Agra Cantt. – G S Dharmesh
Agra South – Yogendra Upadhyaya
Agra North – Purshottam Khandelwal
Agra Rural (SC) – Baby Rani Maurya
Fatehpur Sikri – Choudhary Babulal
Kheragarh – Bhagwan Singh Kushwaha
Fatehabad – Chhotelal Verma
Bah – Rani Pakshalika
Behat – Naresh Saini
Nakur – Mukesh Chaudhary
Saharanpur Nagar – Rajeev Gumbar
Saharanpur – Jagpal Singh
Deoband – Brijesh Singh Rawat
Rampur Maniharan (SC) – Devendra Nim
Gangoh – Keerat Singh Gurjar
Najibabad – Kunwar Bhartendu Singh
Nagina (SC) – Dr Yashwant
Barahpur – Sushant Singh
Dhampur – Ashok Kumar Rana
Nehtaur – Om Kumar
Bijnor – Suchi Mousam Chaudhary
Chandpur – Kamlesh Singh
Noorpur – C P Singh
Kanth – Rajesh Kumar Chunnu
Moradabad Rural – Krishankant Mishra
Moradabad Nagar – Ritesh Gupta
Kundarki – Kamal Prajapati
Bilari – Parmeshwar Lal Saini
Chandausi (SC) – Gulabo Devi
Asmoli – Harendra Singh (Rinku)
Sambhal – Rajesh Singhal
Chamraua – Mohan Kumar Lodhi
Bilaspur – Baldev Singh Aulakh
Ramour – Aakash Saxena
Milak (SC) – RajbalaDhanaura (SC) – Rajeev Tarara
Naugawan Sadat – Devendra Nagpal
Amroha – Ram Singh Saini
Hasanpur – Mahendra Singh Khadagvanshi
Gunnaur – Ajeet Kumar (Raju Yadav)
Bisauli (SC) – Kushagra Sagar
Sahaswan – K D Bhardwaj
Bilsi – Harish Shakya
Budaun – Mahesh Gupta
Shekhupur – Dharmendra Shakya
Dataganj – Rajeev Singh (Babbu Bhaiya)
Meerganj – D C Verma
Nawabganj – M P Aarya Gangwar
Faridpur (SC) – Dr Shyam Bihari Lal
Bithari Chainpur – Dr Raghvendra Sharma
Bareilly – Dr Arun Saxena
Bareilly Cantt. – Dr Sanjeev Aggarwal
Aonla – Dharmpal Singh
Katra – Veer Vikram Singh
Powayan (SC) – Chetram Pasi
Shahjahanpur – Suresh Khanna
Full list of BJP candidates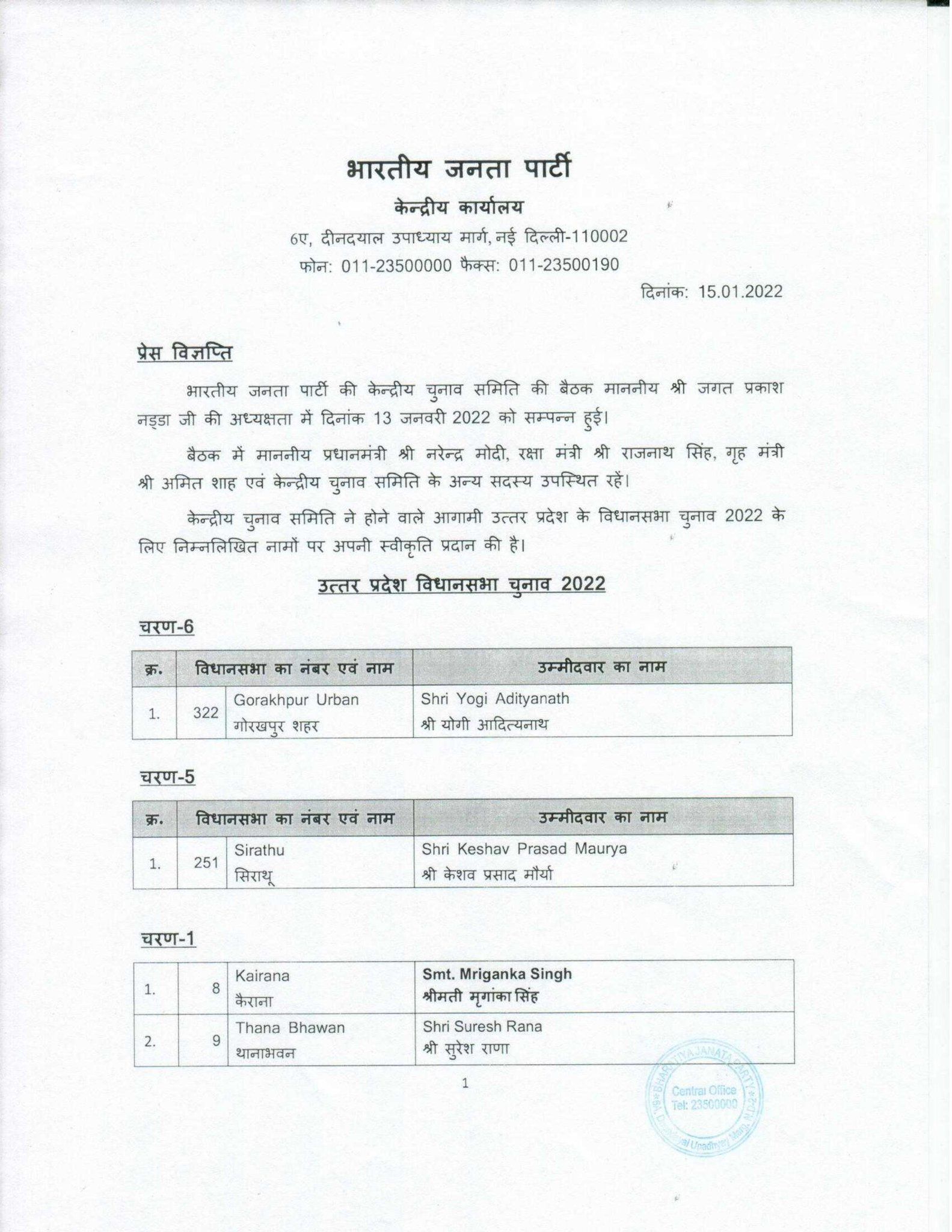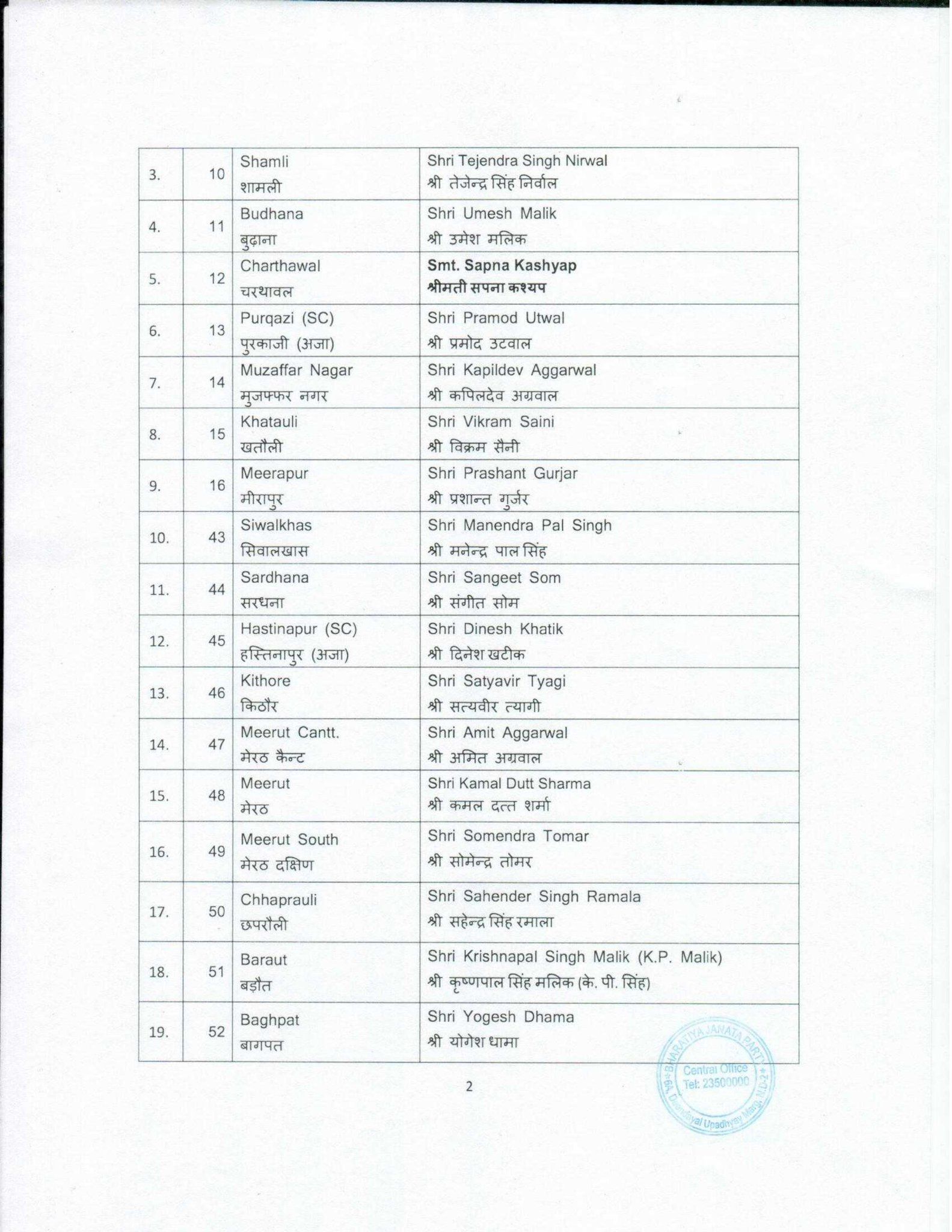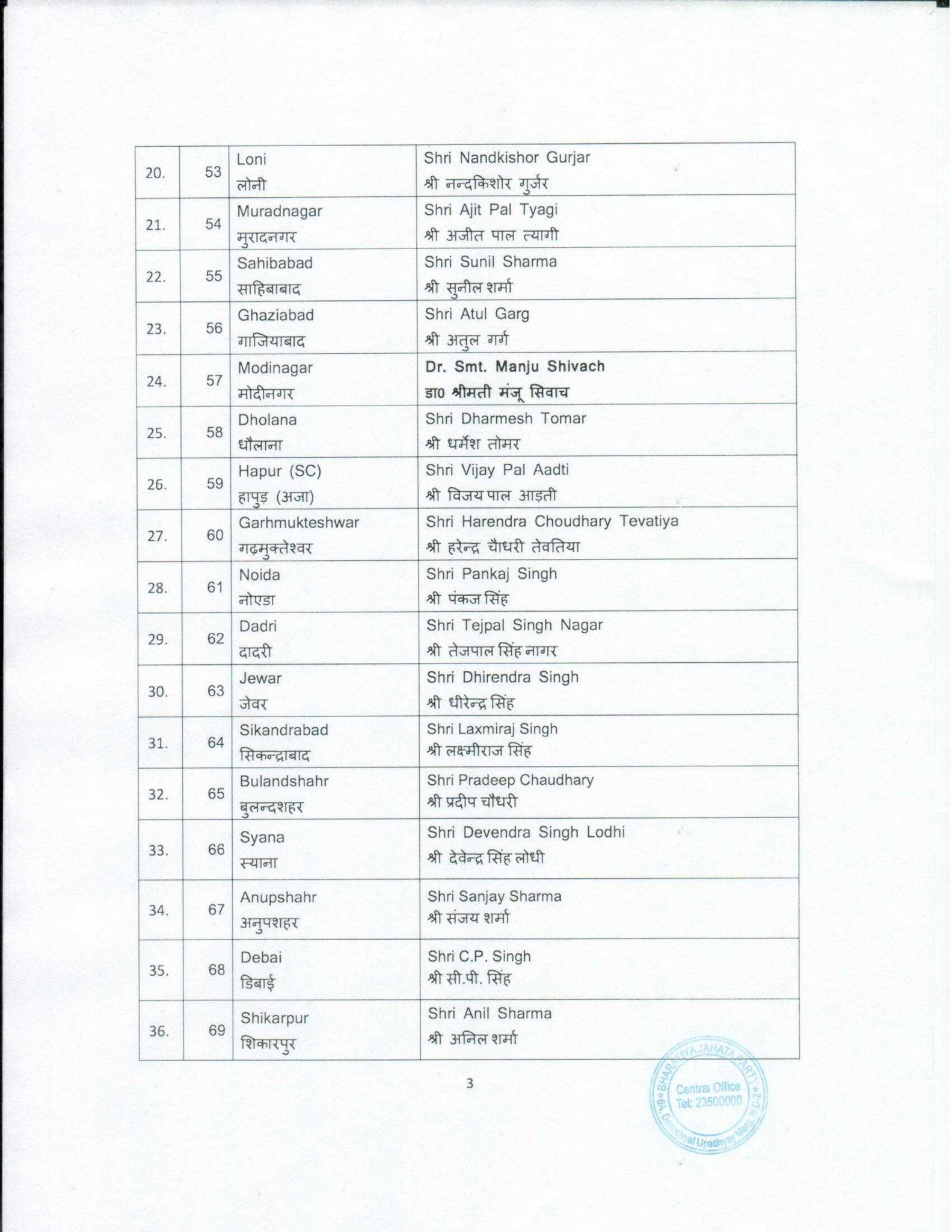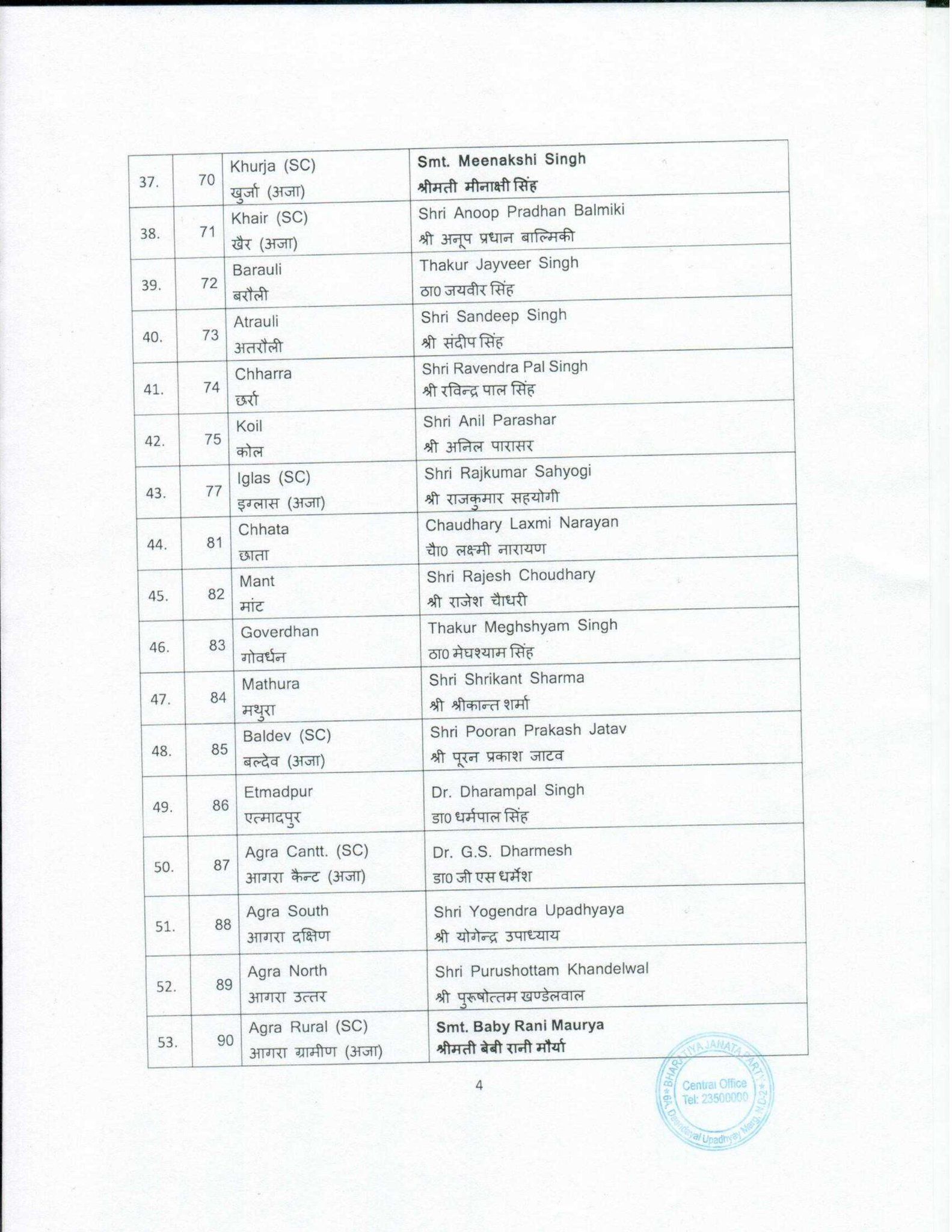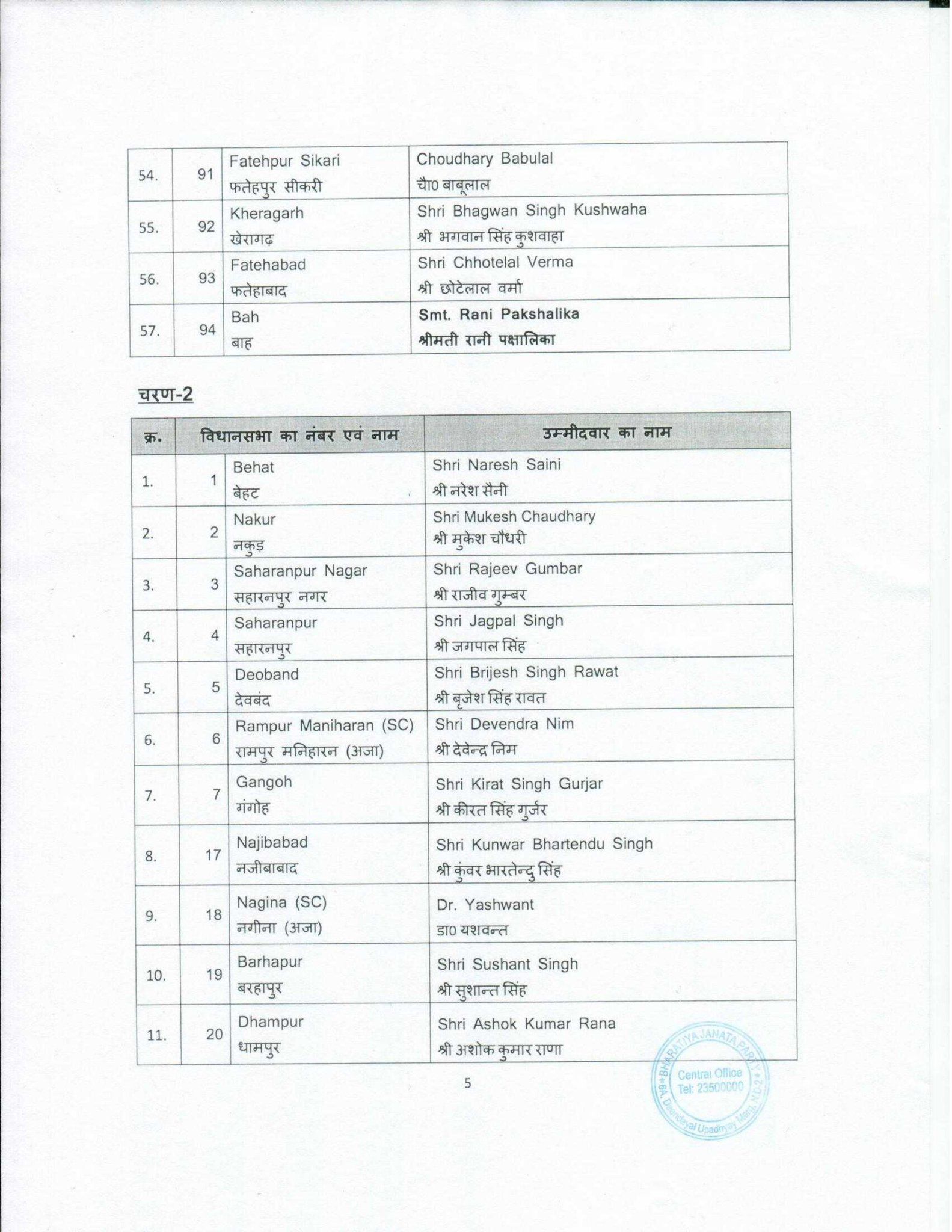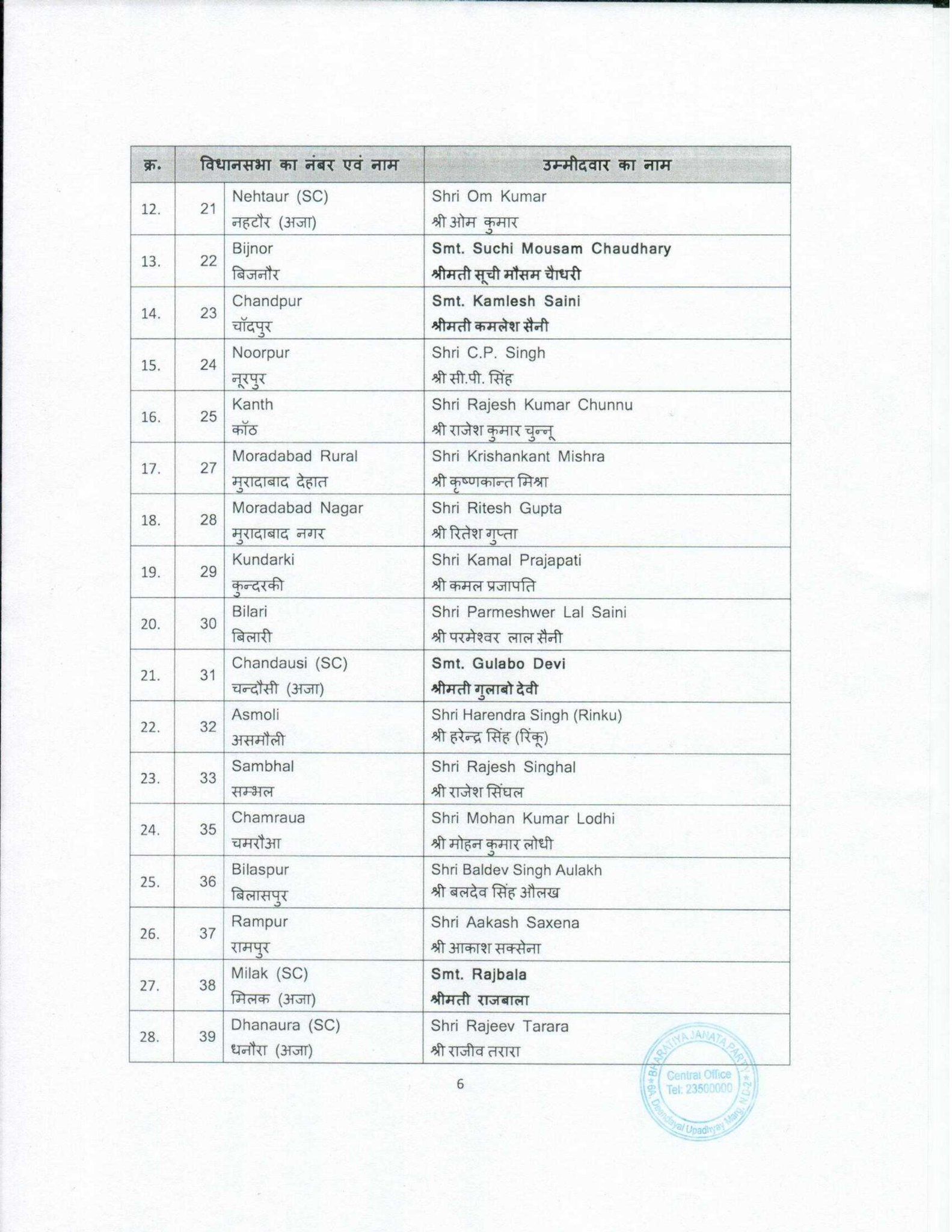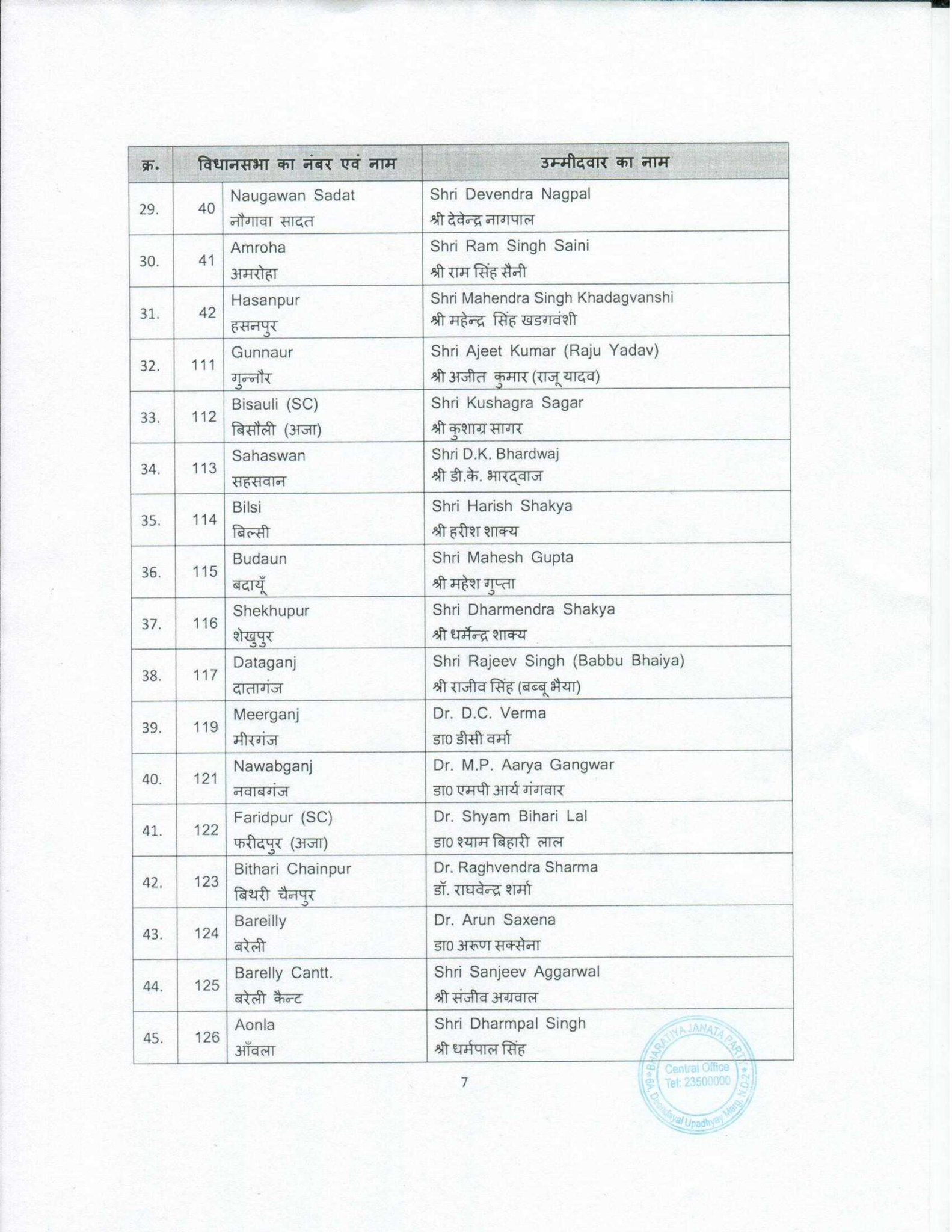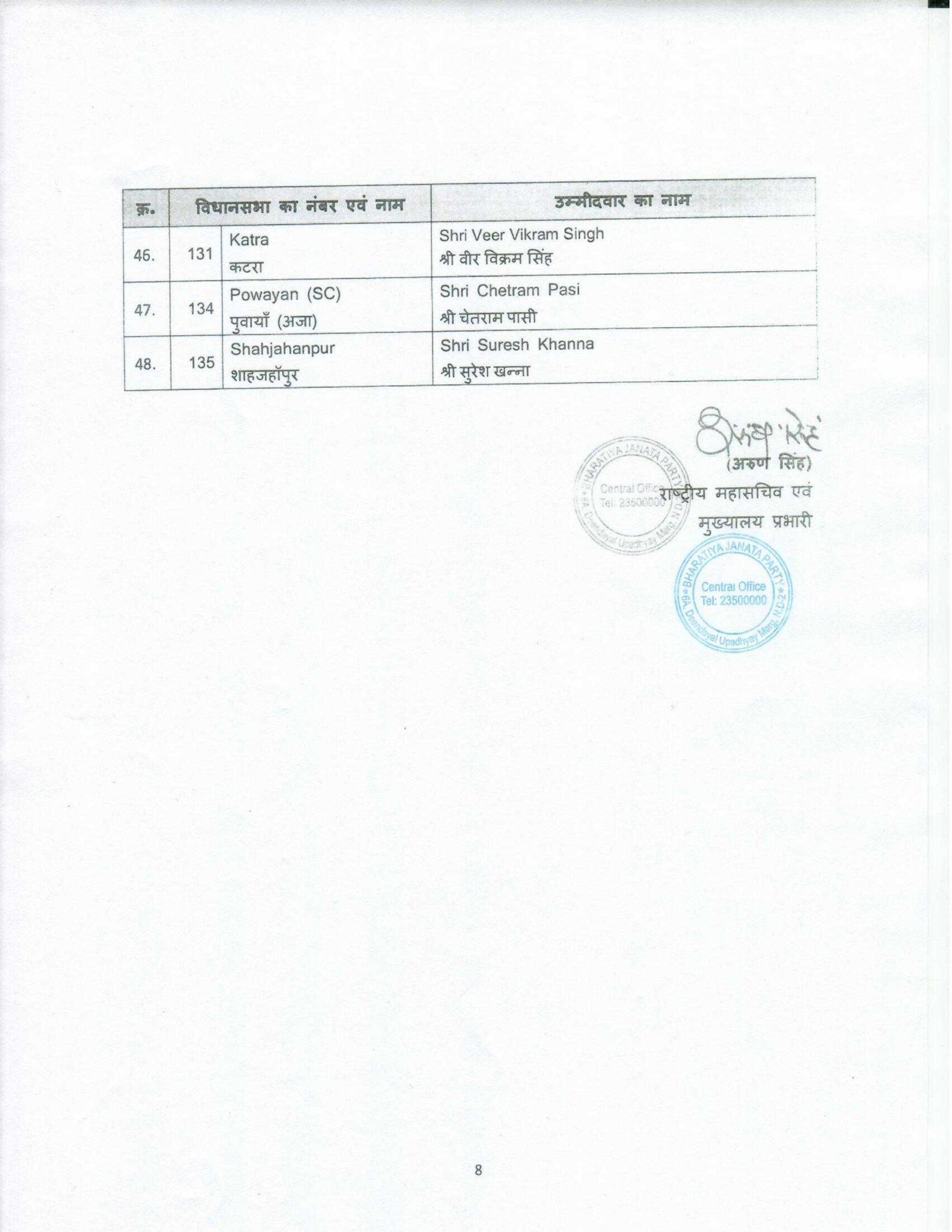 20 sitting MLAs dropped from BJP's first list
In its first list of candidates, the BJP has not given tickets to 20 sitting MLAs. Of the seven Assembly seats in Bulandshahr, the party has not given tickets to four sitting MLAs.
Elections will be held in Uttar Pradesh in seven phases from February 10, 14, 20, 23, 27, March 3 and 7 and the results for the 403-member Assembly will be declared on March 10.
Polling for the Gorakhpur (Urban) seat will be held on March 3 – the sixth phase.