Uttar Pradesh Election 2022 Dates: Voting in 7 Phases, Counting on March 10 | UP Assembly Polls Full Schedule Here
Uttar Pradesh is India's most populous state and inarguably most crucial, politically.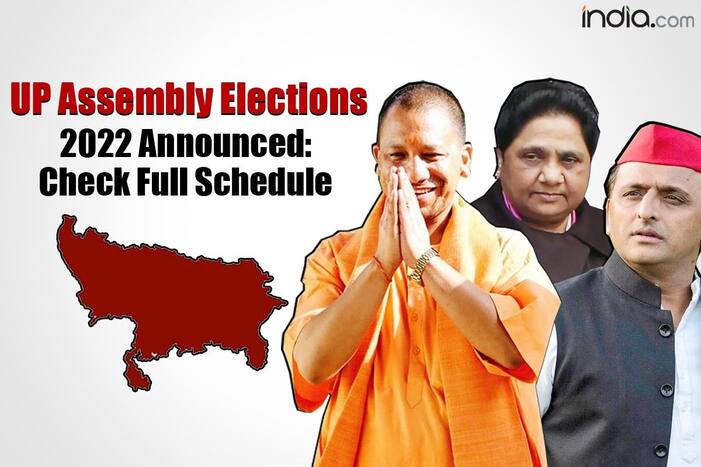 New Delhi: The The Election Commission of India has announced the dates for Uttar Pradesh Assembly polls 2022. The politically crucial state will go to polls in seven phases starting February 10. Counting of votes will be held on 10th March, Thursday, the EC said.
The Uttar Pradesh Assembly has a total of 403 seats, with 202 being the majority mark. These 403 constituencies are distributed across seven broad regions – West UP (44 constituencies), Ruhelkhand (52), Doab (73), Awadh (78), Bundelkhand (19), East UP (76) and North East UP (61).
UP Assembly Polls 2022 Phase-Wise Dates:
1st phase – February 10
2nd phase – February 14
3rd phase – February 20
4th phase – February 23
5h phase – February 27
6th phase – March 03
7th phase – March 07
Counting of votes – 10th March
Take a look at phase-wise polling schedule for UP Elections 2022 here:
Uttar Pradesh is India's most populous state and inarguably most crucial, politically. With a population over 200 million cutting across caste and communities, and 80 Lok Sabha seats and 403 assembly seats, the state wields disproportionate power in the country's politics. Having roots in the state propels a political party or leader to the national arena because no other state comes close in terms of political heft.
Full phase-wise list in which various UP districts will vote:
1st phase: Shamli, Meerut, Muzaffarnagar, Baghpat, Hapur, Ghaziabad, Bulandshahr, Mathura, Agra, Aligarh
2nd phase: Saharanpur, Bijnore, Amroha, Sambhal, Moradabad, Rampur, Bareilly, Badun, Shahjahanpur
3rd phase: Kasganj, Hathras, Ferozabad, Etah, Mainpuri, Farrukhabad, Kannauj, Etawah, Auraiya, Kanpur Dehat, Kanpur Nagar, Jalaun, Hamirpur, Mahoba, Jhansi, Lalitpur
4th phase: Pilibhit, Lakhimpur Khiri, Sitapur, Hardoi, Lucknow, Unnao, Raibareli, Fatehpur, Banda
5th phase: Srawasti, Bahraich, Gonda, Ayodhya, Amethi, Sultanpur, Pratapgarh, Kaushambi, Chitrakoot, Prayagraj
6th phase: Balrampur, Siddharthanagar, Maharajganj, Kushinagar, Basti, Sant Kabir Nagar, Ambedkar Nagar, Gorakhpur, Deoriya, Balliya
7th phase: Azamgarh, Mau, Ghazipur, Jaunpur, Sant Ravidas Nagar, Varanasi, Mirzapur, Ghazipur, Chandauli, Sonbhadra
Last month the Allahabad High Court in UP had asked the Election Commission and Prime Minister Narendra Modi to defer polls by a couple of months in light of the Omicron threat.