21 Grumpy Cat memes you can relate to every Monday of your life
Happy Monday.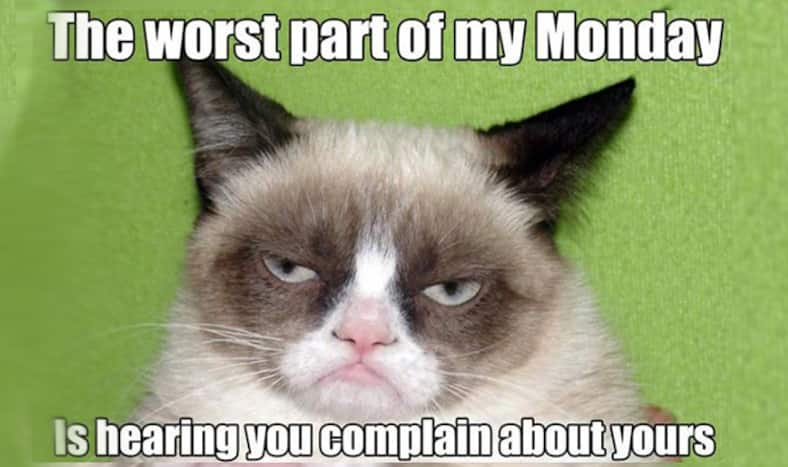 Think Monday and your face at once turns from that charming Sunday smile into the worst frown ever. And what if, every day of your life felt like a Monday? That is exactly what this poor cat feels. Nothing you ever do can make him smile. Grumpy Cat became an internet sensation in 2012 when her owner Tabatha Bundesen's brother Bryan posted a picture of hers on Reddit. She was just 5 months old at the time. Though popularly known as Grumpy Cat, her real name is Tardar Sauce and she is just 3 years old as of 2015. Grumpy Cat is also the first cat to have her animatronix wax statue at Madame Tussauds wax museum!
Grumpy Cat or Tardar Sauce actually appears perpetually grumpy due to an underbite and feline dwarfism. Despite her grumpy expression, her nature is just like a normal cat – playful and moody and she behaves normally most of the times. Grumpy Cat also has a brother Pokey. She has become an internet sensation and has also appeared on many magazine covers and TV shows. Grumpy cat even has a special celeb manager, just to handle her online appearances. Strangers are very rarely allowed to handle her and her photo-shoots are restricted to once a week.
Grumpy Cat has also done many product endorsements and is the official spokescat for Friskies, a famous brand of cat food owned by Nestle. It is not just lifestyle and feline/pet magazines that Grumpy has stared in but even political, financial and world news magazines like Forbes, Time, etc. Grumpy Cat Limited is a trademark owned by Grumpy Cat and a lot of Grumpy Cat merchandise like mugs, t-shirts, plush toys are sold.
Here are some of the funniest and most famous Grumpy Cat memes to make you feel better about terrible Mondays.