5 political leaders who threatened the media
Here are five political leaders who threatened media for not supporting them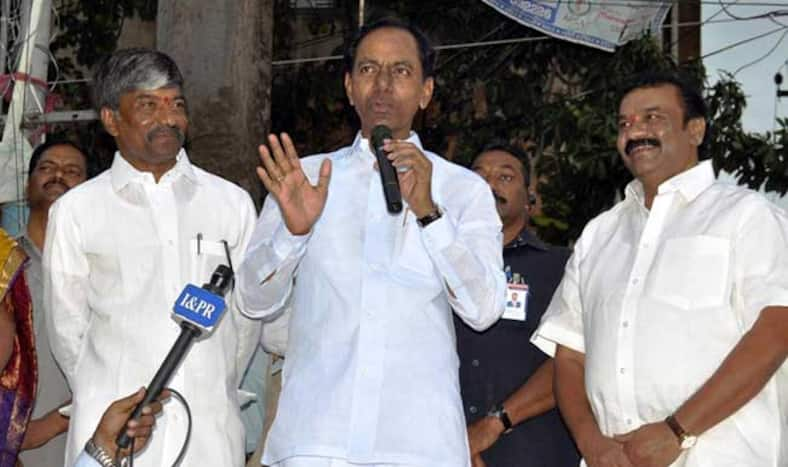 Just three months after becoming the first Chief Minister of Telangana, K Chandrasekhar Rao has locked horns with the media. The issue gained limelight when he asked local journalists to respect Telangana. It began when he strongly defended the action of Multiple System Operators in blocking telecast of two regional news channels, the Chief Minister said his government will not allow the media to continue with the anti-Telangana stand and insult people and elected representatives of the Telangana state.
He later warned the media and journalists against looking down on Telangana and its culture, people or language. Telangana public representatives added that if anyone dares to do so, the person will be buried 10 km deep in the ground. He has asked the local journalists to discuss issues directly with him and not disrespect Telangana.
While the issue is still making headlines, we look at five political leaders who threatened media for opposing them, their party or their ideas.
Sushilkumar Shinde
Shinde had accused the media of indulging in anti-Congress propaganda before the Lok Sabha election in 2014. He had threatened to crush the electronic media alleging that some of them were manipulating news. He warned them saying that they would be crushed if that kind of report did not stop. He said, "What is happening in the electronic media largely I am aware of it. In the last four months there have been efforts by the media to provoke us. We will crush such elements in the electronic media, which are indulging in false propaganda, if it did not stop. I have intelligence department under me. I know who is doing such things. I know what is happening. Some forces are behind this."
Arvind Kejriwal
During the campaign for Lok Sabha elections, Arvind Kejriwal threatened the media by saying that he would put them behind bars if his government came to power. He warned the media at a fund raising dinner in Nagpur. He accused the media of promoting Narendra Modi and said that media was being heavily paid for it.
He said, "For the last one year our minds have been filled with Modi,  and some TV channels have been saying that corruption has ended, Ram Rajya has come because TV channels have been paid heavily."
Virbhadra Singh
Following a corruption charge levelled on him, Virbhadra Singh, answered journalists who questioned him on the charges that he would break their cameras. The current Chief Minister of Himahal Pradesh had rubbished all allegations put on him by the BJP. He called the income tax invasion and money laundering charges as baseless.
Virbhadra Singh said, "I will break your cameras. Don't you have any work to do? I will deal with all these issues after the election on November 4". However, the Congress leader and his party apologized later on after he was heavily criticized.
Mamata Banerjee
West Bengal Chief Minister, Mamata Banerjee launched an attack on a section of media saying that they distorted her statement with a purpose,
she said that as her government did not react to media's false accusations, they went on with their allegations. She said that a section of media was running a misleading campaign on the deadlock of Haldia rock.
She said, " Since our government is liberal,we are not saying anything. But you (section of media) can't interfere and distort my statement. If this continues, we must initiate legal action."
Somnath Bharti
The former law minister and the current AAP member had attacked media saying that media was bribed by the then BJP Prime Ministerial candidate Narendra Modi. When he was asked by a reporter if he would resign for accusing them of politicising the issue of midnight raid in Delhi where women were caught of sex trade, he asked how had Modi paid them.
Later on, the minister apologised for his statements and also said that what he said had been misinterpreted. Later on Delhi Chief Minister Arvind Kejriwal said that Somnath Bharti's comments were "inappropriate".
He asked the reporter, "How much money have you got from (Narendra) Modi?"