China Reopens 'Wet Markets' Selling Bats, Cats and Dogs Despite Ongoing Coronavirus Pandemic
Several scientists, medical experts and animal rights activists have called for a ban on China's wet markets but the Asian country seems to have not learnt from its mistakes.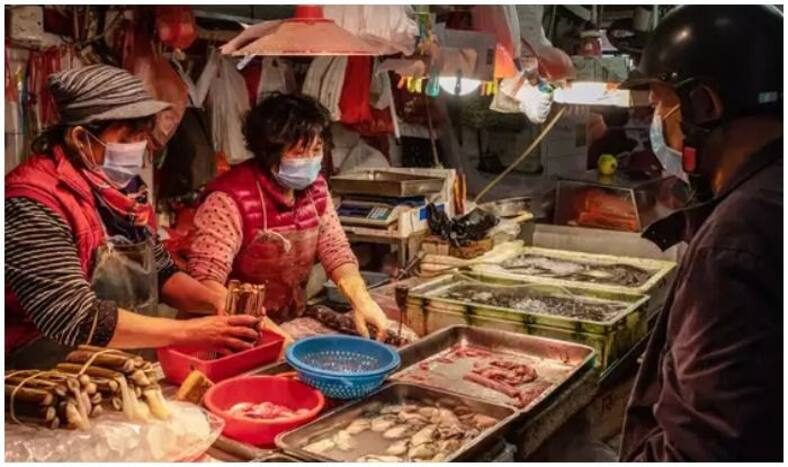 At a time when the world is still grappling with the coronavirus pandemic, China has reopened its wet markets that is said to be the origin of the deadly coronavirus. Many pictures of this notorious wet market selling bats, cats, dogs and pangolins for human consumption, have gone viral on social media, angering people across the world.
The market returned to the business last week after the country reported no new cases of the disease for six consecutive days and many Chinese flocked to the market to buy exotic animals.
As per scientists, the move is a dangerous one as the COVID-19 causing coronavirus first lurked in a bat in China and hopped to another animal, before getting passed on to humans. After the virus broke out, the Chinese government, on March 5 banned the consumption of wild animals, however, the ban was temporary.
Various reports suggest that a 55-year-old man from China's Hubei province could have been the first person to have contracted Covid-19 through one such 'wet market'.
"The evidence is highly suggestive that the outbreak is associated with exposures in one seafood market in Wuhan," the World Health Organisation had said in a statement on January 12.
Several scientists, medical experts and animal rights activists have called for a ban on China's wet markets but the Asian country seems to have not learnt from its mistakes. The move has attracted widespread criticism and social media users have slammed China:
Thousands have started to flood back into Chinese wet markets, with bats, rabbits and dogs, possible culprits for the virus, still on offer. If the #coronavirus outbreak revives in China, then we can tell it is a man-made calamity, not a natural disaster. https://t.co/4nf8XZ8Jqc

— Ezra Cheung (@ezracheungtoto) March 30, 2020
If China keeps these markets open the world should treat that as an act of biological and economic warfare and should use ANY means necessary to shut them down

The wet markets must be destroyed, with or without China's help https://t.co/Pjv3nH5iXO

— Ryan Saavedra (@RealSaavedra) April 1, 2020
It's back to eating dogs, cats, wild animals as 'wet markets' reopen in #China. So much for the 'permanent ban' imposed by Team Xi.
Either they were bluffing the world or #CPC's writ does not run in China. Either way, stupid to trust China on #ChineseVirushttps://t.co/JPfgnHIG5h

— Kanchan Gupta (@KanchanGupta) April 1, 2020
DURING COVID-19 CHINA WET MARKETS ARE BACK!
March 30th.
Some wet markets never closed,the closed ones have been re-opened.
As the world is crumbling at our feet, customers are flocking to buy freshly slaughtered wildlife in wet markets in Donggun and Guilin.

Didn't China pic.twitter.com/1fnUcVzXcx

— Roberto Cardella (@Robert0Guiscard) March 31, 2020
Dear @SpeakerPelosi,

Right now, there are Chinese wet markets STILL selling bats.

Stop using your energy trying to tear down President @realDonaldTrump.

Start using your energy to demand China tears down these markets that are incubators for diseases!

— Andrew Pollack (@AndrewPollackFL) March 31, 2020
Evidence shows that #coronavirus possibly comes from wild animals. While the world is suffering from the outbreak, people in mainland China do not care anymore. Wet markets are open again. They have not learned their lesson, but the world is paying for it.https://t.co/WotvV8E5Mq

— Adam Yuen (@AdamYuen9) March 31, 2020
The reopened markets are under the watchful eyes of guards who are ensuring that no pictures are being taken inside the markets.