Happy New Year Wishes in English: New Year WhatsApp Status, Facebook Messages, Quotes, Gif Images & Memes to Wish Happy New Year 2017!
Happy New Year 2017 Wishes in English: An amazing collection of Happy New Year Wishes, WhatsApp Status, Facebook Messages, Quotes, Gif Images & Memes to Wish Happy New Year 2017 to everyone!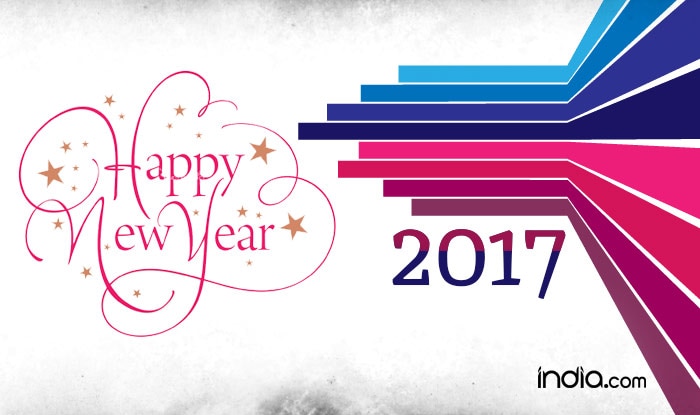 New Year is celebrated on January 1st and people celebrate New Year Eve's on December 31 of every year. New Year is nothing but the best time to start of beautiful phase of life and a new beginning of new hopes, aspirations and dreams. It is one of the most popular occasions which is celebrated by everyone. On this day, people indulge in fun activities and celebrate the coming year with their loved ones. The best time to reach out to your loved ones. It is the perfect time to celebrate and exchange gifts, greetings and messages. People celebrate their New Year Eve with family and friends.New Year's Day on January 1 is a restricted holiday in India and their is tight security in prime cities.  ALSO READ: New Year Party & Game Ideas: 10 fun New Year's Eve Party and Game Ideas that will help even after demonetisation
New Year signifies that finally the time has arrived to bid adieu to the on-going year and by welcoming the coming New Year. Traditionally, the New Year was celebrated on 1st March of every year but 1st January is considered to have a more religious significance. The celebration ends with colourful fireworks, dance, drinks, games and a lot more. And then comes the task of wishing everyone and sending out New Year messages. With the new age technology of social media and WhatsApp, we can quickly send messages that are an easy way to greet your loved ones and show them your love and care in a unique way. ALSO READ: Advance Happy New Year 2017 Wishes, Gif Images, Memes, Quotes, WhatsApp & Facebook SMS Messages to Wish Happy New Year in Advance
With the New Year just round the corner, we bring to you some of the best WhatsApp messages that you can consider sending to your loved ones. Send the coolest messages, power packed with warmth and compassion just to wish them a wonderful and prosperous New Year. Welcome the New Year with lots of wine or beer, cake, celebrations and resolutions – wish you all a very Happy New Year 2017!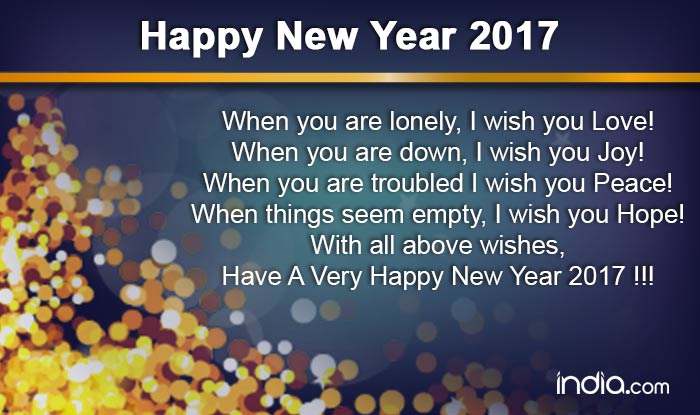 Whatsapp reads: When you are lonely, I wish you Love!
When you are down, I wish you Joy!
When you are troubled I wish you Peace!
When things seem empty, I wish you Hope!
With all above wishes, Have A Very Happy New Year 2017 !!!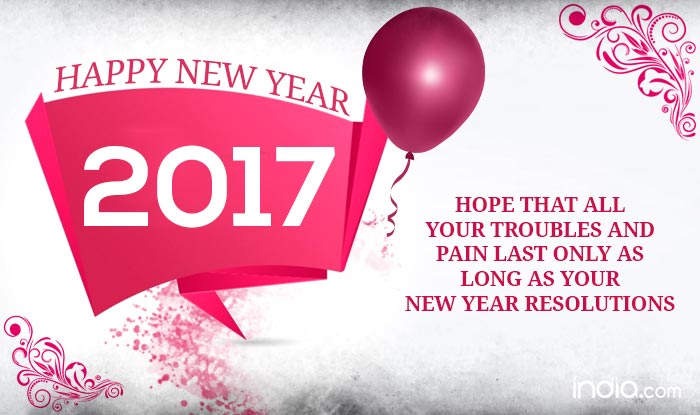 Quote reads: Hope that all your troubles and pain last only as long as your New Year resolutions. Happy New Year!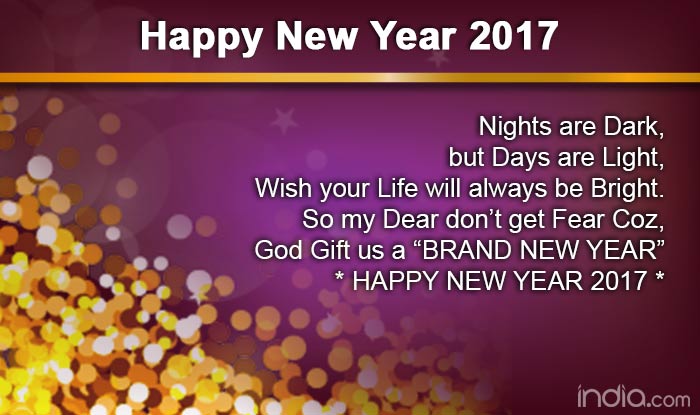 Whatsapp reads: 
Nights are Dark,
but Days are Light,
Wish your Life will always be Bright.
So my Dear don't get Fear Coz,
God Gift us a "BRAND NEW YEAR"
* HAPPY NEW YEAR 2017 *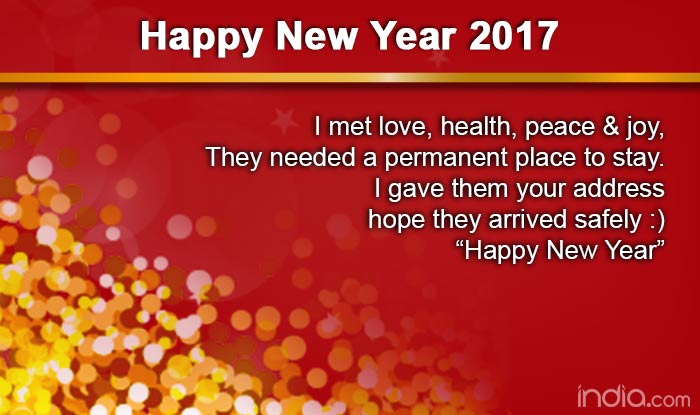 Whatsapp reads: 
I met love, health, peace & joy,
They needed a permanent place to stay.
I gave them your address
hope they arrived safely 🙂
"Happy New Year"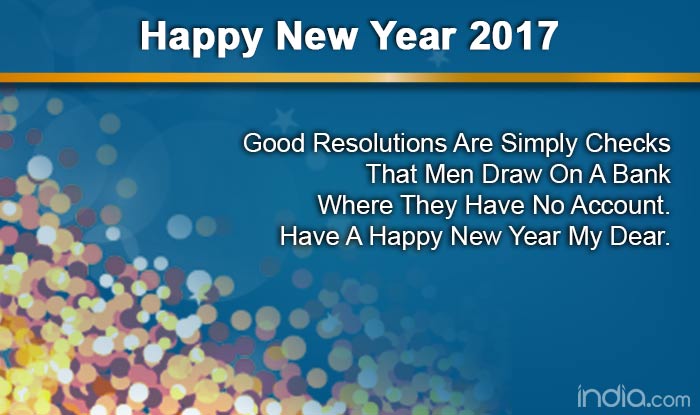 Whatsapp reads: 
Good Resolutions Are Simply Checks
That Men Draw On A Bank
Where They Have No Account.
Have A Happy New Year My Dear.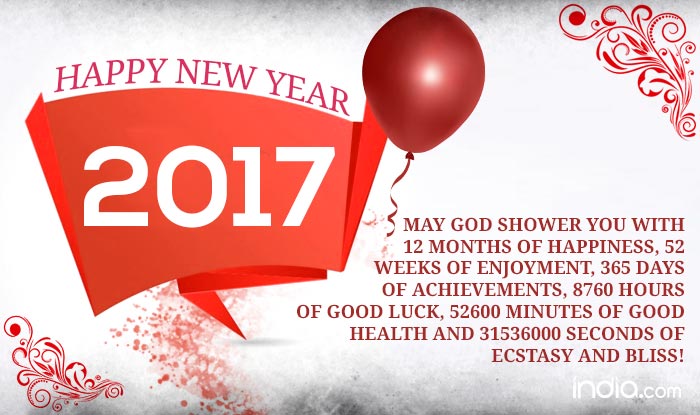 Quote reads: May God shower you with 12 months of happiness, 52 weeks of enjoyment, 365 days of achievements, 8760 hours of good luck, 52600 minutes of good health and 31536000 seconds of ecstasy and bliss! Happy New Year!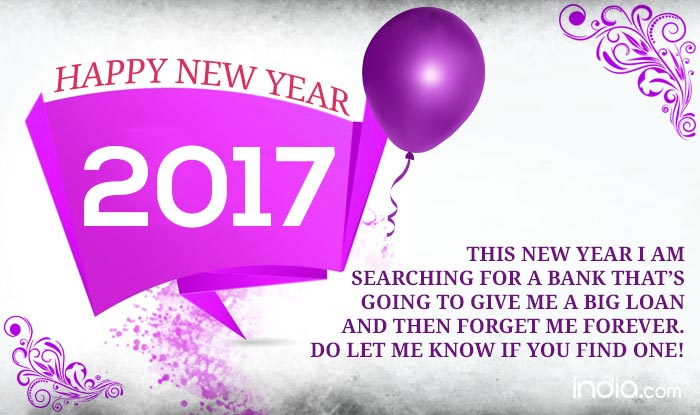 Quote reads: This New Year I am searching for a bank that's going to give me a big loan and then forget me forever. Do let me know if you find one! Happy New Year btw!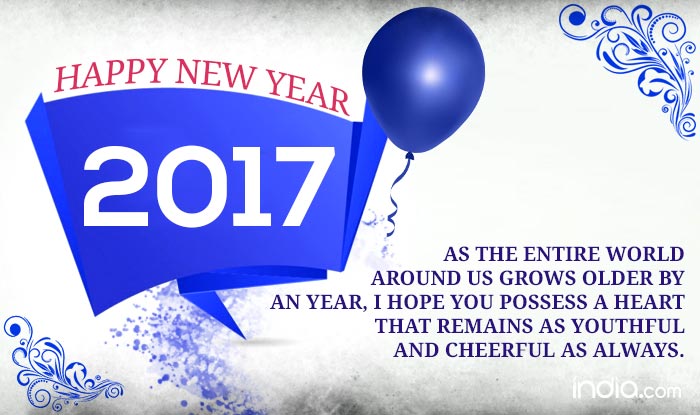 Quote reads: As the entire world around us grows older by an year, I hope you possess a heart that remains as youthful and cheerful as always.
Whatsapp reads: Another year of success and happiness has passed.With every new year, comes greater challenges and obstacles in life.I wish you courage, hope and faith to overcome all the hurdles you face.May you have a great year and a wonderful time ahead, God bless you.Happy New Year 2017 !!!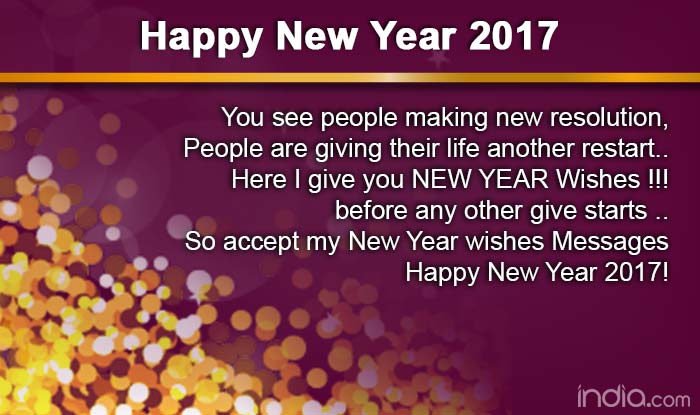 Whatsapp reads: 
You see people making new resolution,
People are giving their life another restart..
Here I give you NEW YEAR Wishes !!!
before any other give starts ..
So accept my New Year wishes Messages
Happy New Year 2017!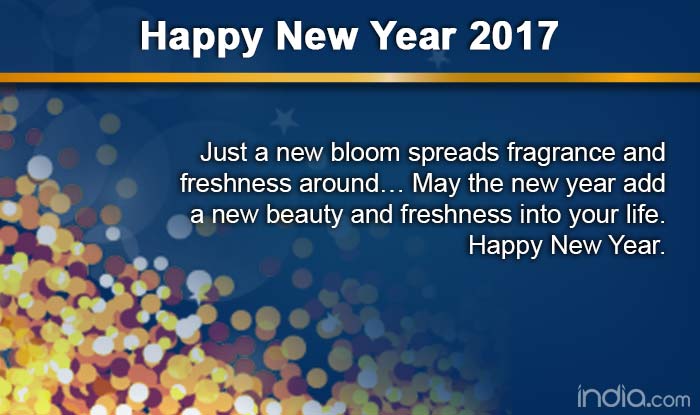 Whatsapp reads: Just a new bloom spreads fragrance and freshness around… May the new year add a new beauty and freshness into your life. Happy New Year.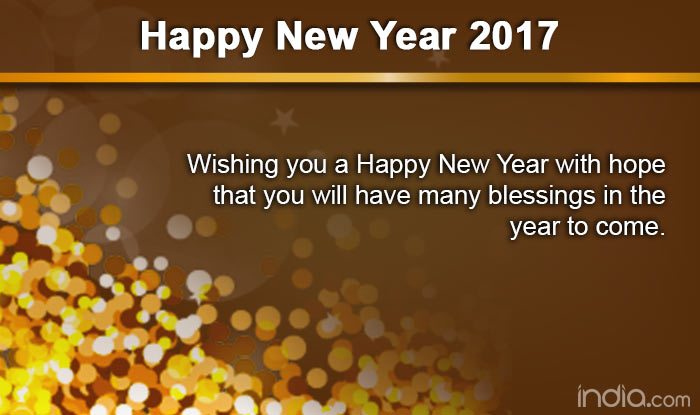 Whatsapp reads: Wishing you a Happy New Year with hope that you will have many blessings in the year to come.
Image credit: Jyoti Desale and Hamid Khan