Iranian Women Remove Headscarves Protesting Against Veil Law, Pictures go Viral on Social Media
In Iran, women showing their hair in public can be jailed up to two months or fined USD 25.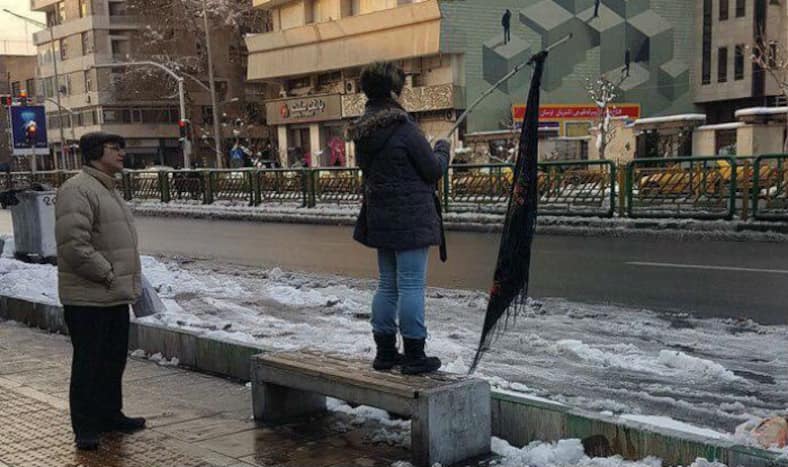 Protesting against veil law, Iranian woman has been taking off their headscarves and waving it on a stick in public. Photos and videos of five women on social media show them standing in public places with their headscarves hanging on a stick. The incident that was shot on Tehran's Enghelab Street was witnessed by Masoud Sarabi who also confirmed the authenticity of the video. This is not the first time women came out in protest of Iran's law for women. In December 2017, 31-year-old protestor identified as Vida Movahed took off her headscarf on the same street. She was detained for a few weeks, then released.
In Iran, women showing their hair in public can be jailed up to two months or fined USD 25. The Islamic dress code which is in place since the Islamic Revolution in 1979 makes hijab or veil a compulsory clothing for home. It is obligatory for any female above 13 years of age in the country to cover from head to toe and not wear any body-hugging clothes. However, the stringent rules were relaxed a little under the regime of President Hassan Rouhani who is considered a relatively moderate leader. Social media users were in praise of the women who protested forceful laws towards woman's dressing in the country.
Here are the pictures:
"I took my scarf off because I'm tired of our government telling me what to do with my body," 28yo woman protestor.
At least one of the 6 women protesting Monday was arrested by police, a shopkeeper who witnessed the arrest said. #Iran

— Mona Eltahawy (@monaeltahawy) January 30, 2018
A 2nd woman arrested in #Iran for protesting forced #hijab by taking off her headscarf.
Name: Narges Hosseini #نرگس_حسینی
Women are removing their hijab, posting it with the hashtag #دختران_خیابان_انقلاب meaning #GirlsOfRevolutionSt where #VidaMovahed first took off her hijab. pic.twitter.com/lLbeI5TZMo

— Armin Navabi (@ArminNavabi) January 29, 2018
#میدان_فردوسی pic.twitter.com/bgQl2f1Dmr

— Mojtaba Nariman (@mojtaba_nariman) January 29, 2018
These two women are being hailed as heroes by many Iranians for protesting the compulsory hijab rule that has violated women's rights in Iran for nearly four decades. pic.twitter.com/qSFOZpOkrg

— Golnaz Esfandiari (@GEsfandiari) January 29, 2018
Another image surfacing of a woman in #Iran, waving her #hijab in protest. This is a growing movement within #IranianProtests where women are taking the lead in the fight for a #FreeIran pic.twitter.com/J7DupqEB7l

— Annika H Rothstein (@truthandfiction) January 30, 2018
Authorities announced that women driving with improper head coverings would no longer be arrested but have a pay a small fine. Earlier, women allowed their hijab to slip could be admonished by the religious authorities. While the rules have been eased, incidents such as protesting by removing their hijabs could still lead to their arrests. Rouhani and Supreme Leader Ayatollah Ali Khamenei support a lighter approach towards women with improper hijab, however, Iran's security forces and judiciary does not believe likewise.