Secret Graffiti Artist 'Banksy' Auctions Three Paintings For Children's Hospital in Bethlehem, Artworks Fetch £2.2 Million
Britain's reclusive street artist who is known by the pseudo-name 'Banksy' sells three of his paintings for almost double the estimated figure, grosses £2.2 million to donate at Bethlehem Arab Society for Rehabilitation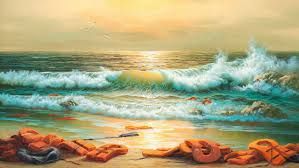 The ongoing coronavirus pandemic has proved "it was the best of times, it was the worst of times" just like famous writer Charles Dickens mentioned in his book A tale of Two Cities and a the noble work by secret graffiti artist 'Banksy' is enough to back our claim. Auctioning three of his paintings in London, the reclusive street artist from Britain grossed a mammoth £2.2 million to donate at children's hospital – Bethlehem Arab Society for Rehabilitation.
Earning almost double the estimated figure, Banksy's painting titled Mediterranean Sea View 2017 highlight the European refugee crisis which saw several people trying to reach the continent across the Mediterranean and Aegean seas after fleeing war and conflict and embarking on dangerous journeys.
BBC quoted Alex Branczik, Sotheby's head of contemporary art for Europe, saying before the auction, "In Mediterranean Sea View 2017, Banksy corrupts three found oil paintings with his own witty reworkings to create something that, while posing as a 19th-Century seascape, spotlights one of the burning issues of the 21st Century. In Rembrandt to Richter, this triptych hangs in Sotheby's galleries alongside works by some of history's greatest landscape painters, including Bellotto, Van Goyen and Turner. Banksy's work, however, stands alone for its potent political message."
Banksy donates migrant crisis a triptych of paintings (titled Mediterranean Sea View, 2017) worth up to £1.2m to charity sale. pic.twitter.com/SUjXHpg32H

— Brindille (@Brindille_) July 26, 2020
Initially expected to fetch £1.2 million, the double earnings will reportedly go towards building a new acute stroke unit for the Bethlehem Arab Society for Rehabilitation and also for buying children's rehabilitation equipment. The noble move by Banksy is proof that all humanity is not lost and that is all we need to take us through the rest of the week.
Often the one to portray topical themes in his artworks which are normally wall graffitis, Banksy takes to his Instagram handle to share his latest paintings, expressing his feelings. The artist's Instagram bio asserts that she or he is not present on Twitter or Facebook.
Banksy gained world-wide acclaim for his artworks stencilled on public buildings even though his identity has long been a closely guarded secret.