India's First Blockchain Wedding: Pune Couple Exchange NFT Vows in Presence of a Digital Priest
Soon after their court marriage, Narasipuram and his wife Shruti Nair also made their marriage "blockchain official", to cement their togetherness in digital fashion.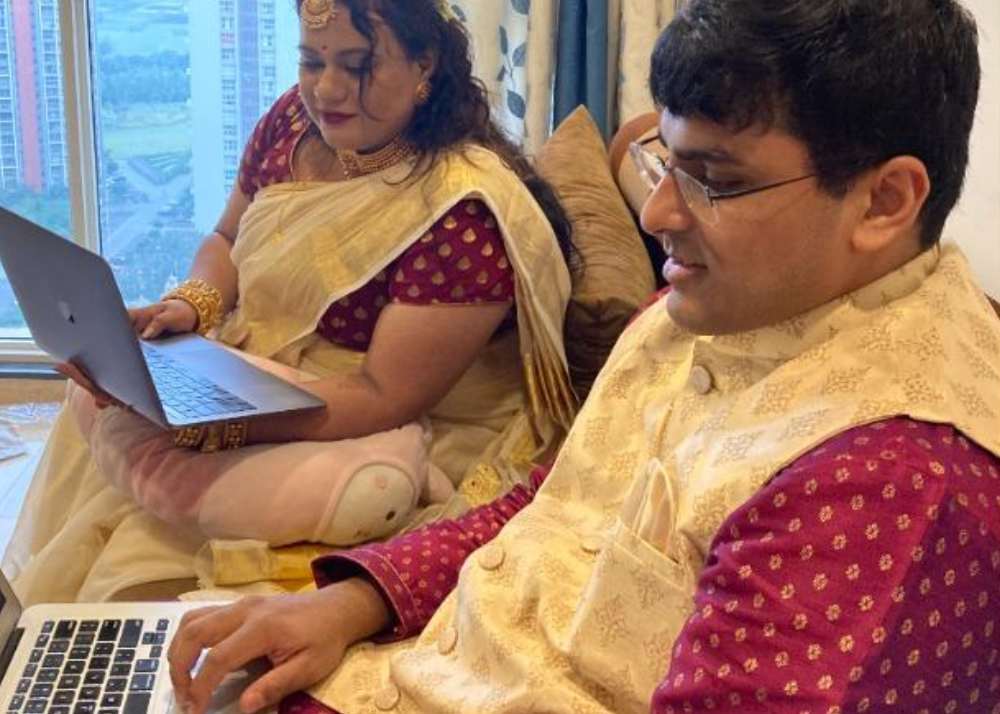 Pune: After a Tamil couple decided to hold their wedding reception digitally in Metaverse, another pair has embraced digital technology by getting married via blockchain. Anil Narasipuram and Shruti Nair from Pune got married on the blockchain, probably becoming the first in India to do so. In a Linkedin post, Anil explained that he and Shruti had a 'Registered Marriage' in a courthouse due to the pandemic on November 15, 2021. Soon after their court marriage, Narasipuram and his wife Shruti Nair also made their marriage "blockchain official", to cement their togetherness in digital fashion.
As they exchanged vows while seated before their laptops, with family and friends watching on Google Meet, their wedding was officiated by 'digital priest' Anoop Pakki. The NFT created by the couple was a photo of Shruti's engagement ring with their vows written on the picture. The priest mined the NFT on OpenSea platform and transferred it to the couple by the powers vested in him by Ethereum.
The priest bestowed his blessings: "And now, by the power vested in me by Ethereum, it is my honor and delight to declare you married. I am pleased to present the newlyweds."
"Shruti and I made our marriage 'blockchain official' with an Ethereum smart contract that consecrated our commitment to each other in the form of an NFT (non-fungible token) minted on OpenSea," Narasipuram, a design professor, said in a LinkedIn post.
"We won't make any big promises, but we will do everything we can to make this work. Through all our disagreement and conflict, we hope to grow our understanding of each other and ourselves. We don't expect to be the whole village for each other, but we will be by each other's side, hand in hand, walking through this adventure, together", the couple's vows read.
In contrast to traditional Indian weddings that goes on for days, the blockchain ceremony concluded in just 15 minutes. Anil took to his LinkedIn profile to say that the transaction is a permanent, immutable and public record of their commitment to each other on the ETH blockchain.

What are NFTs?
Non-Fungible Tokens are digital files that serve as digital signatures to certify who owns photos, videos and other online media. NFTs allow people to buy and sell ownership of unique digital items and keep track of who owns them using the blockchain. The NFT refers to a unit of currency on the Blockchain, the way cryptocurrency like Bitcoin is bought and sold. Non-fungible mean you can't exchange it for another thing of equal value. To buy NFTs, a user needs to open a digital wallet that allows them to store cryptocurrency and NFT.
India's First Metaverse wedding today 
A couple from Tamil Nadu is all set to host their wedding reception digitally in Metaverse today. Dinesh S P and Janaganandhini Ramaswamy, who are both Potterheads, will get married in Tamil Nadu's Sivalingapuram village, but their Hogwarts-themed wedding reception will take place in the metaverse. Dinesh is a software developer and a blockchain and NFT enthusiast, while Jaganandhini is an engineer.
I feel so proud and blessed that I have seen and taken advantage of many great opportunities in this world before millions of people have seen them, Beginning of something big! India's first #metaverse marriage in Polygon blockchain collaborated with TardiVerse Metaverse startup. pic.twitter.com/jTivLSwjV4

— Dinesh Kshatriyan (@0xkshatriyan) January 11, 2022
The function will be held in the dining room of Hogwarts castle where the couple's avatar will greet the avatars of their loved ones who will log in from across the world. They will also accept cryptocurrency as gifts. The bride's late father's avatar will preside over the wedding reception. A realistic 3D virtual avatar of her father has been created in the metaverse to attend the couple's marriage function.