Viral Video: Man in Teddy Bear Outfit Dances at a Railway Crossing, Arrested
According to the RPF, the video of the man's act was shot by bystanders on Sunday evening, when he jumped a manned level crossing as express and freight trains were passing by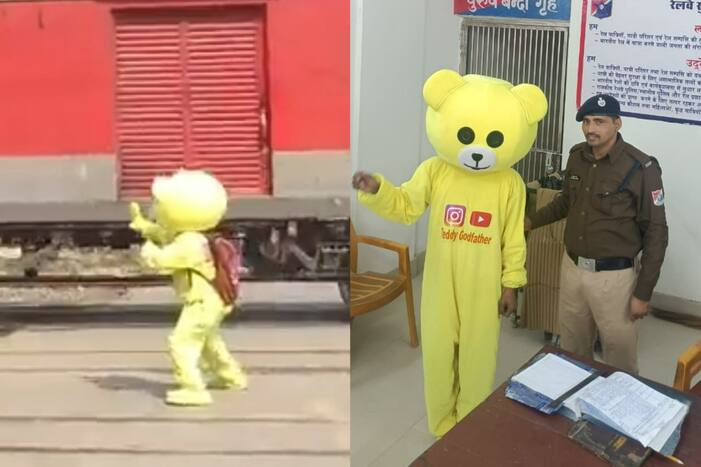 Gorakhpur: A man wearing teddy outfit was arrested by the Railway Protection Force (RPF) in Uttar Pradesh's Gorakhpur for dancing at a railway crossing. A video of the act had also gone viral on social media. According to the RPF, the video of the man's act was shot by bystanders on Sunday evening, when he jumped a manned level crossing as express and freight trains were passing by.
Chandra Mohan Mishra, senior commandant of the north-eastern railway (NER), said "The man not only violated the railway norms but also risked his life. He was arrested by sub-inspector Deepak of Gorakhpur Cantt railway station RPF post."
RPF #Gorakhpur have arrested a man wearing teddy costume, for dancing & shooting reel for #Instagram & ₹YouTube channel at Nand Nagar railway crossing. Accused identified as Sunil Kumar (22) has 1600 followers on his SM channel, where he post funny video. #UttarPradesh #Railways pic.twitter.com/ZyP5L2Hgcg

— Arvind Chauhan (@Arv_Ind_Chauhan) January 23, 2023
The arrested man has been identified as 22-year-old Sunil Kumar who wroks as Yellow Teddy Bear Professional Mascot for birthday parties, events and functions. The accused, a resident of Kundaghat under Shahpur police station, has been booked under the Railway Act 145 (nuisance).
He also has a YouTube channel and Instagram account called 'Teddy Godfather'. Kumar said he earns a living by playing the role of a teddy bear at children's birthday parties, fairs, and public parks.