Watch: Shaolin Masters Break a Piece of Glass Using a Needle in Super Slow Motion
The Shaolins' logic-defying move has been captured with a powerful slow-motion camera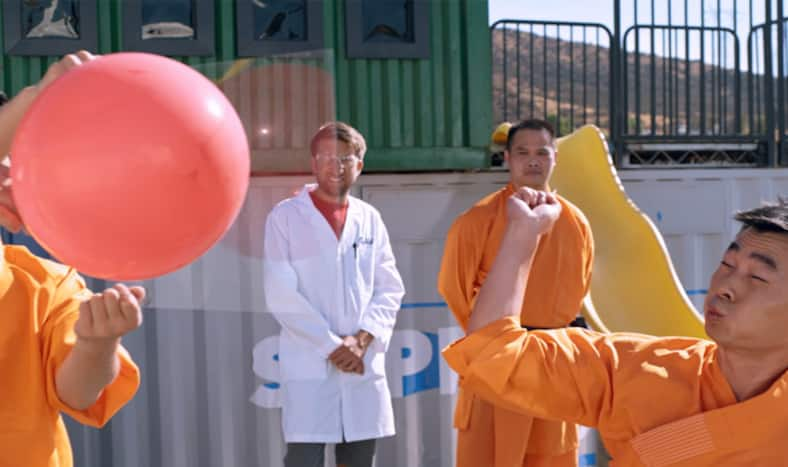 Throwing a needle through a pane of glass is one of the most difficult skills to perform as a Shaolin Master, taking at least ten years to train. It's impressive enough on its own, but how does it look slowed way down? Slow motion cameras captured the exact moment when a Shaolin monk threw a thin needle at a pane of glass with enough force to break through it. YouTubers Slow Mo Guys invited three Shaolin Monks to their show to demonstrate this feat. As Master Bruce explained in the video, the 'Needle Through Glass' move is one of the 72 Arts of Shaolin and requires more than 10 years of training to successfully master the ability to concentrate one's energy and then throw the slender needle, as if it were a dart, through the glass.
It may sound impossible, but according to the video, Master Feng Fei is then called on to demonstrate the move. To make it easier for the naked eye to witness the moment when the needle punches through the glass, Gruchy holds a red balloon behind a pane of glass held aloft by one of the monks. After a few practice moves, Master Feng Fei – standing just a few feet away from the glass pane – whips the needle forward and the balloon pops, seemingly of its own accord. It's only afterward, when the damaged pane is held up and, then during a slow-motion replay, that viewers realize the needle was thrown hard enough for it to have pierced the glass, not only sending shards of glass flying but also popping the balloon. (Also read: Zayn Malik Sings Kailash Kher's Teri Deewani, Fails To Impress Netizens)
The video has got
 2,199,809 views. 

Watch it below:

In a super slow motion replay, the camera captures the needle breaking through the glass for a split second, before ricocheting back towards Master Feng Fei due to the force of his throw. Later, Gruchy tries his hand at the trick. Despite his best efforts, the balloon remains unpopped, but he does manage to put a slight ding in the glass pane.