Zara UK Is Selling Lungi Like Skirt For Whopping USD 100 And Twitter Can't Handle It
While The Zara version is very expensive, similar looking Lungis can be easily available for much cheaper at stores in India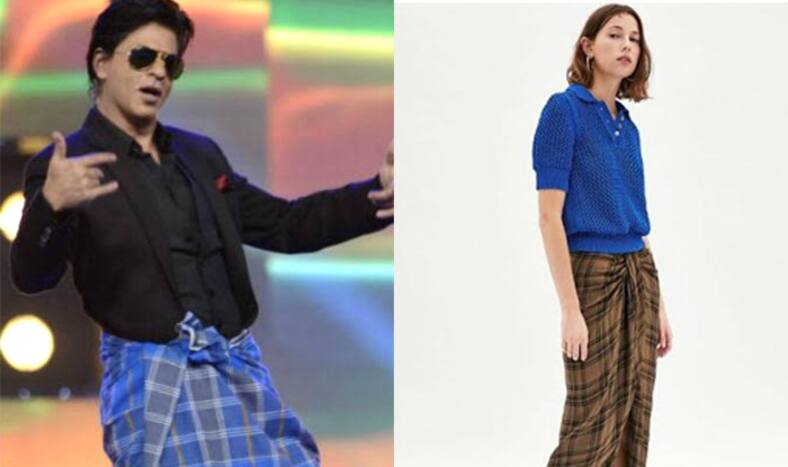 Zara UK is now selling Lungi (Asian male skirt) style skirts for 69.99 pounds (approximately USD 100). The skirt which has check prints clearly resembles the garment which is typically worn by many Asian men. For the uninitiated Lungi is a traditional garment which is worn around the waist by men. It is quite a popular garment which is worn especially during hotter climates as trousers are often uncomfortable. The fast fashion retailer describes the skirt as "flowing skirt with draped detail in the front, slit detail at the hem. Zip fastening in the back hidden along the seam."
What is more striking is the cost of the skirt. While The Zara version is very expensive, similar looking Lungis can be easily available at cheaper rates in Indian stores. Zara's lungi like skirt is only available in brown but traditional lungis can be found in various designs and colors. Now the picture of the same is doing rounds on the internet and Twitter is full of jokes on the same. Here are some of the Twitter reactions:
It totally looks like Lungi
A £69.99 skirt from @ZARA that looks like a south Asian male skirt (lungi) that costs less than £1 😂😂😂 pic.twitter.com/47aA2SSSg5

— Aria (@ms_aria101) January 28, 2018
Will you buy it?
Zara is selling lungi now… not buying clothes in '18 was a good idea… such temp relief from shit that gets sold these days 🙄 pic.twitter.com/8pv0OuyLMh

— Ramya (@ramyaprakash) January 30, 2018
Cannot decide!
Who wore it better? And yes Zara, that's a lungi! pic.twitter.com/65KwCBxIDC

— Aaqib Raza Khan (@aaqibrk) January 30, 2018
Yes, that's true
My dad's lungi is probably cheaper than 3 pounds https://t.co/KzDd2IlqYI

— Phoolan Devi (@ashsultana) January 30, 2018
Dhoti like pants was a trend once!
What's next, #Zara? Puffy wraps that are basically dhotis? #Lungihttps://t.co/vMgjzLePmR pic.twitter.com/fGx0SxLTcx

— Images (@dawn_images) January 30, 2018
Rs 4460 for Lungi like skirt?
Zara seems to be selling a skirt that looks suspiciously like a lungi for $69.99 (Rs 4460) lol. https://t.co/pON8dDe6ESpic.twitter.com/NIU6E0Fm8W

— Nigel Britto (@NigelBritto) January 30, 2018
This is not the first time the famous retail brand is garnering headlines for something unusual and unpleasant. Last year, the shoppers from Istanbul stores found notes in their clothes from workers claiming that they were not yet paid for making clothes. Also earlier it received flak for selling cut off denim skirt featuring a patch that resembled to Pepe the Frog- a character which is associated with hate groups. What are your views on the same? Let us know in the comments below.